Do Not Apologize for the Lack of Posts
Even if you are commited to your blog sometimes real life issues might get in the way. Your full time job might require some extra attention during certain periods of the year, or you might have a family emergency.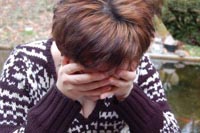 On those occasions you will probably not be able to post for several days in a row. That is fine. The readers will probably understand. Just avoid returning after one week and posting something along the lines of "sorry about the lack of posts lately, but things will get back on track."
Those "apology" posts will just communicate to the reader that you will not be dedicating your time to the blog for weeks to come. It is the last straw, really. People will just move somewhere else.
Now don't get me wrong here. Being transparent with the readers and keeping them informed about your external activities can be a positive thing. But make sure that those posts are used to build a relationship and not to excuse yourself.
Alright, you say, but if I am not supposed to write a post apologizing what should I do instead? Simple, make an extra effort to write something useful. If you really don't have the time to write a quality post just gather some interesting links and post them. Ask a question to your readers. Quote someone.
Remember, if you are not loyal to your readers there is no reason to expect the other way round.
Browse all articles on the Writing Content category
32 Responses to "Do Not Apologize for the Lack of Posts"
Chad

Sorry for taking so long to comment. 😉

With so many commenters admiting guilt, is it so wrong? Or do we risk not being authentic? Is the blog a paid service or an expression? Depends on the audience.

Bang Kritikus

Yes I agree with you

gendut

thanks for sharing nice tips……great bos

SEO Genius

I definitely agree writing "sorry i cant post real life issues" brings negativity to newcomes and avid readers of blogs.

templatestaff

I wondered about feeling guilty about not posting regularly enough and getting others to comment.

Wallet Rehab – Ways to save money

Of course, I just posted something like this. And THEN read this blog. but I think my reason's a good one. I've got a bunch of posts queued up, and, well, I like being honest with my readers.

Sue Bride

I agree on the whole but it does partly depend on your blog readership, or your desired readership. Many blogs are aimed at friends, family,online friends or colleagues. In this case an explanation for absence will stop people wondering why you are not blogging and could be seen as good manners.

This kind of readership will return when posting resumes.

Daniel

Andrea, I am subscribed to almost 200 RSS feeds. Every 15 days or so I see one of those posts around.

Andrea Micheloni

Mmh, and where do you have found the inspiration for this post? 😛

AmeyJah

hey i too agree that this could be the big mistake. it will harm you if you are getting new vsitors everyday

Dave

Guilty sort off. Took sometime off. I wish you had posted this story a few weeks ago. The links or other interesting stuff links would have been a good idea.

Bret

Ugh! I've been caught. I just did a "sort-of" apology post; however, I don't think I said I was sorry. 🙂

Armen

I never thought of it like this before. I haven't had to 'apologise' yet, but I'm glad I've been enlightened now…just in case.

Thanks Daniel.

Daniel

Amanda, it depends. If you post daily then suddenly there are no updates for one or two weeks the readers will notice.

Amanda

I normally don't I put one up letting everyone know hey its my birthday I'm going to slack. But normally if i dont have time i just don't post. no one notices if you dont post most of the time

Amos

I don't have the time to write an apology ;o)

Daniel

Matt, yeah I have seen a lot of blogs doing that! Not that it is a big mistake, but if you avoid it, better.

Matt Mikulla

How many are guilty? I know I am.

abhishek bhatnagar

Well blogging is such a profession that needs determination and passion so if u are enable to write u shld let ur readers knw abt it…or u can sort out the issue by inviting guest bloggers and hold competitions.thats all i have to say.

Randa Clay

I couldn't agree more. It's so unnecessary – and communicates that one has an overestimation of their blog's importance in their readers' lives.

Ramanathan

Looks right to me.

Daniel

Ibrahim, yeah I remember when we had that conversation. Glad I persuaded you to dont apologize to your readers ;).

Daniel

Exactly Collis. I just unsubscribe from the blogs that come out with those posts.

Collis

Couldn't agree more, most of the time they indicate the death rattles of a blog

Mark

Yep been guilty of the 'apologies for not posting' subject myself. However I have since stopped the apologies despite my postings becoming less frequent.

Lovedeep Wadhwa

Its a bad idea to write a full fledged post apologizing for irregular posting.

..better convey your message by using a footnote, the next time you post..

Blogging Tips

I might have heard this advice somewhere 😉

Ronald Huereca

This is one of the things I really don't like about some blogs, especially if you are an avid feed reader.

All a "sorry I can't post" post does is bring attention to your blog (in a negative way) and makes me reach for that unsubscribe button. The last thing I want to see in a feed reader is "sorry, I can't post." Umm… So?
Comments are closed.