DBT is research-focused. When you buy through links on our site, we may earn an affiliate commission. Learn more
Do you have normal, oily, or combination skin and struggle to find a facial cleanser that removes impurities without leaving your skin dry and tight?
A good face wash is the foundation of your skin care regimen.
It should cleanse and balance your skin and properly prepare it for any skin boosters you use.
In this Dermalogica Special Cleansing Gel review, we're going to take an in-depth look to see if this product can deliver the fantastic results that other face washes fall short on.
What is Dermalogica Special Cleansing Gel?
Dermalogica Special Cleansing Gel is a gentle, yet effective, soap-free cleanser that uses naturally-foaming Quillaja Saponaria to create a rich lather.
Dermalogica products are free of artificial fragrances, colors, and alcohols.
If you have sensitive skin, your cleanser should be free from synthetic chemicals that can irritate your skin and exacerbate your skin issues.
Dermalogica Special Cleansing Gel is for all skin types, so whether you're oily, dry, or anywhere in between, this cleanser can handle it all.
Dermalogica is also gluten-free, vegan, and cruelty-free, so you can feel good about using this cleaner while you nourish your skin with balm mint and lavender extracts.
Key Ingredients
Quillaja Saponaria Bark Extract
Also called Soapbark extract for its lathering qualities, Quillaja Saponaria Bark Extract is a gentle cleanser derived from the Chilean Quillaja tree.
Along with its cleansing properties, it can also relieve skin inflammation, which makes it a soothing ingredient in skin care products.
Lavender Oil
Lavender oil, derived from the lavender plant, is known for its relaxing scent.
Lavender provides similar effects to your skin as it does when used as aromatherapy.
It's antibacterial, can unclog pores, and reduces inflammation in stressed skin.
Spirulina
Also known as lemon balm, Melissa officinalis leaf extract is a powerful essential oil with anti-inflammatory and antibacterial properties.
Skin care products often utilize this essential oil because of its ability to increase circulation, treat acne and sunburn, and protect against skin damage.
Lemon Peel Oil
Lemon peel oil is known for its pleasant aroma, but it has incredible skin benefits too.
Lemon peel oil is full of antioxidants that fight damaging free-radicals, and it's also thought to rejuvenate skin cells and brighten skin.
Bergamot Fruit Oil
Bergamot fruit oil, a versatile oil with many uses from perfume to teas, has a balancing effect on oily skin.
It's anti-inflammatory, gently antiseptic, and it can soothe irritation and even out melanin production for a smoother complexion.
How Much Does it Cost?
Dermalogica Special Cleansing Gel comes in three sizes, and the 16.9 oz uses a pump for easier dispensing.
If you order through Dermalogica's site, you have the option to join their subscription program, and you choose how often you receive your Dermalogica Special Cleansing Gel.
Subscribing also means you'll get free shipping and a gift with all your orders.
Dermalogica also offers a reward program where you can earn points on all your purchases.
Right now (at the time of this writing), they are offering free ground shipping for all orders over $50.00.
Orders are usually processed and shipped within 24 hours.
Dermalogica offers free returns or replacements within 30 days of your purchase.
How to Use It
Dermalogica Special Cleansing Gel can be used once or twice a day, in the morning and before bed.
For best results, Dermalogica recommends using their PreCleanse to remove makeup and prep the skin before cleansing.
Wet your face and neck with warm water to open the pores.

Squeeze or pump a pea-sized amount of cleanser into your palm and gently lather.

Apply to face and neck and gently massage using circular motions. Dermalogica Special Cleansing gel is safe to use over the eyes.


Rinse thoroughly with warm water and pat dry before applying moisturizer, serums, or boosters.
FAQ's
Below you will find answers to some of the most frequently asked questions concerning Dermalogica Cleansing Gel.
Dermalogica Special Cleansing Gel claims to cleanse the skin of impurities gently without stripping it.
That's what we found it does exactly.
Your skin feels refreshed and nice and clean without that dry and tight feeling that some other cleansers can cause.
As always, this cleanser might not work for everyone. This product is a great face wash to try, though, if others haven't worked for you in the past.
With the natural ingredients and lack of artificial chemicals, an adverse reaction is unlikely. Most people should see excellent results.
This cleanser isn't advertised for acne, but many people see great results with mild cases of acne.
The best treatments for acne usually include more potent ingredients, such as benzoyl peroxide, retinoids, and salicylic acid.
The gentler ingredients in Dermalogica Special Cleansing Gel may not be strong enough to treat acne properly.
This cleanser is best for those with minor breakouts, who need a face wash that is gentle enough for daily use.
Dermalogica Special Cleansing Gel is gentle and free from harsh ingredients, so it is suitable for daily use.
This product can be used morning and night as part of your daily skin care regimen.
Organifi Green Juice can help reduce inflammation. It contains matcha green tea, turmeric, spirulina, ashwagandha root, and other natural anti-inflammatory ingredients.
Final Thoughts
Dermalogica Special Cleansing gel delivers as a soothing, nourishing face wash that isn't drying or stripping.
There are plenty of cheap cleansers on the market for oily, normal, or combination skin, but the blend of high-quality natural ingredients and cruelty-free practices makes this one a winner.
If you're on the hunt for a gentle, daily cleanser that leaves your skin feeling refreshed and glowing, give Dermalogica Special Cleansing Gel a try!
Refreshing lather thoroughly removes impurities, without disturbing the skin's natural moisture balance.
---
Dermologica Cleansing Gel vs. Alternatives
First Aid Beauty Cleanser
---
Dermologica Cleansing Gel Reviews
There are no reviews yet. Be the first one to write one.
Dermalogica Special Cleansing Gel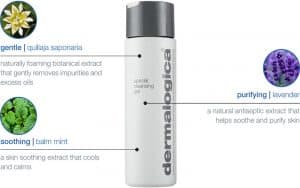 Dermalogica Special Cleansing Gel is a gentle soap-free cleanser for all skin types that balances the skin and won't cause over-drying.
Product Brand: Dermalogica
Product In-Stock: InStock