Check How Websites Look On The Back
How would you like to know what is going on behind your favorite website? Confused? That's exactly what I mean. What if you could see the other side of the websites you visit, the one inside your computer!?
Still confused? Well, here's the back of Twitter to let you understand the concept: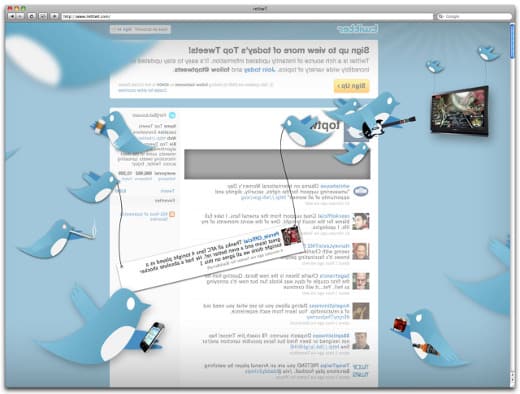 Neat huh?
That image is part of a project/blog called Back of A Webpage. If you go here you'll see the back of a bunch other websites, including Flickr, YouTube, Facebook and Apple.
It's quite a creative idea in my opinion. The only problem I see is that the novelty factor dies down quite fast. Once you visit the site and see the images you are pretty much done (i.e., there's no need to return).
If you want to send your own images or request a website to be featured you can reach the authors on backofawebpage@gmail.com.
Browse all articles on the Blogosphere category
14 Responses to "Check How Websites Look On The Back"
Shyam @ScorpionGod Lair

Wooop Nice site. and nice post… confused!!!!!! what is the aim of this website back?

Swamykant

Interesting blog. Thanks for share

Junaid

Hahaha… Just a simple and interesting program

Firman

lol. now im curious about dailyblogtips look on the back 😛

jorge jacobo

The butt of guy? what? ha ha ha Not sure If I want to see that.

patrick

Interesting little site. Good for a few minutes of entertainment.

Tina

I tried sharing it with my Facebook friends and I've been blocked for adding spam content.

I thought it was fun, not spam.

Simon Dodd

I guess this is just another tool to aid procrastination 😉 hehe

I have to say it is good fun though! I guess I'm a sucker for fun little quirks like this 😉

Rakesh Kumar

Here i am little confuse but i think this is just for some inspiration or entertainment.

Daniel Scocco

@John and Andrea, The purpose is just to provide some fun.

Andrea

still confused, what is the purpose of it?

Raj @ Social Media Guide

Interesting.. couldn't stop myself appreciating it..

Jeff the Smallbizartist

I find that this idea can be expanded upon. Like the author says, there's "no need to return". Business owners should always look for ways to engage their customers and above all, provide reasons for their repeated patronage. To make things easier on this novelty website, visitors should be able to key in their own URL and hit 'enter' to immediately see a preview of their website in reverse.

As a freelance copywriter, I'm always observing how small businesses can improve their rapport with clients by looking at things in their perspective.

John

Still confused?
Comments are closed.