Are Your Blog Posts's Permalinks (URLs) Losing You Traffic?
One frequent mistake bloggers make is to leave their post permalinks (URLs) as the WordPress default.
This is actually becoming less common, as WordPress now prompts you to change the permalink structure … but if your blog's been running for a while, you may be missing out on traffic due to poor permalinks.
The two most common problems that come up are:
Permalinks with just a number
Permalinks with dates
Permalinks with Just a Number
The default WordPress permalinks look like this:
www.dailyblogtips.com/?p=123
This does nothing for your readers or for your SEO. There's really no reason at all to use numerical permalinks like this. If a reader comes across the URL out of context (e.g. without the post title) they'll have no idea what it's linking to, plus you want to have keywords in your permalinks to help your posts rank well in search engines.
Also, permalinks like this brand you as a "newbie" and can make your blog look less professional.
Permalinks With Dates
Often, you'll see links that look like this:
www.dailyblogtips.com/2013/11/28/sample-post
As Joost de Valk of Yoast explains:
Having a date in your permalink structure has proven to diminish the CTR from the search results for older posts. People are just not likely to click on a result that's two years old, even though it might very well be that your post has the answer they seek.
While this isn't a total disaster – ProBlogger seem to be doing OK, despite having the date in their permalinks – it can put readers off your older posts. It also makes for long and unwieldy URLs if you want to include them in a newsletter or even on a printed brochure or business card.
Changing Your Permalinks
It's incredibly easy to change your permalink structure.
Just log into your WordPress dashboard and go to Settings –> Permalinks.
Click on the "Post name" radio button, then click "Save Changes" (both are shown in a red box below).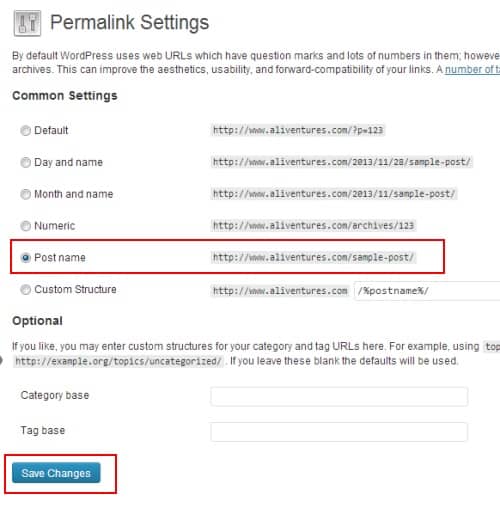 That's it! Note that WordPress should redirect your old permalinks (so that links don't break) but if you do find that you have broken links, the WordPress SEO Plugin from Yoast can sort them out for you.
Customising Your Post Slugs
The final part of your post – the "post name" – is also called the slug.
When you add a new post, the slug defaults to be your whole title. You may want to shorten it and make it more concise. This is optional – but it's something that many big blogs do.
Copyblogger and Zen Habits, for instance, often cut the post slug to a single word:
Are You Too Lazy to Write Less? – copyblogger.com/brevity
How Creativity Works, & How to Do it – zenhabits.net/creativity
(This option has been around in WordPress for ages – just take a look at this post by Daniel back in 2007 – but a lot of bloggers don't know about it.)
So – over to you!
What do your post permalinks currently look like, and will you be changing them?
Browse all articles on the Blogging Basics category
13 Responses to "Are Your Blog Posts's Permalinks (URLs) Losing You Traffic?"
Ali Luke

Shawn H — it surprises me too, but a lot of people new to blogging either don't realise the problem or don't know how to fix it.

Shawn G — I agree it's a lot neater. Hey, nothing wrong with being a WordPress old-timer. 🙂

Daniel

It's such a simple but important setting but I've seen many not taking advantage of this.

Ivo

I have "Post name" permalinks on all my blogs, but also always edit the url manually to have the best eye catching link I can 🙂

Fasting for Weight Loss

I like the idea of condensing long titles. I might give that a try on some of my longer ones. Thanks for the tip

Vishnu

Hi Ali,

I fully agree with this article. The permalink that you have shown in the image without any number or date is better. And I think,shortening the URL with proper keywords will help.

Thanks for sharing such an article !

Shawn Gossman

I use the 'post slug' method where domain.com/post-name-here is the looks. I find it a lot neater and more warranted in terms of blog SEO. I try to use fewer words as possible as well. I remember when that option wasn't available on WordPress and that just makes me feel old. 😀 Good post, Ali!

Patty@homemakersdaily.com

I'm not sure how it happened, but I'm doing this right. However, I wasn't when I first started my blog. I have several older posts with numbers.

I like the idea of condensing long titles. I might give that a try on some of my longer ones. Thanks for the tip.

Rick Noel

The more meaningful a permalink the better, both for search engines and users. Your post is "spot on" in terms of the best of the available permalink options available in Wordrpess. For long tail key phrases, having relevant keywords in the permalink can help to gain rankings for those key phrases since the URL is a ranking factor in the view of most experts. Dates and post id# add no value to the URL which can often inform search engines and users viewing the search results precisely what the post is about. Thanks for sharing.

maxwell ivey

hello; whenever i read a post like this, i wonder if i am going to be one of the guilty ones. this time i was happy to read that i am already using titles instead of numbers or dates. i don't plan to shorten the titles, but i have been considering using a url shortener for twitter posts and other sharing. thanks for the post and have a happy thanksgiving, max

Sahil

URL slugs is an important aspect in SEO. I would recommed to use /%postname%.html. The date in the url might discourage some people from clicking on it despite not being relevant.
It's better to keep it short and simple.
Thanks.

Shawn Hartwell

Yes! I agree with this post whole heartedly. This is, from my years on the internet, one of the first steps people will take towards SEO for forum software.

Though I had no clue that people would leave such un-seo and un-user friendly links with WordPress! It was the first thing I thought to do.

Thanks for the well written reminder 🙂

Jeremy

Interesting post! My permalinks dont have a date and i dont think i will change this … i customize post names or things like that though 🙂

Ryan Biddulph

Hi Ali,

I change permalinks – when I remember – and note an instant increase in traffic when I do so. Now I include some keywords but think the cb and zh strategies might be the best.

People crave brief, short and to the point. You might give up some SEO juice but the improved number of clicks might be worth it.

Thanks for sharing!

Ryan
Comments are closed.