DBT is research-focused. When you buy through links on our site, we may earn an affiliate commission. Learn more
Our CarboFix review wouldn't be complete without discussing what we like and don't like.
Do you struggle with stubborn belly fat?
Can't seem to lose weight no matter what you do?
Battle constant hunger and food cravings?
In this CarboFix review, we'll take a look at how this plant-based supplement can kick your metabolism into high gear and help you lose weight.
What is CarboFix?
CarboFix is an herbal dietary supplement that combines six plant-based extractives to help with weight loss.
The idea behind CarboFix is that "turning on" a certain enzyme in our cells, known as AMP-activated protein kinase (AMPk for short), is the key to boosting metabolism and promoting weight loss.
While there are studies that confirm the importance of AMPk, the claims that CarboFix is "the key to turning on your metabolism whenever you want" are particularly intriguing.
Does it really work? Or is it too good to be true?
Ingredients & Nutrition Facts
CarboFix is a blend of six naturally-derived extractives:
The only other ingredient in this supplement is brown rice flour. There are no added chemicals, dyes, or sugars. Nutrition facts are as follows, per 1-capsule serving size:
Nutrition Facts
Per serving (capsule), CarboFix contains:
Chromium Picolinate: 200mcg
Berberine HCL: 400mg
Cinnamon: 100mg
Benfotiamine: 80mg
Naringin: 50mg
Alpha Lipoic Acid: 50mg
How Much Does it Cost?
The regular cost of CarboFix works is $69 per bottle of 60 capsules (a one-month supply). That works out to $1.15 per serving, with a recommended serving size of one capsule, twice per day ($2.30 per day total cost).
There are also options to buy 3- and 6-month supplies at $207 and $414, respectively, which will not save you any money but may be a good option if you want to buy a lot at a time.
Also, if you're one of the first to take advantage of the deals in this ad, you'll receive a one-month supply for $49 per bottle ($0.82 per capsule), a 3-month supply for $42 per bottle ($0.70 per capsule), or a 6-month supply for $34 per bottle ($0.57 per capsule).
FAQ's
Below you will find answers to some of the most frequently asked questions concerning CarboFix.
Scientifically, there is plenty of evidence that the ingredients used in CarboFix produce great results on their own. It seems logical they would produce even greater results when combined, right?
The creators of CarboFix seem to have experienced stunning results with their product, and there is no reason to believe the supplement is a scam.
That said, it is a relatively new product, and there are few customer reviews available to gauge just how effective it might be.
Everyone's body is different, so CarboFix may produce diverse results within even a small group of people.
CarboFix makes no gluten-free claims on their website or bottle label. However, the ingredients that make up the supplement are all naturally gluten-free.
The company does not promise that their facility is free of gluten entirely, however. If you are highly sensitive, you may want to contact the company for further details on the manufacturing process.
All the ingredients used in CarboFix are plant-based, natural, high-quality, and completely safe to use. The supplement produces no known side effects and should do nothing but benefit your body over time.
That said, the product is not recommended for anyone under 18, pregnant or nursing women, or people with serious health conditions.
Because it is a powerful supplement, it may interfere with some prescription drugs. Talk to your doctor before using CarboFix if you take any medications.
Theoretically, it will work for any adult, male or female, at any age. Older individuals may need to take more of it to experience the same effects as a younger person; however, you should not overuse Carbofix.
Though it is natural and safe, it is very potent.
CarboFix comes with a 60-day money-back guarantee. If you are not completely satisfied with the supplement within the first two months, the company will refund your entire purchase.
As an added bonus, you will get to keep whatever's left of the supplement after receiving your refund, so you won't have the hassle of returns or shipping costs.
Who Should Use CarboFix?
CarboFix is intended for any adult over the age of 18 who's struggling to lose weight or burn stubborn fat, experiencing constant hunger and food cravings, and unable to stick to a low-carb diet.
CarboFix is especially useful for older adults because it stimulates AMPk when the body is naturally producing less of the enzyme.
CarboFix should not be taken if you are under 18, pregnant, nursing, or if you have any medical conditions.
Final Thoughts
CarboFix is a promising weight-loss supplement that targets your metabolism to help you burn fat, reduces inflammation so you lose weight easier, and reduces food cravings without forcing you to change your diet.
If you've already "tried everything," this product may prove to be the last weight loss product you ever try. Though it may not work for everybody, it is backed by science that suggests it may be widely effective.
If you want to try something natural to support weight loss, or if you feel you have nothing to lose (except extra pounds!), why not give CarboFix a try today?
CarboFix is a natural, easy-to-take supplement that's worth trying out if you need to boost your metabolism, lose weight, and kick cravings.
---
CarboFix vs. Alternatives
---
There are no reviews yet. Be the first one to write one.
CarboFix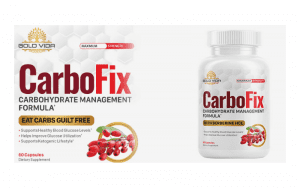 CarboFix is a natural, easy-to-take supplement that's worth trying out if you need to boost your metabolism, lose weight, and kick cravings.
Product In-Stock: InStock