Bloggers Face-Off: Wendy Piersall vs. Jennifer Laycock
Maybe it is the sex appeal, maybe it is the gentleness, but fact is that we still have to see a woman losing a "Bloggers Face-Off" (Mike had a tie with Liz, Juergen lost to Anita and Jeremy lost to Nandini). Last week Jennifer did lose, but she was featured together with her husband Dan, so I guess we know whose fault is that…
This Tuesday this will happen (unless there is a tie), because for the first time we are featuring two women! They are also very successful bloggers, so it should be fun.
Wendy Piersall is the author of the popular eMoms at Home. She did such a great job with the blog that Entrepreneur.com decided to hire her. Way to go Wendy!
Jennifer Laycock is our second blogger. She blogs in several places, but the main one is Search Engine Guide. If you have a small business and need some SEO advice you should definitely read this blog. Jennifer has been playing with Internet marketing since 1995; she knows what she is talking about.
| | Wendy Piersall | Jennifer Laycock |
| --- | --- | --- |
| 1. How long have you been blogging? | 13 months | Since 2003. (but Search Engine Guide in 2004 and The Lactivist in 2005) |
| 2. How many hours do you dedicate to your blog daily? | 8-12 for all three blogs depending on the day | On a "fast day" about 3 hours, on a busy day, up to six hours |
| 3. Do you make money with the blog? | Yes. The main source was coaching clients, but direct advertising is poised to pass it this month | At Search Engine Guide, it's ad revenue, at The Lactivist, shirt sales and ads |
| 4. Do you think any niche can be popular? | With the right personality behind it – Yes! | Absolutely. Both my Lactivist blog and my Bento Yum blog are proving that. I'm astounded at the response to what were really just intended to be marketing playgrounds |
| 5. What is the biggest blogging mistake you did? | Too much self-promotion for a stretch | Launching The Lactivist on a Blogger subdomain instead of at its own URL |
| 6. How long should a blogger wait to monetize the blog? | I started from day one on all three of my blogs | Why wait? Start with AdSense or Amazon affiliates and move into direct ad sales as soon as traffic justifies it |
| 7. Digg, Stumble Upon,Delicious or Netscape? | I'd have to say SU with Digg a close second | None are marketing strategies, but all have their place. In terms of using one myself? Stumble upon |
| 8. Is there any discrimination towards female bloggers? | Yes, I've seen it and probably experienced it, but I choose not to focus on it. Instead I look to create my own opportunities | If there is, I haven't seen it |
| 9. If you could give an advice for a novice blogger, what would it be? | Network like crazy and always add value | Be yourself. Blogging is about consistency and it's about building relationships. Let your readers see who you are and work to build bridges with them |
| 10. How important is the design aspect? | I used to be a designer, but I'd have to put it at a 7. Content is King (or, in light of question #8, should I say Queen?! 😉 ) | If a design is tacky, cluttered or boring, they'll lose me from post one! |
| 11. If you could read only one blog, which one would you pick? | ProBlogger | Lost and Gone Forever. I simply must have my Lost fix! |
| 12. What is the secret of your success, expressed in one word? | Heart | Genuineness |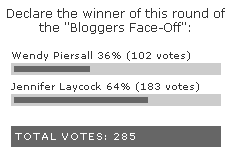 Browse all articles on the Bloggers Face-Off category
37 Responses to "Bloggers Face-Off: Wendy Piersall vs. Jennifer Laycock"
sharingthelife

Jennifer Laycock win coz good looking :p

AussieWebmaster

Got to love the Lactivist

Jennifer Laycock

Oh no! Does that mean my readers are too embarassed to admit they like me?

😉

I think it means that those who love you, love you passionately Wendy. That's certainly a good place to be. I dare say if we held this face-off again in six months or a year, it would be a much closer vote.

Joe Cheray

LOL Wendy ya nut. Good thing you don't take yourself too seriously.

Wendy Piersall

My readers are the best on the FLIPPING planet! At least I am winning in the comments! LOL! 🙂 You guys ROCK!

Gayla McCord

Wendy got my vote!

I'm a silent fan of Jennifer — but have been skeered by her most loyal fans. Breastfeeding moms are really scary when you piss them off 🙂 Let this serve as a warning to all y'all ROFL

Joe Cheray

Ok I gotta vote for Wendy, her blogging ecourse gave me a good foundation for my business blog which isn't even a month old and got ten hits in one week from The Wall Street Journal Online and got accessed by university professors and prominent people in the health,and wellness industry.

I do like Search Engine Guide too because if it wasn't for that I wouldn't have found MyBlogLog.

Nathania Johnson – The SEM Zone

They're both great, but Wendy has my vote. Her writing is like having a conversation with someone. And she brings you along for an entrepreneurial journey – the ups, downs, good, bad, mistakes, etc.

Jennifer Laycock

You can't pull anything over on me Wendy! I have kids!

😛

Wendy Piersall

Well, it might have sounded like complaining – but it was my sly way of bragging. Crap – you're onto me now. 😉

Daniel

Yeah I forgot to mention the voting session is open until Friday!

Jennifer Laycock

"I'm still afraid to post too much because the site goes down right now with too many comments!"

ROTFL…you're upset because you are so popular you crash your server?

Geeze Wendy, once again I have to point out that you're complaining about your diamond shoes being too tight. 😉

Wendy Piersall

LOL – *vote for the rough week* And yeah, I just couldn't pull it together this Monday to do my motivation post – I'm still afraid to post too much because the site goes down right now with too many comments! 🙁

Aruni

Jennifer was my first introduction into the blogging world and I've 'known' her longer so naturally I am voting for her. She does return emails…which is impressive considering the amount she must get. 🙂

I recently discovered the eMoms site and have really enjoyed getting to know Wendy through her posts as well. If the vote was held 6 months to a year from now it would probably be very hard for me to decide.

Jenny

GO WENDY GO!

Daniel

Wendy, I guess you can say you have a loyal readership when they miss some of your weekly columns :).

Dennis Bjørn Petersen

I've had the most communication with Wendy. (Skype a few times), but I've read Jennifer's ebook on the Lactivist, so it is a very tough one. The ebook has some great ideas.

I have to vote for Wendy. She has had a rough week and missed the Monday Motivation post =P

Jack Book

hm.. Jenifer has darker hair. she is really my type. so.. one vote for her.

*hey.. it's really the sex appeal*

Jennifer Laycock

LOL. We'll see.

The week is young. 🙂

Wendy Piersall

Uh – I don't think that will be a problem seeing that you are almost 20% ahead of me! 😉

Robert Clough

Hmmm, I'd be willing to bet Glen sent an email to me that didn't get a response. I know Jennifer answers all her emails and Glen's domain rings a bell.

I have to admit I'm the one at Search Engine Guide that sucks at providing a timely response. 🙁

Jennifer Laycock

I dunno Wendy, I'm feeling like a loser for obviously having missed someone's email. 🙁 I work darn hard to answer every email I get. Sometimes it takes me a bit of time to do it, (I have 304 unanswered emails in my box right now) but I try.

Bummer that I missed someone. 🙁

Wendy, just promise me that if you win, you won't declare it in a post titled "Who's the Biggest Loser?" 😉

Wendy Piersall

Oh – I really don't want to be your first woman loser. 🙁

Daniel

Glen, Jennifer also answer emails hehe. Actually both her and Wendy are very approacheable and down to earth, which is difficult to find nowadays.

Wendy Piersall

Don't worry Donna – I'll forgive you after I ban your IP address! (JK!!!!!!!!!) 😉

Glen

Have to vote wendy on this one, she responds to emails 😉

pearl

wow.. this was a tough one but I had my heart set on the one I've read for longer period of time – I voted for Wendy!!

Although I love reading Jennifer too, but I found her blog only recently!

DazzlinDonna

Tough choice. I'm big fans of both of them, but I voted for Jennifer for two reasons…1) I've been a fan of hers for longer, and 2) I'm a Lost freak too.

David Culpepper

Wow, it's tough to pick winner in this one. I really respect and admire both Wendy and Jennifer.

Trent

Like them both (gotta respect people who can be parents, work professionally, AND blog well) so I'm abstaining from voting here.
Comments are closed.