Bloggers Face-Off: Steve Pavlina vs. Glen Stansberry
After taking a break last week to summarize the first 10 editions of the Bloggers Face-Off we are back on track. Actually, this Tuesday we have one of the most information-dense editions ever. I guess it could not be otherwise considering that we are matching two "personal development" bloggers.
The first one is a legend around the blogosphere. His site generates around 175,000 page views daily (daily!), and it does not surprise me at all given the quality of his content. The personal development guru himself: Steve Pavlina.
Glen Stansberry is our second blogger. He might not be as popular as Steve, but LifeDev is one of the fastest growing blogs on the personal development and productivity sphere. The blog has over 4000 RSS subscribers, and if you are not one of them I suggest you go check the site out. Now to the face-off!

Steve Pavlina

Glen Stansberry
1. How long have you been blogging?
Since October 1, 2004, so a little over 2.5 years
I started blogging about three years ago, on a really crappy blog
2. How many hours do you dedicate to your blog daily?
On average about 2-4 hours a day (2-4 posts per week)
Less than one, on average
3. Do you make money with the blog?
Yes, I currently earn about $40K/month from my blogging activities. About 70% comes from joint-venture deals with personal development product publishers
I make a little money, mostly through an advertising sold by me, TextLinkAds
and affiliate links
4. How many page views does it generate daily?
About 175,000
Across the whole LifeDev network, around 4,000
5. What is the biggest blogging mistake you did?
Enabling blog comments. I saw that only a tiny fraction of my visitors (way below 1%) ever posted a comment, and hardly anyone even looked at them. It saved me a ton of time not having to manage them.
I've started many blogs because I thought they would make me money, not
because I loved the topic. Those died quickly and consequently didn't make any money
6. How important is the "niche" for a successful blog? (0 to 10)
It depends. One mistake people make is choosing a niche that's too small, either compared to the market or compared to who they are as a person. Instead of choosing a niche, I suggest you choose a focus
Hrm… about 5. I believe niche is very important, but ultimately people will be drawn to your writing skills. You can enter an incredibly crowded niche and do well, just based on the writing quality
7. Digg, Stumble Upon or Delicious?
Stumble Upon for their steady flow of visitors. Second choice would be
Del.icio.us
StumbleUpon, with Del.icio.us a distant second. I constantly get steady
amounts of traffic (like 50-80) visitors from StumbleUpon from posts I wrote over 9 months ago
8. If you could give an advice for a novice blogger, what would it be?
Don't be a novice. Nobody wants to read a novice. Instead become an expert at contributing substantial value to your readers' lives. Focus on giving people something that will actually help them
Just write about what you love. It will show up in your writing, which is
contagious. People like enthusiastic, fun writers. You can't be either of those if you don't really care about the subject matter
9. Do you think blogging is declining, stable or growing?
Obviously growing, both in terms of writing and reading
Well, hopefully all of the "regurgitating" blogs (blogs that just quote what other blogs say) are dying, and original blogs are growing
10. How many RSS feeds do you track daily?
About 5. I find books, audio programs, seminars, and plain old conversation with interesting people a much better source of input
Around 60. I used to follow almost 180, but soon realized that it was a)
impossible and b) stupid. I wasn't getting that much from reading feeds anyway
11. If you could read only one blog, which one would you pick?
My wife's blog (www.erinpavlina.com/blog), I want to know what she's saying about me 🙂
Merlin Mann's 43Folders, hands down
12. What is the secret of your success, expressed in one word?
Contribution
Creativity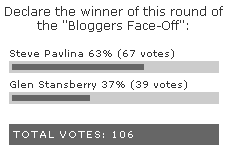 Browse all articles on the Bloggers Face-Off category
22 Responses to "Bloggers Face-Off: Steve Pavlina vs. Glen Stansberry"
Ret

Steve Pavlina is really popular. He is even cited in Wikipedia. Disabling comments on his case may only not benefit bloggers who want to just comment in exchange for a link juice. But as said, he has a forum, where his followers can interact with him. I just wonder if Steve's income is genuine – having no proof of income.

Perspective Shift Chris

This is my first time hearing about Glen, actually. This was really interesting :P. I was really curious about Steves daily page views, so I'm glad you threw that in there :). Thanks for the post it was well worth the read! Keep up the good work!

Gina

I don't agree with everything Steve Pavlinasays, but I do have a link to his site from mine. Regarding both bloggers – it IS the writing. Steve does agood job, that why he has the hits. Gina

Bang Kritikus

175.000 how price get if steve put a CPM banner ??? So much

Jeremy Day

Steve is pretty much the reason I got into blogging. I also write a blog that is technically in the same niche as him. Hopefully one day I can meet him in person!

Jeremy

Lynn W. (songbird)

I just got back from the "I CAN DO IT" conference in Las Vegas sponsored by Hay House, and enjoyed Steve's workshop there. It was a "stumbled upon" type of experience because I knew nothing about him and just picked him because he looked like a clean cut guy from his picture. When I discovered he is currently eating mostly RAW foods, and listened to his honest, humble journey to that choice, I knew I had found a soul mate.

Steve stands an outstanding example of following one's heart with discipline and I hope to emulate this fine example and CONTRIBUTE value as he has done. . . .ultimately helping many people.

Lynn Wilkerson

Ferdie Frederic

This is a real interesting post. I hope one day I can be like Steve

Jhon Hebrink

$40K/month? how comes? just wondering 🙂

Leo Dimilo

I personally like Steve Pavlini's blog better but it is mostly because I like his writing style more.

Daniel
Joshua DOrkin

Wow! I knew Steve's blog was popular, but 175k page-views a day is remarkable. Thanks for sharing with us!

Glen

First off, thanks for the opportunity to do this Daniel! It was a lot of fun. After reading the face-off, I have a couple more things to add.

1. Steve's hit the nail on the head for new bloggers. Don't SOUND like a novice! You can be a novice blogger, but make sure you're not a novice on your subject. You'll soon learn the nuances of the blogging medium.

2. I hate to disagree with THE Steve Pavlina, but I find tons of great resources based on people who leave comments. Sometimes, the comments are even better than my posts! Granted, the war on spam is frustrating, but I think it's worth it.

Daniel

Martin, Steve disabled them not because they were not popular, but because he was getting too much of them and was wasting time managing them hehe.

Right now he is using a Forum to support the discussion on his blog.

I don't think this solution is good for the average bloggers, but for his kind of niche/popularity it is working very well.

Community Building Blog

I disagree with Steve when he says his biggest mistake was enabling blog comments!

For me, this is just ridiculous – I wrote an article on the importance of always enabling blog comments, and think it is a big mistake to switch them off just because they are not hugely popular at one moment in time.

– Martin Reed

Daniel

I am subscribed to both blogs, and love them. But yeah, kudos for Steve, $40k/month is crazy.

KCLau

Definitely Steve!
Comments are closed.