Bloggers Face-Off: Rand Fishkin vs. Lee Odden
Welcome to the third edition of the Bloggers Face-Off. After featuring Problogger against Shoemoney and John Chow against Matt Coddington I am happy to announce that on this round we will have two famous SEO bloggers.
Rand Fishkin runs one of the most authoritative SEO blogs across the Internet, SEOMoz. Lee Odden is the man behind the Online Marketing Blog, and the CEO of a search marketing agency called TopRank Online Marketing. Lee and Rand were very nice and available when I contacted them. I was fearing that Rand would not even reply my email, let alone answer the questions twice because the first time they were not completely clear :). Anyway I tried to include some SEO related questions this time so it should be a interesting and useful reading for everyone, check it out:
| | Rand Fishkin | Lee Odden |
| --- | --- | --- |
| 1. How long have you been blogging? | 2.5 years | 3.5 years |
| 2. How many hours do you dedicate to your blog daily? | 2-3 (Sunday – Thursday) | 0-2 hours |
| 3. What is your favorite social bookmarking site? | I'm a huge fan of Reddit | From a user perspective del.icio.us |
| 4. How many page views the blog generates daily? | ~26,000, but pg views is an awful metric. We get ~10K daily visits | Not much compared to the big guns. A modest 2500-3000 |
| 5. What is the optimal URL structure for a blog? | Read here for URL best practices | http://www.domainname .com/123/post-title/ |
| 6. Do you make money directly from your blog? | In a way – SEOmoz offers premium membership which provides access to some cool tools and we sell articles/ebooks on the site | We do not accept advertising on the blog, but ads in the RSS feed generate a few thousand per month |
| 7. Is Alexa a reliable measure of traffic? | No. It's often worse than a complete guess | No and Google's Peter Norvig makes a good case as to why. It's significantly slanted towards techie types |
| 8. Do .edu and .gov backlinks carry a higher weight? | They do, mostly because those sites earn a lot of trusted links themselves and typically have very trustworthy content | Yes, but not because of the top level dominan, but because those sites tend to be heavy on authoritative site characteristics |
| 9. How many RSS feeds do you read daily? | None. I read about 20 blogs daily and another 80 each week | 15-20 |
| 10. Should the average blogger use sitemaps? | No, but they should use webmaster central | No unless they are having indexing issues |
| 11. If you could read only one blog, which one would you pick? | For search stuff, SearchEngineland.com | That is an evil question 🙂 I'll pick something light like gapingvoid.com |
| 12. What is the secret of your success, expressed in one word? | Openness | Capitalism |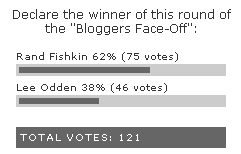 Browse all articles on the Bloggers Face-Off category
23 Responses to "Bloggers Face-Off: Rand Fishkin vs. Lee Odden"
webmaster@onlinemorning.com

Online morning is development of internet and security by webmasters,web developers from India and World for hard security of online information.

directtv

Blog of directtv

Daniel

lolo, its like Aaron said, that is why I did not ask revenue figures for them.

Aaron

lolo- Rand and Lee are not directly "blogging for dollars", but use their blogs to solidify their expertise and communicate with the masses. Their blogs contribute and support their very successful agency/firm work. I know that Lee has posted that his blog is his second leading source of new clients, behind referral business.

lolo

What I did not like here was that they
were not asked how much they earn
per month, like in the previous face-off.

HOW MUCH DO THEY EARN PER MONTH?
How do they monetize their blog to
be so successful?

Good job, though.
Beginner Blogger aspiring Pro blogger From France.

Daniel

Manta, absolutely! Being open is a something valuable, and after following Rand's blog for sometime I guess that he truly walks his talk.

Manta SEO Solutions

I did not think that the voting would be so close to 50/50. What I enjoyed the most about this face-off was Rand's response to the question "What is the secret of your success, expressed in one word?"

Openness!!!

I believe that if you run any business on the principle of openness or honesty, you'll go very far

Aaron

Love the side by side comparisons, great angle. I'd also be interested in a David vs. Goliath approach where the little guy can face off with the super power. Thanks!

George

Daniel,

Once again, great face off. I like that you changed up the questions to ask some SEO questions for the two of them. I love reading these face offs, keep them up.

Daniel

Brian, you are perfectly right hehe, that is an old habit that I need to correct, thanks for the heads up!

Brian at babybiotechs.com

Famous blogger or not, I'm not reading a link for "URL best practices" when the author doesn't know that the best practice isn't to link with the word "here" but to link with the key words 🙂

Daniel

Amanda, in my opinion the best way to measure the fame of bloggers is by the reach or popularity of their blogs. You are right that some famous bloggers have been blogging for short time, but I guess it is all about the content, if they provide great value for the readers people will come to their blogs no matter how old the blog is.

Thanks for commenting!

Jack

I love these face offs! It's very interesting to see what professionals think about blogging, AND, what their stats are.

Interesting stuff.

Amanda

I have to say all these famous bloggers haven't even been blogging as long as most of the people I know have. I wonder what made them famous and all of us.. wayside.

I've been blogging for over 10 years but then again its all personal sites.
Comments are closed.