Bloggers Face-Off: Amit Agarwal vs. Collis Ta'eed
After taking a long break the Bloggers Face-Off series is back. In 2008 I am planning to run at least one match every month, possibly more.
This edition will close the 2007 round, and I am glad to present two of my favorite bloggers here. Amit Agarwal was the first professional blogger in India, and he authors the popular Digital Inspiration blog. From computers to software and consumer electronics, that is the place to go.
Amit will be facing Collis Ta'eed. Despite being blogging for less than a year, Collis (and Cyan, his wife) already managed to establish two authority blogs on different niches. You probably came across them in the past: Freelance Switch and PSDTuts. Combined they have over 25,000 RSS subscribers, so he must be doing something right!
Now to the face-off.
| | Amit Agarwal | Collis Ta'eed |
| --- | --- | --- |
| 1. How long have you been blogging? | 3+ years | Exactly 10 months next week! |
| 2. How many hours do you dedicate to your blog daily? | 10+ hours | It varies a lot, some days the whole day, most days just an hour or less. Both blogs are written mostly by other people these days |
| 3. Do you make money with it? | Yes, the blog is my primary source of income now. The yearly revenue is in six figures USD | Sort of, they make about $12k in revenue a month, but we spend most of that 🙂 Next month will be the first profitable month for the blogs since we started which is exciting! |
| 4. How many page views the blog generates daily? | The average is 45k+ daily | FreelanceSwitch does about 14,000 pageviews/day, PSDTUTS averages 46,000 pageviews/day |
| 5. What is the biggest mistake you did along the way? | There was no email subscription form on my site for a long time | Thinking that it was easy to make money 🙂 Like all things, it takes time to grow and expand |
| 6. Is it easier to get readers with a tech blog? | Probably yes but again, this area has maximum number of bloggers so it balances out | Yes and no. It's easier in the sense that 'tech' readers are more likely to know what RSS is. But there is much fiercer competition in tech niches than in less savvy ones |
| 7. What is your favorite social bookmarking site? | Have a presence on these sites but rarely use them. Spend most of my time on Facebook and Twitter | I'm a bit of a digg-addict |
| 8. If you could give an advice for a novice blogger, what would it be? | The first six months of blogging can be discouraging in terms of traffic. Don't lose heart, they'll come | What niche you pick is the most important decision you'll make. After that just stay focussed and keep innovating |
| 9. How many RSS feeds do you track daily? | Several hundreds | I don't use RSS actually I did for a while but found it annoying. I just visit sites. The only blog I read consistently is Techcrunch though |
| 10. What is more important, raw traffic or RSS subscribers? | For revenue, traffic is important but for reach and getting the word out, RSS subscribers matter the most | Traffic I suppose. Traffic sells ads, RSS numbers make you feel good 🙂 I also don't think there's that much correlation between the two, RSS numbers are often comprised of a lot of dead weight |
| 11. If you could read only one blog, which one would you pick? | AllThingsD | I do only read one blog – Techcrunch |
| 11. What is the secret of your success, expressed in one word? | Consistency | Innovation |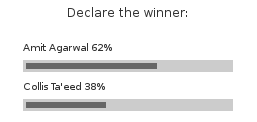 Browse all articles on the Bloggers Face-Off category
24 Responses to "Bloggers Face-Off: Amit Agarwal vs. Collis Ta'eed"
Ron – Sales Copy Writing | Content Publishing | Blogging

First of all, I respect Amit Agarwal because I believe he has started a revolution in India…

Secondly, I see that Amit scores higher in most aspects…

But then again, Collis is still young in this field, so benefit of doubt…

So, thumbs up to both of 'em!

Sushant@ Technology Design

I don't think comparing both of them is fair. I mean they are in different niches, competion in particular niche, time period. But after combining all these I think both are winners in their niche.

jay

amit all the way.he is writing all his post it self and he has not hired some one to do this for him.He is one man show.collis talks about innovation well amit is the first indian professional blogger so he is quite innovative.

Ruchir

@ Sumesh: Amit took 3 yrs for 45k pvs majorly because of the blogspot domain and also because he's in such a competitive niche. There aren't many sites that offer comprehensive tutorials for photoshop and everyone wants to learn PS thesedays; that's the main reason why psdtuts got 45k pvs in such a short time…

Sumesh

Well, Amit's leading by almost double the votes right now, and judging by the no. of fans he has, I can't see him lose. I like them both, so I'm not voting.

Amit with his perseverance and quality, and Collis/Cyan with their amazing writing/networking/marketing skills. I mean, Amit took 3 yrs for 45k pvs, but Psdtuts already has 45k/day. Amazing!

Davinder

DI & Amit rocks… but DI surely need a design makeover.

Daniel

Ooops, and I guess it's because I've read the "About" page of you guys 4 months ago… apologies.

Collis

Hey guys! I just got back from vacation so missed this going up, otherwise I so would have tried to doctor the voting results 🙂

Meanwhiles just one small error Daniel, Cyan is actually my wife (not my sister – that would be a scary thought!)

Thanks for having me on the site!

m07

they both rock no matter what people have got to say.they are bloggers to adore .hats off to both of them.

vhxn.com

I like psdtuts http://www.vhxn.com

Sakshi

Amit and DI totally Rock!! 🙂

Jacky Supit

wow!
i think we can title this face off edition with "Consistency vs Innovation" 🙂

both bloggers shows how they can gain success with their own theory. yeah, i mean theory, since on probably Amit didn't realize that he did some innovation on the process.

congrats for both of bloggers, and thanks Daniel. have waited new face off for a long time 🙂

Mike Smith

My vote is for Collis, definitely. FS is a huge blog in less than a year and has tons of great information. Definitely someone I look up to now while trying to build up my websites.

Eli

My vote goes to Mr. Collis Ta'eed, I've been following his work for a while and I love it!

Armen

CompuWorld

I use RSS Feeds, but I'm not silly enough to think that they are a more productive way to spend your day. Having a list of subscriptions just makes you spend time reading sites, even when you don't really have the time. It's only productive if you must read certain websites.

By not using a feedreader, Collis is probably far more productive, as he's not getting distracted.

My vote goes for Collis. There are few who have achieved what he has in '07.

Daniel

Elena, you can read some of the strategies that used to launch the FS blog here:

Elena

Daniel,
To go from 0 to 25,000 subscribers in under a year is very impessive stuff. Any chance we can read more about Collis? It would be instructive to read a concise month-by-month breakdown (or quarterly-breakdown) of how he got to that level. What was the traffic like the first three months? Was there a steady climb in traffic from the start or did it spike upward due to some external factor or some social networking thing? Was there one blog post, or a particular series of posts, that was the turning point? What other bloggers did he reach out to starting out? Did he get a boost from one of those connections? Did the traffic come from having a presence as an authority on another blog or in another forum? Or did the traffic just grow organically due to the subject matter?

CompuWorld

I have heard that reply many times from bloggers "I don't use RSS actually I did for a while but found it annoying. I just visit sites."

I don't understand why they do this. I mean it is proved that RSS feeds save so many important hours of yours. Than why do these people DO NOT use feeds to read blogs. At one point I feel like they are lying (because there success is awesome) but than why will they lie?

It is just that they like the unorganized style of working. It is fun being that way 😉

My choice is Amit Agarwal always.

He missed out all the success because of that blogspot domain but he coming back very well and it won't take time when he becomes one of the damn best in th business.

And Amit you earn 6 figures USD yearly? I am dreaming to reach there.

I truly agree when Amit says the first 6 months could be the worst part of your blogging life. I am touching 1 year and recently shifted to wordpress and now can I see some jump in traffic. It feels much better now.

As far as Collis answer is concerned..choose the right niche. I disagree. One should choose the niche thinking what he likes not what the public will like. There wasn't a niche few years back called mommy bloggers but today it has its own dedicated traffic. So it is all about knowing what we like and than searching the people of that niche and informing them that you got some related content in your new blog. First few months or may be a year would be very disappointing but once it catches pace it won't stop.

I am happy that I started blogging with my engineering days yet to end up. (6 months before I finish my engineering curriculum.) Before I finish my schooling I am sure I will get a good dedicated readership for my blog and than it would be lot easier to join a job.

I would suggest people thinking to be full-time/par-time bloggers to start it as early as possible. As once you are in some job than handling two things in one shot could be a problem.

Daniel

Amit has a huge following though, it will be a tough one for Collis :).

Marko Novak

Collis all the way! I love PSDtuts.

Ganha

votes for collis, because i i agree, that inovation is important and because his blog has 10months and allready is huge 😀

Ramkarthik

Both these bloggers stand as an example for getting into thousands of subscribers in very less period. I have read both their blogs. FreelanceSwitch is a great read for me because I'm a freelance writer too. DI provides very good information on Technology which I read to develop my knowledge. Good luck to both.

AL

DI is good but it totally needs design makeover.

Elena

I just looked at the voting results and wow, it's not even close. Kind of surprising. I know who I voted for but I'm not saying! 🙂
Comments are closed.