Bloggers Face-Off: Ahmed Bilal vs. Chris Toy
A very frequent question around the blogosphere is: "How can I make a non-tech blog popular?" While technology-related blogs usually have very large audiences, it is perfectly possible to create a successful blog inside a non-tech niche, and today's Bloggers Face-Off illustrates this quite well.
Ahmed Bilal's Soccerlens and Chris Toy's CaughtOffside are two of the most popular footbal blogs on the Internet. Basically they have everything in place: huge traffic levels, a very active community and a balanced monetization plan. How they did it? Check out their answers!

Ahmed Bilal

Chris Toy
1. How long have you been blogging?
Over 2 years – although just over an year with soccerlens.com
Registered my domain in September 2005, but seriously it started in the summer of 2006
2. How many hours do you dedicate to your blog daily?
A couple of hours a day
Probably about a couple hours, it doesn't take me long to write or edit articles
3. What is the secret of building an active community?
Find out what topics evoke the most reactions from people and write about them
I think it's important to work with what you know, the kind of readers I'm targeting are people similar to myself and it makes it much easier to know how to attract and entertain them
4. How many page views does it generate daily?
35,000+ daily
Spikes between around 15,000 and 20,000 plus
5. Do you make money with the blog?
Yes, I do, between $2000-3000 per month
Yes, not bad money at all
6. What is the biggest blogging mistake you did?
I started a general football news blog when it would have been much easier and smarter to start a more niche site by following a particular team or a theme
It happens every day, going to bed instead of writing just one more article. It always bugs me in the morning when I know the window has passed. But if there was one big regret it would be not starting this sooner
7. Do you think that blogs in non-tech niches can be successful?
Depends on how you define success. If you mean big ad deals or mainstream recognition, then non-tech niches are a bit behind. If you're talking about communities, we're way ahead of the geeks
Of course, there are already plenty of other examples of successful blogs in the sports and celebrity-watching sectors
8. What is the best promotion that you have used?
Some things are better left unsaid 🙂 The one I had the most fun doing was writing up a series of spoof interviews for April Fools' Day
To be honest, I haven't done much promotion at all. I was always putting it off until I was happy with content and community. Winning a major blog award in the
UK helped
9. How many RSS feeds do you read daily?
Very few (and am cutting this down to < 5). I get news directly from the sites, and I generally avoid reading too much news – best to read less and write more
None. RSS feeds kinda annoy me and I actually use a news-browsing
program that my brother has created from scratch
10. How long should a blogger wait to monetize the blog?
Till he's picked out his design / theme, and before he starts writing. A blog is just a publishing tool – if you want to make money from your writing, monetize from the start
Why wait? If you're doing it the right way it won't be intrusive or annoying, and it will earn you money. It's rarely too early to do something if you're doing it the right way
11. If you could read only one blog, which one would you pick?
The Dilbert Blog. Seth Godin is good but for pure mind-games Scott Adams beats everyone
TheSuperficial.com, the guy makes me laugh my ass off every morning
12. What is the secret of your success, expressed in one word?
Competition
Micromanagement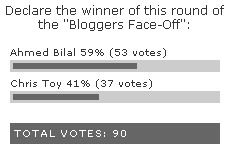 Browse all articles on the Bloggers Face-Off category
12 Responses to "Bloggers Face-Off: Ahmed Bilal vs. Chris Toy"
TV Online

Another excellent roundup.

I find these things fascinating.

And it was a hard choice, but I voted for Chris 'cause I know most people will probably vote for Ahmed.

Gooner4ever

Yea, too bad you are Manchester Utd fan 😛

Ahmed Bilal

Gooner4ever – lol, yea 🙂

Gooner4ever

Hehe, Ahmed it looks like we are reading the same blogs – Daily Blog Tips, Dilbert and yours.

GnomeyNewt

Good interview. Interesting to see from non-tech bloggers pov for once!

Ramkarthik

Thanks Daniel for getting two soccer bloggers interviewed. I love soccer and I too had one blog. But I stopped blogging on it. Very good face off.

Daniel

The link is fixed thanks for the heads up.

Ahmed Bilal

Thanks Daniel 🙂

ReviewSaurus

Indeed, they've done really good to make the non tech blogs popular. It's really by getting into specific niche and building the community, one can make any blog a success!

for e.g. if you've got a blog related to art and design then you can write tutorials and submit to various tutorial sites, then one can get lot of targeted traffic.

Rhys

I love football, so have subscribed to both of them.

The link to Caughtoffside at the top doesn't work though.
Comments are closed.