Blog Writing Project: Tips & Tricks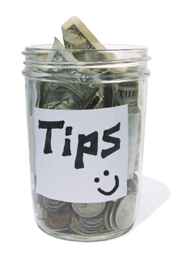 It is time for another blog writing project! The last one was very successful, with plenty of traffic and backlinks for all the 118 participants. The format will be the same, but this time we will have a cash prize of $500 for the five winners ($100 for each one).
The project will be sponsored by BidVertiser, a pay per click advertising network where advertisers bid against each other for the advertising space. With BidVertiser bloggers are be able to customize and have full control of their ads, and the payments are sent directly to your PayPal account with a minimum payout of $10. They also offer $20 in free clicks to all new advertisers, so check it out.
As you probably guessed from the headline, the topic for this project is "Tips & Tricks." Just write a post sharing your tips and tricks around any subject. It could be "Tips to Improve your Website," "3 Easy Ways to Become a Better Writer" or even "Tricks to Keep your Weight Under Control." You are free to get creative.
Rules:
Write a post as described above (only one entry per blog).
Use the Contact form and send me the URL of the post, the title and your name.
Once I publish the final list of participants, you will browse around them and post a list of your favorite entries (it can be a Top 3, Top 5, Top 10 or anything else).
Points will be assigned to the entries mentioned on these "favorites" lists (1 point per mention, regardless of the position), and the authors of the 5 entries receiving more points will win $100 each.
This format incentives people to read and link to the participant entries. It is also meritocratic since the participants themselves get to vote on the entries and to decide the winners of the cash prize.
You have until the midnight of next Tuesday (18th September) to submit your post. Good luck to everyone and let's have fun!
Browse all articles on the Blog Projects category
74 Responses to "Blog Writing Project: Tips & Tricks"
mario webmaster

i agree with you. thank you.

John Caulfield

I thought this was a web site offering Project Tips but noew I am here three top quotes for life

Norman Vincent Peale said,
"Do not be awe struck by other people and try to copy them. Nobody can be you as efficiently as you can."
Marie Beynon Ray said:
"No one grows old by living, only by losing interest in living."
George Bernard Shaw said,
"The reasonable man adapts himself to the world; the unreasonable one persists in trying to adapt the world to himself."

Bernardo Ferreira

Hi, can I still subscribe? Regards

Bernardo

Holli Jo

Okay, I hope I made it by the deadline – it's before midnight EST.

My entry: Life Tips Learned from High School Musical

Em Dy

My contribution to the project.

Nathan Rice
CFernandes

Hi,
I see you are running a contest. You might want to visit the blog on my link. You can submit your contest for free, in your own words by visiting the link. I am actually advertising with Adwords so you should get decent traffic from this initiative, plus a link to your blog!
thanks,
C Fernandes

Vijay

I've pitched in with my entry as well. This is my first and hopefully not the last!

Five Tips for Making Soccer/Football Exciting (or at Least Tolerable) No Matter Where You Are by HairySwede

Enjoy Five Tips for Making Soccer/Football Exciting (or at Least Tolerable) No Matter Where You Are

Daniel

Thanks J.D., we are up to 32 or so.

J.D.

Well, I wrote my entry – Three Strategies to Survive Your Short Stay in the Slammer.

Hope you all enjoy it.

How To Talk Like A Pirate Wench

Entry for the Tips and Tricks comp 🙂

6 tips & tricks to take great photos at Music Concerts – Rajaram S

Here is my entry for the same : Tips to take great photographs at concerts and shows!

Mohsin

Excellent project! Entry submitted.

Daniel

Sridhar, sorry about that I made it more clear now. Yeah any topic is valid as long as you are sharing tips or tricks about it.

Liz, one entry per blog, that is the only limitation.

BlogOxide

Great! Will try my best to participate!

Liz remus

Can we submit more than one blog topic?

Sridhar Katakam

Daniel,

You wrote: "Just write a post sharing your tips and tricks around any subject."

and,

"Write a post around the mentioned topic"

So, can we write on any topic or not?

Daniel

15 submissions already, keep them coming :).

Audrey the Coffee Sage

I love to see sites offer worth while contests. It does my little caffeinated heart good. 😀

PS: I enjoy reading you.

Scoot

May we never forget September 11, 2001

Sergio

wow great contest! cheers!

AL

Sorry, must have overlooked that in the article.

Daniel

Next Tuesday, 18th September.

AL

When's the last day of submission?

Tipster

Wonderful site you have here! Very informative. Cool contest also.
Comments are closed.