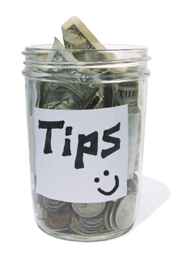 It is time for another blog writing project! The last one was very successful, with plenty of traffic and backlinks for all the 118 participants. The format will be the same, but this time we will have a cash prize of $500 for the five winners ($100 for each one).
The project will be sponsored by BidVertiser, a pay per click advertising network where advertisers bid against each other for the advertising space. With BidVertiser bloggers are be able to customize and have full control of their ads, and the payments are sent directly to your PayPal account with a minimum payout of $10. They also offer $20 in free clicks to all new advertisers, so check it out.
As you probably guessed from the headline, the topic for this project is "Tips & Tricks." Just write a post sharing your tips and tricks around any subject. It could be "Tips to Improve your Website," "3 Easy Ways to Become a Better Writer" or even "Tricks to Keep your Weight Under Control." You are free to get creative.
Rules:
Write a post as described above (only one entry per blog).
Use the Contact form and send me the URL of the post, the title and your name.
Once I publish the final list of participants, you will browse around them and post a list of your favorite entries (it can be a Top 3, Top 5, Top 10 or anything else).
Points will be assigned to the entries mentioned on these "favorites" lists (1 point per mention, regardless of the position), and the authors of the 5 entries receiving more points will win $100 each.
This format incentives people to read and link to the participant entries. It is also meritocratic since the participants themselves get to vote on the entries and to decide the winners of the cash prize.
You have until the midnight of next Tuesday (18th September) to submit your post. Good luck to everyone and let's have fun!
Tips and tricks to improve your site
The latest trends and opportunities
Useful online tools
It's free!