Blog Incubator Project: Batch 1 Winner
The first batch of the Blog Incubator Project is concluded. After 48 hours the voting session for the eight ideas is closed, and idea number one won with 33% of preference. You can read a description of all the eight ideas here.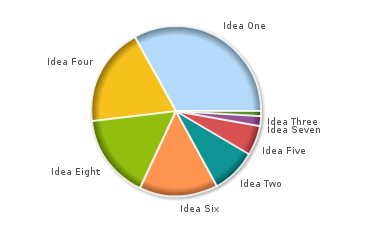 As you can see from the graph ideas four, six and eight were the runners up. If nothing else the authors of them know that some people would be interested in reading a similar blog.
So what was idea one about? Here is the description:
Name: Review Away
Topics: Review Away would be (as the name implies) a blog that reviews and gives away items. Be in gadgets, books, DVDs, vacation packages, even cars the sky is the limit when it comes to what can be given away on the blog. Site visitors would have varying entry requirements for entry into a giveaway, anything from leaving a comment, posting about it on their own blogs.
Why would it valuable?: Review Away would be valuable and interesting because everyone likes getting a chance at winning free stuff. Many persons may see an attractive item like a Sony PSP for example and would be interested to visit and learn about the item in the review, enter the giveaway and stand a chance of winning one of few that might be up for grabs on the site.
Background of the author: My name is Kirk, I am a 22 year old Jamaican who while searching for additional ways to supplement his day job income so that he can afford to enroll into college learnt about and got interested in earning via the Internet through blogging and other ventures.
What do I think about it? If structured properly I think it has good chances of becoming popular. It will be hard work until the blog achieves critical mass, but once the traffic and exposure are there, it will become a virtuous cycle. That is, there will be product owners wanting to give way their stuff because there are many readers who might end up buying it anyway, and the readers will want to stick around because they want to win the free stuff. One effect reinforces the other.
Kirk told me that he already secured the domain reviewaway.com, so he will be using the $200 prize to get a good design in place and to promote the blog initially. I will keep you guys updated when the blog goes live, and you will be able to give your advice.
Thanks for everyone who participated, voted and supported the first batch of this project. If there will be enough interest a second batch will be held in January.
Browse all articles on the Blog Projects category
7 Responses to "Blog Incubator Project: Batch 1 Winner"
Ross Hill

FreeStuffDay.com.au is doing really well in Australia, and their business model is to help businesses give stuff away to consumers 🙂

Bern

Oh rats! Can't believe I missed this, would've been such a nice fitting.
Is round 2 anytime soon, Daniel ? 😀

Dave

I know that the guy who started up a takemytech.com just shut down his site because he was not getting enough traffic. He would give away stuff on his site. I think the shipping cost was the killer.

Kirk

Hey guys, I'm glad so many of you voted for me. I have quite a few ideas that will make Review Away stand out from the crowd and set new standards for review and giveaway blogs. Thanks to all those who voted for me and thanks to Daniel for this opportunity, I look forward to whatever support I can receive.

comments and suggestions are welcomed via email
wakatta AT gmail DOT com

Look out for launch in early 2008.

costa

congrats, Daniel. It was a good project. Sure would like to see this new blog once it is up and running.

I agree that it will be tough and hard work to build up the blog until it can compete with all those established ones, but who knows.

Nick

Well this should be good to see when it's up and running, well done kirk.

Muhammad Siyab

Well congrats to Kirk!
Comments are closed.