DBT is research-focused. When you buy through links on our site, we may earn an affiliate commission. Learn more
If you are unsure about buying the Baloo Blanket, take a look at some of the advantages and drawbacks.
Do you find yourself sleeping restlessly?
Tossing and turning all night?
Are you being kept up by worrying thoughts and nagging anxieties?
According to recent studies, you are not alone.
Anxiety can be tricky to escape, but the Baloo Weighted Blanket can be a great solution to help you overcome nighttime anxiety, sleep through the night, and wake up feeling refreshed and well-rested.
We took an in-depth look at this blanket, considered the good and bad, and researched everything we could to bring you the best Baloo Weighted Blanket review.
What is a Baloo Weighted Blanket?
Our Baloo Weighted Blanket review wouldn't be complete if we first didn't explain what exactly this blanket is and how it works.
A weighted gravity blanket is a simple concept that relies on pressure therapy.
The weight of the blanket, usually at least fifteen pounds, provides a calming effect to those under it.
Many people have compared the blanket's pressure as similar to a gentle hug.
Baloo Weighted Blanket Materials
The makeup of this blanket was an important aspect to consider in our Baloo Weighted Blanket review.
We think you deserve to know what it is you are sleeping under:
How Much Does it Cost?
The 15 and 20 pound Baloo blanket sells on the Baloo official site for $169, plus $8.99 for UPS ground shipping within the United States.
When buying through BalooLiving.com, you have the option to pay in four separate, interest-free installments of $42.25, withdrawn from your account every two weeks.
This is very helpful if you are not ready to dole out that big chunk payment upfront.
Baloo offers a "return for exchange or refund" guarantee for up to 30 days after delivery.
They also offer complimentary shipping within the continental United States on returns.
It is important to note that this complimentary shipping only applies to returns for exchanges or store credits.
Baloo recommends taking several nights to allow yourself to adjust to the sensation of sleeping under a heavy blanket.
You also have the option to buy previously inspected and refurbished blankets by contacting the company at care@balooliving.com.
If you are wary of buying an already used blanket, Baloo offers the assurance that they only sell blankets they deem to be "like new."
FAQ's
Check out some answers to commonly asked questions about the Baloo blanket.
The Baloo blanket can help you to relax and ease your mind at night, leading to better sleep.
Studies on the pressure therapy effect of weighted blankets also attest to the effectiveness of these products.
The Baloo blanket is made of premium, soft cotton giving it a soft touch and breathability suited for use in any climate.
This assertion may be true for most people, but some reviews claimed the blanket was too hot for them at night.
If used in sweltering weather, the blanket might be too stuffy to allow comfortable sleep.
The Queen size of the 15 or 20-pound blanket is big enough to fit on top of a Queen bed and can even turn sideways to allow two people to share better.
Yes, this blanket can use pressure therapy to lower blood pressure and reduce anxiety.
Results vary from person to person. Some users say that weighted blankets put too much pressure on their hips and neck, making them uncomfortable and sore.
The majority of users have claimed that their Baloo blanket is the cause of their improved sleep and reduced insomnia.
The gentle pressure, comparable to a hug, is enough to make anyone feel more relaxed and safe.
Organifi Green Juice can help reduce inflammation. It contains matcha green tea, turmeric, spirulina, ashwagandha root, and other natural anti-inflammatory ingredients.
Green powders typically contain a wide variety of chlorophyll-rich vegetables, grasses, and herbs.
Some of the most common vegetables include:
Broccoli

Spinach

Kale

Tomatoes

Beets

Collards
Green powders may also contain probiotics, seed or tea extracts, and antioxidant-rich fruits.
In terms of the effects of drinking a green powder supplement, the answer depends on the specific person's metabolism and rate of digestion. But, if you're trying to figure out how long a single container can last you, then the answer depends on two factors:
How much supplement powder you buy, and

How many servings you consume each day
A single container of Organifi Green Juice should last a total of thirty days, but that's only if the consumer limits themselves to a single serving per day.
Yes, absolutely. Greens powders that contain antioxidant-rich superfoods are an excellent way to boost immunity.
Final Thoughts
In short, our Baloo Weighted Blanket review found that this blanket is a great product to use if you are being kept up by anxiety or insomnia.
The high-quality materials used to make this blanket make buying it a worthwhile and comfortable purchase.
The four-installment payment plan makes swinging this big purchase an achievable feat for pretty much any interested person.
If you do find that this blanket is too hot or too small for your needs, as some customers have reported, Baloo's 30-day return guarantee can save you from losing your money.
If you find yourself in need of help dealing with worries and restless nights of sleep, go to Baloo's online store and see for yourself what their weighted blankets can do for you.
The Baloo weighted blanket molds to your body like a gentle hug, relaxing the nervous system, helping to alleviate stress and anxiety, and encouraging your body to rest.
---
Baloo Weighted Blanket vs. Alternatives
---
Baloo Weighted Blanket Reviews
There are no reviews yet. Be the first one to write one.
Baloo Weighted Blanket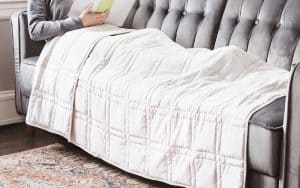 The Baloo Weighted Blanket is a 15 to 20 pound blanket used for pressure therapy, or simulating the gentle embrace of a hug to induce relaxation.
Product Brand: Baloo
Product In-Stock: InStock