AdSense Profits Interview: HTML-Site.nl
As you might remember a couple of months ago I launched the AdSense Profits Course, a training program for bloggers and webmasters who want to increase their AdSense earnings (or get started with it).
The feedback was great, with most of the members managing to increase their earnings significantly in the weeks/months after the course (e.g., 20%, 30%, 50%, and in some cases even 100%).
I figured it would be interesting to interview some of the members, asking what worked for them, what didn't work, what changes they applied to their websites and so on.
The first interview is with Bjorn Simmering, who owns HTML-Site.nl. It's a dutch site dedicating to helping people learn HTML and build their own websites.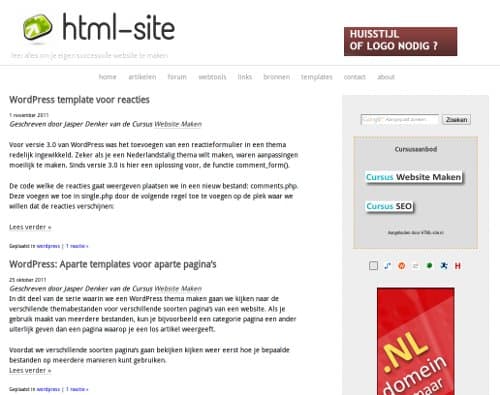 1. When and why did you start HTML-site.nl?
I started HTML-site.nl in 2002. First it was for students of the school I worked for, but it started to grow over the years, until it actually became one of the big players in the "build a website" niche. Today it receives around 3,000 daily visitors, which is a lot of you consider it's geared toward Dutch people only.
2. What goals did you have for the site initially?
As mentioned above, the first goal was to show the students of my school how they could build a site of their own. But soon people from all over my country was visiting it, so I decided to buy a .nl domain for the site (which is the country-level domain on Netherlands). I didn't have any plans to make money with it initially, though.
3. Why did you decide to monetize it with Google AdSense?
Once the traffic reached a good level I figured I could try to monetize it, and AdSense was the hot thing on the web.
The results were pretty good, with the site earnings a hundred or so Euros per month initially. As I made layout and other changes on the site earnings could go down, but then I would read more about it, make some more changes and it would go up again.
I also tried to use affiliate marketing, but it didn't work as well. Sometimes I would make money with it, but AdSense was more stable.
4. What was your monthly earnings before you took the course?
Here's the breakdown:
March – $444
April – $385
May – $446
So around $430 per month.
5. What about in the months after the course, when you started applying the stuff you learned?
Here's the breakdown (it includes AdSense and private ad sales, as one company actually purchased a banner where I had one AdSense unit):
June – $559
July – $588
August – $557
September – $637
So around $585 is the average.
6. Did your traffic change after you took the course?
It didn't change that much, only the normal seasonal fluctuations. The increase in earnings came from a better monetization strategy.
7. What changes did you specifically made to your monetization strategy?
First of all I made a change in banner below my posts. It used to be a 468×60, but I realized it was too small to generate a decent CTR. I changed it to a 336×280 and the earnings increased quite a bit.
I also realized I had many without ads, including my forum. I included a banner there, and soon afterward I sold that spot to a company.
I also did tests with colors, placements, and banner/ad rotations. Some changes worked well, some didn't. For example, changing the color of the links didn't have a great impact on my CTR.
8. What tip do you have for beginners who are just getting started with AdSense?
Just get started, and remember to test, test and test. Don't wait until your website is large or everything is perfect with your design. Just get started.
Ah, and remember to respect the Google AdSense guidelines.
9. What plans to have for your website now, and how much do you think it can potentially earn per month?
I want to make more videos. I also provide two courses on the site now, but I want to make more.
I believe that site can generate around 1000 Euros a month when traffic increases more. But that part is hard. I have been trying for a while, but so far the number of monthly visitors is flat. I am considering to start writing articles in English, but not sure yet.
Do you want to start making some real money with AdSense as well? Then click here to join the AdSense Profits Course (doors stay open until Friday only).
Browse all articles on the Monetize category
15 Responses to "AdSense Profits Interview: HTML-Site.nl"
Abdul Cholik

I was retired in 2006 and I have joined many programs to make money online. I also setup many blogs but unfortunately their traffics are unsatisfied even I have followed some tutorials about how to make a good blog.
Hope this article will guide me to increase the traffics of my blogs.
Thank you

Michael

Thanks for sharing this post. I like to hear other peoples success stories with Google Adsense as I use it as well to monetize a lot of my websites.

That is great he was able to increase his earnings.

I think for my sites I need to focus on getting more traffic before I can focus on earning more with Google Adsense.

However some really great points here.

Anastasia

How many people do visit the site? One of my sites used to be visited by a 1000 people a day but I didn't earn more than 250 a month. So I don't believe the numbers.

Bautista

I am also the member of Daniel's Adsense profits course. Since take the course, my GA earning increased around 20% every month due to applied some techniques that Daniel mentioned. For example, I placed an 336×280 ad on the champion combo area, and it got high CTR than another places.

Bjorn,
Congrats for your success. I like some tips you mentioned above.

Irfan

When i find a 468×60 ad unit of adsense in some top level blog's in my country i started figuring out why they are being using 468×60 ad unit for long when they can earn higher with it 336×280, still confusing for me though.

I agree on your point test, test and test yeah if you test ad units on your site you will find which ad unit brings more revenue then other. It helps!

Ardorm

Thanks for sharing the interview. I used to think that large banners would annoy my visitors. But now I'll test, test and test. My blog is far from perfection, so there's not that much to loose anyway 😀

Daniel

Bjorn, That's pretty decent Ad-sense Earnings, considering.

Just one question. Are you saying that you made that amount Monthly, on that particular site through the use of Ad-sense only?

With all due respect I do not see how anyone can pull in even an average amount of Income through Ad-sense(No matter how good their ad placement, design, etc) is. If a site had a ton of traffic, okay! maybe you would get the occasional click. Though, in all honesty, no matter how attractive many of those newer Ad-sense ads are(And some are pretty flash) I don't know of anyone who would go clicking on them(Unless by accident).

Unless a site is quite huge(Traffic wise and rep) Ad-sense is pointless.

The space those Ad-sense ads are using up, could be put to much better use. Especially if you own your site.

I read an article that stated, Ad-sense should only be allowed on sites that have reached a particular amount of traffic, PR, etc).

At first I thought the article was quite harsh, but then I realized that this was a sensible thing for the less established sites to do.

Justin Germino

I did double my income when switching from 468×60 to 300×250, but have to try the larger block and see if that converts better than the 300×250. I haven't directly compared those two to see if a difference.

Also, if you run a site that sells your own products or affiliate sales products remember that AdSense competes with anything else you want to sell. You should decide on a program and stick with it for a while but feel free to change and experiment. Diversification is pretty important too, I know many bloggers (mostly in India) who had their AdSense click bombed from a malicious individual and AdSense account was banned without warning and no ability to recover or get Google to reinstate. At least 7-10 bloggers I know had this happen to them and don't know how or why, one knew exactly which site did it but Google never re-instated their AdSense account.

jorge jacobo

I remember this course. I almost bought it. I should have bought. Thanks Daniel.

dojo

Good tips. I am trying to monetize with Adsense too and it's not that easy. And just an ad size / color / placement can make or break your earnings.

Eric Murphy

Its great. I loved it.

Dan Thorley

I think AdSense is an excellent foundation for any blog based business and I still highly recommend it to anyone starting off from scratch when they ask how should I start making money online.

suraj

Some Good Tips for Better Adsense earning
1. Large Rectangle ad above the contents give highest CTR.
2. Enable the Text and Image Give Higher Ecpm Rate.
3. Color should be according to our website theme.
4. Create adsense channel allow to see the advertiser.

Itachi

Wow, to think that you can make that much with only two 336×280 ads in single posts. Very well done!

Cmdline

Pretty impressive story and interesting series of interviewing. Looking forward to follow the remaining.
And hoping to learn a few tips for my website cmdlinetips.com
Comments are closed.