8 Lessons Learned Growing a Site to One Million Monthly Page Views
Some time ago one of my sites crossed the one million monthly page views mark. The screenshot from Google Analytics for the month of August is below.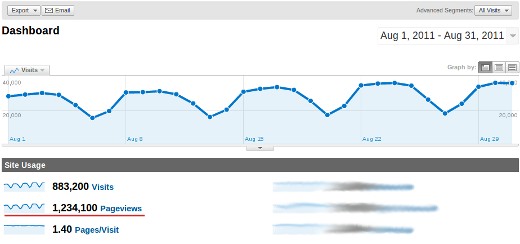 While I know there are thousands of other websites out there with much higher traffic, reaching this milestone made me quite happy, as this is a website I built from scratch (i.e., I still remember when I registered the domain).
Below you'll find the eight most important lessons I learned while building this site (I won't reveal the URL for privacy reasons, but the useful stuff is below anyway):
1. Choose Your Niche Wisely
Most people who read this blog probably think it is my largest and most profitable website. Well, it's not. The reason? Niches like blogging, make money online, SEO or Internet marketing are pretty small when compared with mainstream stuff like gadgets, movies and television, cars, health and so on. That is why my "money" sites are placed in those niches, while I write on Daily Blog Tips mostly because I have fun doing it.
2. Find A Unique Angle
While picking the right, relatively large niche is important, I wouldn't recommend you to start yet another tech or cars blog, where you would get most of your content from other, larger blogs and sites. Most mainstream niches are crowded, and if you just write about what everyone else is writing, after them, people will have no reason to visit your site. The solution? You need to find a unique angle. You need to come up with an idea that will differentiate both your site and your content from others in the same niche. Not easy, but possible.
3. Repeat Visitors Matter
There's one metric that very few people pay attention to, yet I believe it's one of the best indicators of the potential of a website: repeat visitors. Basically if the amount of repeat visitors on your site is increasing over time it means that you are converting some of your casual visitors into loyal ones, and that your overall traffic will increase overtime. If the amount of repeat visitors is not growing, on the other hand, it means that your content is failing to engage visitors to the point that they will remember your site a couple of days after visiting it. In this case you need to rethink your strategy.
4. Quality Over Quantity
If you need to choose between quality and quantity, go with quality. In order words, you'll get much better results publishing one top quality article per week than publishing five average ones. It's the quality of your content that will increase the amount of repeat visitors you get, after all, and the amount of backlinks you'll receive from other sites (more on that below).
5. Google Is Your Friend
Whether you like it or not, Google is the main traffic driver around the web, so you better befriend it and use its help to grow your site. This means that you need to understand how search engines work (e.g., how Google crawls the web, how it decides which websites to serve when people search for stuff, etc.) in order to optimize your content, pages, and to promote your articles in a way that will increase their exposure with search engines. It will take some effort from your end, but the results are certainly worth it.
6. Research and Gather Data
When it comes to Search Engine Optimization and to promoting your website in general, you'll need to research and gather data (as opposed to trusting your gut or intuition). That is, you'll need to understand what are the hot topics inside your niche, what search terms are sending you more traffic, what visitors are more likely to stay on your site and so on. With the numbers on your hand you'll be able to make much better decisions, both in terms of content and promotion.
7. You Can't Do It Alone
While there are many people who manage to grow large sites alone, I found that getting some help along the way made all the difference. On most sites I have these days I focus exclusively on the strategy/promotion aspects, while leaving the web design/content development to other people. Sure, you'll need to spend some money, but this is one of the most efficient ways to grow any website (and any business, for the matter).
8. Slow and Steady Wins the Race
It took me around three years to go from zero to one million monthly page views. During that time frame there was no single event that catapulted my site's popularity, no large spike in traffic. It was a gradual and slow process, where every month I would promote the site a bit more, do some guest posts and so on. All that mattered to me was to see the traffic numbers increasing, albeit slowly, month after month.
Browse all articles on the Strategy category
51 Responses to "8 Lessons Learned Growing a Site to One Million Monthly Page Views"
Andrew Groat

Somehow I missed this article the first time around… Thanks for the email Daniel!

Very informative – worth memorizing the 8 headings!

Also congrats on cracking the 1mil pageviews!

Lionel Bachmann @ Model Trains

Congrats on reaching this milestone. I know that this a blog about blogging tips, but I can't help but point out that the list you made can be applied for any website. These are some very good lessons to follow. Hopefully all of us will be able to reach the milestone you have.

Gerry @ Niche Blog Pro

Hi Daniel,

Congratulations for hitting 1 million mark..

Indeed proper keyword research (market research) can make a big difference and scaling your operations to include forming your "operations team" while you handle the marketing side of the business.

In my experience, posts get search engine love specially if they are meaty and well researched and of course don't forget onpage optimization and link building.

Bob Bessette

Great stuff Daniel!

Best,
Bob

Daniel Scocco

@Million Mile Secrets, around 80%.

@Gregory, around 700,000

ES

Daniel, maybe you could look at odesk.com as well. I've so far had a very good experience there, especially for short term work/projects.

Million Mile Secrets

Congratulations! I'm curious what percent of your traffic comes from search engines and Google.

Moyo

I have tried SEO, and consistently updating content, I need tips on how to steadily grow traffic. When I put in a lot of effort, I get as high as 90 in a day, but how sustainable is putting this much effort in?

My site is a Christian magazine. If anyone is interested in helping please contact me with ideas or links.

Thanks

Gregory C.

3 years to 1 million page views, great work! How many uniques are you getting?

Daniel Scocco

@Matej, lately what I am doing is finding writers for each site, and then teaching them how to promote as well.

Matej

Agree with 7. it's almost impossible to do it all alone, while maintaining the quality. Especially because those sites are usually more news oriented and require more frequent posting.

I was wondering if you know Daniel, what is the usual price for a blogger covering for example movie&tv news (without reviews and similar opinionated articles, just news)? I'm talking about working 5-8 hours a day, just writing. Had any luck with OnlineJobs.ph freelancers lately?

Daquan Wright

Wonderful list of items, I myself am starting a blog soon.

Quality is always better, people will link to useful resources. What matters is that people know you're active, there should be a line that you draw in terms of your posting frequency as readers do find it important.

In particular, not posting enough and posting too much. But from other blogs I read (problogger), people care less about you posting less (especially when the content is worth reading).

I definitely will focus on quality, I'm thinking 1 – 2 posts / week.

Robert C

Congratulations Daniel. Strong work ethic and quality content. You make a great role model for the blogging community. Thanks for sharing your knowledge.

danish

Congrats and your achievement!
And a great post indeed.

jorge jacobo

I discovered your site a couple of months ago, and ever since I keep coming back I wonder why! 🙂

Rebecca

Congrats on reaching one million! Thank you for pointing out that you didn't reach one million visitors overnight. I agree that you need people to help you. Strength in numbers 🙂

MT Nickerson

Congratulations on your achievement but I feel as if, as a new blogger, that this type of information is detrimental to my progress.

I'm kidding, but not. I am no where near that number and when I see other people and their success, it is sometimes overwhelming and discouraging. You have great tips and I will of course try to implement them, but in the mean time, I am the slowest tortoise trying not to worry about you hares so far ahead….

Seo Royal

Really interresting post..and congratulations.

I am thinking about starting a new website next month and leave the sites what i am doing right now to somebody who i work with.

You make very good points here and i will keep them in mind when choosing my niche.

Thanks for posting

ES

The traffic spike pattern is interesting and it is consistent. One of my tech blogs have the same pattern – reduced traffic on weekends. But my other blog has the reverse – more traffic during the weekends! Maybe because its based on entertainment.

Getting a new blog from scratch to 1M page views in three years is a great work Daniel. Especially considering the fact that you manage multiple websites. My 2.3 year old blog is struck with 20k page views per month! I wish to achieve 1M page views in it by the end of the fourth year. Otherwise, I am bankrupt 🙂

Ades

There is no shortcut basically, and I agree. Good luck in your success!

Androidage

You are right Daniel,

When the initial stage of blogging I thought, if the blog get more blog posts, traffic will increase and after relize the facts that volume of posts not required for traffic.

Quality always win in this case that readers stay long time on blogs and surf more contents. When the readers stay long time, we can improve the Pageviews I strongly believe.

Thanks to the wonderful article.

Paul | All Groan Up

Great points. Especially about repeat visitors. It seems I have typically a 50/50 split from New to Returning every day.

I think I'm hooking people as well as an amateur fisherman without the right bait. But I'll keep trying!

Jonathan Blackwell

1,000,000+ page views is a great accomplishment! I read your stuff consistently so I am responsible for some of those page views 😉

Luiz

Awesome!

Hope I'll archive this goal some day!

Sean

Yes that is quite an accomplishment! Slow and steady is the only way to go, especially if you want to stay on Google's good side. =)

Irfan

This is Awesome!

The one and only blog i read for blogging tips.

neo

Hello Daniel

Conrats on your achievement Daniel, your blog give me big inspiration.

Rakesh Kumar

Getting 1 million page views is a milestone for me but i won't give up. Thanks Daniel for useful guidelines.

Daniel Scocco

@Robert, thanks man.

Robert Boland

Great stuff Daniel, I long for the day I finally get a site up to that 1 million milestone

Congrats and your achievement!
Comments are closed.