5 Blogging Traps You Need to Avoid
This is a guest post by Alan Johnson.
As a blogger, there are more than a few mistakes which can and will make you waste valuable time and resources, so that identifying them in order to be able to take action is simply a must.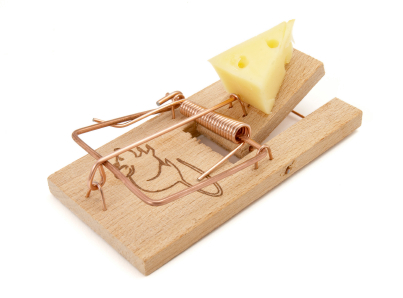 Let's not waste another second and start with:
1. Neglecting the Comments Section
The opportunity to interact with your readers is one of the most important things which makes blogging special in the first place. Never make the mistake of neglecting the community you can build around your blog through the comments section, or you will definitely end up regretting your attitude down the road.
2. Not Taking Feedback into Consideration
You will certainly receive your share of emails with suggestions on how to improve your blog, and not taking them into consideration would simply be a shame. After all, if a reader has taken the time to write you an email and share his or her two cents, listening to what that person has to say is the least you could do.
3. Taking Breaks From Blogging
You are obviously only human and will need to recharge your batteries every now and then, but that doesn't mean that not publishing blog posts for several days in a row is the way to go. Take advantage of the timestamp feature, write a few blog posts before you leave and there you have it.
4. Seeing Blogging as a Chore
The "I'll just write this post and get it over with" attitude is never recommended if you are serious about seeing long-term results. Pick a topic you are both passionate about and knowledgeable in, and make sure that your posts reflect the way you feel about blogging.
5. Not Respecting Your Readers
When interacting with readers, always be polite and helpful. Don't look down upon a person simply because the question he or she has asked seems like something obvious. It may be obvious to you, but it may just represent something extremely important to a person who is just starting out. The same way, you should encourage the loyal members of your community to always be ready to help a fellow member out since, as I've previously stated, not taking advantage of the comments section would simply be a mistake.
Conclusion
I am convinced that it's more than clear which blogging traps you need to avoid and, now that you have identified the problem, taking things to the next level is a must. Time is not exactly something you can afford to waste and, as a blogger, maximizing results is the way to go if you are serious about standing out.
What about you? Are you guilty of any of these and, also, which other blogging traps have you identified? What advice would you give to a blogger who is just starting out when it comes to the mistakes he or she should steer clear of?
Alan Johnson is the owner of The Rating Blog and author of The Online Business Handbook.
Browse all articles on the Blogging Basics category
28 Responses to "5 Blogging Traps You Need to Avoid"
Robert Woods

You hit a home run with 3 and 4. I took quite a siesta from blogging and it cost me site visitor, ranking, and money. Good post. Keep it up.

etomyam

interesting article, very useful guide, thanks for sharing

iFant

Thanks for informations..!!

Silla

Is it really necessary to post every day, or almost every day? I've got some ideas for additional blogs I would love to do, and with 3 or 4 blogs I won't be able to post an article on each of them every day – especially since one will be a craft blog, and it takes time to make things (not to mention write it all out afterwards).

Do you think 1 or 2 posts a week would still be okay? Then they'd still be updated regularly, and the readers will know the blogs aren't dead.

Ramiro

I edit 3 blogs, two with teaching materials and posts on educational matters and the third on travelling. Sometimes I do not have enough time to read all the comments. I try to answer all emails received. By the way, I am from Portugal and visit your blogs every day.

Rob

I actually got my finger caught in a mouse trap, that picture opens old wounds.

=(

Robert Woods

I am new to blogging and I certainly want to express my thanks for your posts. While considering whether or not to allow comments on my site reading your work today has set me on the right path. Thanks again.

Muscle Post

@Michael, I agree with Daniel. If I'm a regular reader of your blog and am used to reading a few posts a week on your site, I'm not going to check back day after day for a month if you don't provide new content. I will assume that you aren't blogging anymore and I will find a better site that is updated more frequently.

Posting frequency and consistency is one of the most important things!

aw

Though sounds interesting, we need some more in details. 🙂

Anyway, thanks 🙂

OldSailor

Great tips for long term bloggers. Time stamping is a nice feature. But with recent update in word press, I find time stamping is erratic. Mike is also coming out with some problem on time stamping. Anyone else facing problems with time stamping ?

Khayte

Whoah! I find these tips very useful. Most especially the numbers 3, 4, and 5. The most important thing I learned from blogging is to always take in to consideration those comments I am receiving – socializing. It's also one of the most popular ways to increase ranking, too. Gaaah, just found this site great! I'll be reading posts from this blog from now on anyway.

Daniel Scocco

@Rhea, yeah timespam is a lifesaver for when you travel.

@Mike, 3-4 days is not a big deal, some people vanish for weeks in a row 🙂 .

@Michael, subscribers might remain, but people that used to visit your blog daily and drop comments I am not sure.

@Rita, thanks.

Tom At The Home Business Archive

Good points! Especially participating in the discussion on your own blog when the readers leave comments is really important.

suresh

Nice to hear this which gives the point to be concentrated.

Taking the readers into consideration and writing with respect to the need of people will surely make the blog successful.

Taking a break and coming back to the board with full energy is a good suggestion and thank you.

Kyle Chowning

Okay. So, I'm not an avid blogger. It appears that I blog about 6-10x a month. What you're saying is that if I want to grow my readership, I should be writing how much? 20x 25x 15x a month?

Rita

Love your site and because of your advice, I've seen quadruple (and growing) the hits I was getting prior to taking the advice given on your site. Thank you!

Michael Martin

I don't really agree with taking breaks being a problem. I recently went a full month without posting a new article on my site. It wasn't intentional (I just didn't realise how ridiculously long it had been! Bad organization… 🙁 ), but my readership still grew around two hundred subscribers in that time.

If you're writing timeless content, then a short break isn't an issue. (Though a month doesn't really count as "short" i suppose!)

No-one is going to unsubscribe because you've stopped filling their feed reader for a while. 🙂

Mike

Okay, now I'm feeling guilty for not posting in the last 3-4 days. I've been trying to figure out how to do the "timestamp thing" but it just keeps posting my articles right away. dang it!

rhea

I agree with all of these, especially the timestamp thing. When I go on vacation, I write a week's worth of stuff ahead of time and have them post one each day.
Comments are closed.