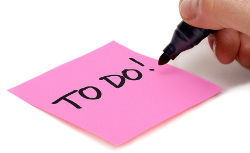 While creating and using to-do lists is relatively simple, there are some tips and tricks you can use to multiply their effectiveness. Below I'll share with you the 10 tips I learned with my to-do lists over the years.
1. Choose the Right Medium
Your to-do list must be in a place that is easily accessible. For most people this will be a small notepad that sits on their desks, but it might also be an application on your computer, your smartphone and so on. Just make sure that you will be able to add, remove and edit entries on your list easily.
2. Leave the List Visible All Day Long
It is essential to have your to-do list in front of your eyes all day long. This will reinforce the sense of urgency and get you working on your tasks as soon as you start slacking off.
3. Start Your Day with Your To-Do List
Develop the habit of sitting down and writing your to-do list at the beginning of every day. This is the best time to plan things out, because your mind is fresh and because you should have a good grasp of the important things that need to be done that day.
4. List Tasks for That Day Only
Do not try to plan the whole week or even a couple of days ahead. Focus on the tasks that need to be completed on that single day. You can't know what will come up during the day, so the priorities for the day after might change.
5. Put the Important Tasks On Top
Always put the important tasks on top. First things first, as they say. It is also essential to tackle the tasks in order, else putting the important ones on top would be useless.
6. Have A Separate Section To Write Down Ideas and Notes
It is very likely that during the day new ideas and tasks will come up. Do not mix those with your existing to-do list, however, else you will mess things up. Instead have a section where you can write down ideas and other annotations, and then use them as input for tomorrow's list.
7. List the Things You Are NOT Supposed To Do As Well
Apart from listing the stuff you need to do you can also list the stuff you are NOT supposed to do. If you lose productivity because you check your email every 10 minutes and keep logged on Twitter all day long, for example, you could have one entry on your to-do list as "Check Email Only Twice A Day" and another one as "Open Twitter Only After 6pm". Then you would cross those tasks at the end of the day if you manage to respect them.
8. List A Realistic Number of Tasks
Even if you are feeling good in the morning, don't try to add everything that comes to your head to your to-do list. Instead put a realistic number of activities there, and try to finish all of them by the end of the day. Listing too many tasks might discourage you at the beginning of the day, and frustrate you at the end.
9. Take Your Breaks Between Tasks (And Not Inside Them)
Taking breaks is essential for your productivity. Just make sure that your breaks are scheduled between your tasks, and not inside them. In other words, finish the task at hand before taking a break. If you take breaks while working on a certain task you'll lose concentration and prolong the time it will take to complete it. Remember, finish what you start.
10. If You Miss A Task, Send it to Tomorrow's List
Missing a couple of tasks here and there is normal. You can't predict with accuracy how long each activity will take to be completed. The important thing is to not forget about those. Instead send the tasks you missed today to the top of tomorrow's to-do list.