10 Professional Looking WordPress Themes
Despite the huge availability of WordPress themes it is somewhat difficult to find professional looking ones. Recently I was searching through the many theme collections on the Internet and it was not before a couple of hours that I managed to find valid ones. Below you will find the result of my research, 10 professional looking WordPress themes, enjoy!
SubtleZen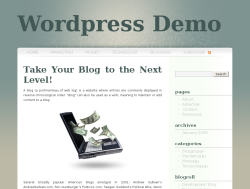 View Demo | Download
Vistalicious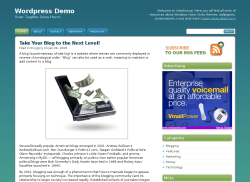 View Demo | Download
Decker Theme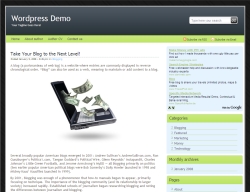 View Demo | Download
Blue Sensation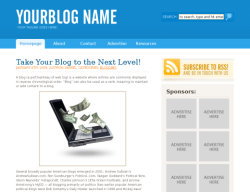 View Demo | Download
PassionDuo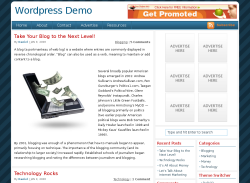 View Demo | Download
GreenTech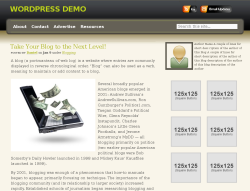 View Demo | Download
Browse all articles on the WordPress category
40 Responses to "10 Professional Looking WordPress Themes"
izwan00

Thanks for the great templates. The good is, all of it is free and I like it.

Bang Kritikus

Nice templates.

Daniel

Nice themes. thanks a lot

1 Weddings Readings

Thanks alot bro. I am going to consider using one of these professional theme for my site. Keep up your hard works. Love~

Said

Thank you for your themes. Personnaly i use "DarkZen" 🙂

SEO Genius

Some really nice wordpress themes here one i am very keen to use is the first theme very nice 🙂

ABDOU

I am really impressed by these templates, I already bookmarked this page, to get back to it if any new templates, I was looking for a template that looks very professional for my new blog.

Thank you

poromenos

can you please re upload the first theme because it gives me a 404 error!

ege

great list, thanks.

Professional icons

Thanks for these templates! Keep up the Great work.

seo pixy

These themes are really great and professional looking! Thank you very much for sharing them, it would take me hours to find them by myself:)

kris

great great finds. i might use the exquisite when i buy my domain 😀

Jon Payne

I'm using the first one on your list. Many thanks!

ujjawal

This is one of the best compiled list i have seen!! you have good taste 😉

seoreef

The first one is also the most beautiful.

Red

Great themes you've got here. I have to say, headsetoptions.org has some great themes as well. As you can see, I'm using their ultimate 9 theme. Best theme I've seen so far. Good work!

catalonia spain

Some nice free templates, thanks.

رضا

Bright Pixel is very pretty

رضا

Selvam

Any templates with adsense ready ????

nate

Pretty good list but there aren't any three columned layouts.

Daniel

John and Terry, those are 2 very good looking themes, thanks for sharing.

Terry

Akon WordPress Theme for something clean and simple.

John

This is also a very good candidate for your list:

Rory

Thanks, Daniel. You motivated me to check my own set-up.

I already have hamelife hosted on a server – but the blog side of it is still with Blogger. My host does have WordPress capabilities, and I have installed it, but I have not been able to figure out how to use it. I was still under the impression it was a paid-for service when it comes to using your own CSS.

Well, I have dug deep into the bowels of my WordPress installation, recovered my password and username, and I have found that I can do whatever I want, basically. So, over the next few days I will see what I can do with the themes etc. and how hard it is to transfer my Blogger archives. I can't say I'm looking forward to it.

Thank you, once again.

Can you pass on any encouraging advice about switching to a new address? Maybe a post about it, and how to maintain the visitors who have subscribed, because I'm assuming I will have to reset Feedburner etc.

Daniel

Rory, the 15 credits stuff is necessary if you are hosting your blog with WordPress. Most of the themes you find on the Internet are free as I said, but WordPress charges users for some features (like customizing the CSS or getting a personalized domain name).

Have you ever considered to host your own blog, like on Dreamhost or Hostgator?

Rory

I don't mean to turn this into a forum – but I don't think I could reproduce my theme over at hamelife on WordPress without having to pay $15 or 15 credits. I always seem to come to a point where it won't let me alter the CSS without being asked to purchase 15 credits. Am I misunderstanding this?

I know some would argue that this is a small price to pay for your own personalised blog, but I just want to know whether I have my facts right.

Daniel

Rory, if you are hosting your blog you can use most WP themes since they are released either as open source or with a creative commons license.

Kris Davis

If I am not mistaken, all wordpress themes are free. You can switch between the ones above fairly easily once they are downloaded.

Rory

I am still confused when it comes to WordPress costs. I know that the basic system is free, but am I right in thinking that if you want to use your own theme, you have to pay about $15 a year?

So, are these themes going to cost a new WordPress user?

Mary

You have great info here…I came over from browsing at Pro Blogger. Imagine my excitement to see you featuring the WP theme Exquisite, as I'm in the process of getting my own domain name and wanting a different look. Exquisite is my top choice after looking for more than an hour at all the WP themes…

Great idea narrowing down the nice ones for us! Thanks!
Comments are closed.