WP-Print WordPress Plugin
Sometimes your readers might find it useful to have a printable version of your articles and posts. This is particularly true for blogs that publish timeless content like tutorials, how-tos and so on.
If you are tech-savvy you probably could solve this problem by creating a special CSS stylesheet and loading it when people need to print your articles. For the lazy or less tech-inclined of us, there is a WordPress plugin that handles everything itself.
WP-Print will create a printable version of your posts by using its own CSS file, and it will automatically launch the printable page when the user clicks on the "Print this" link that you will insert on your blog.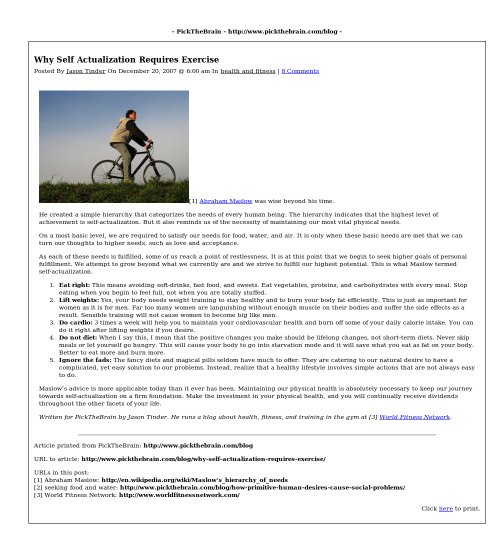 You can see a live of example on the Pick The Brain blog. All the articles come with a "Print this post" link, and you just need to click it to see the printable version.
I have installed this plugin on some other blogs and it gets the job done. I am still considering it for Daily Blog Tips though, since I am not sure if the readers actually want to print our articles (bloggers usually just bookmark what they need to read later). Just leave a comment if you would like to see a "Print this" link on each post here and I will integrate it.
Browse all articles on the WordPress category
16 Responses to "WP-Print WordPress Plugin"
EFT Tapping Enthusiast

Well, you all have sufficiently scared me off installing a print this page button. I definatly don't want Google seeing them as duplicate content.

Did anyone every make a tutorial on the print css file? Not in my realm of capabilities.

Ezrad Lionel

It's because of laziness. It takes the same amount of time or less to create an alternative style sheet for print. I was going to use the plugin, but having read the issues I'll do the custom job. clients appreciate that more even if they can't tell the difference.

webgoddess

regarding HowTo Geek's comments:

"It's not that difficult to create a print css file for your website, it's just usually laziness on the part of the designer for the theme or site. "

If I used a plug in it would be to stay within my client's budget…not because of "laziness."

i'mkidding

to mr. Engtech comment #9

hey.. that's a nice tutor..
thank you

i'mkidding

i think web doesn't beat the papers too dominant…
yes.. the readers need the printed version..
i wonder if you might have an idea to write a book Mr.admin??

engtech @ internet duct tape

Much agreement on the complete unnecessity of this plugin.

CSS has built-in selectors that let you change your stylesheet without printing. "Print this" links are a carryover from before CSS had this feature.

Here's my tutorial on how to do it:

Nick Nanton

I'd like to see the blogs you post here printable!

Richard Ross

Great article, Daniel.

I am NOT a techie so building my own print tools is of no interest to me.

I definitely vote for a "Print This Page" widget on your blog! Thank you!

Blessings,
Richard

acca
Daniel

Ronald, you can easily solve this problem by telling Google not to index the printable pages, right?

Ronald Huereca

This plugin, at least when I used it, creates duplicate content that Google will mark higher than your regular content. And the pages it creates are orphans.

A printer-friendly stylesheet will work miles better.

Daniel

How-to-Geek, you should create a tutorial for that, or submit a guest article to be published here if interested :).

Would be useful for a lot of people.

The How-To Geek

It's not that difficult to create a print css file for your website, it's just usually laziness on the part of the designer for the theme or site. I designed my own theme for my site… and it took me a year to get around to making a print CSS, after prodding from a lot of users.

It's definitely a lot simpler from the user perspective to use proper CSS… all they have to do is print the page. It's also more flexible, since you could have different elements hidden depending on whether it's an article or category page.

It's also better for your server if the user doesn't have to make a separate request back to the server just for a printable version. I suppose it might inflate your pageviews if you tracked those hits, but since you shouldn't show ads on a printable page it's less likely to be useful.

Finally, if you have a printable version of the page you'll often find people linking to the printable version instead of the actual page. This seems to happen often to Washington Post or NY Times articles… That's bad for pagerank, and gives you a separate link structure you'd have to maintain if you ever switch platforms.

All that said, this plugin would come in handy for some people that can't create the print CSS for whatever reason.

zParacha

I think this is a good plug-in. Sure you can create a separate CSS file for printing but why do this when you can install this plugin. Daniel I'd love to see "Print-this" on your blog.

Daniel

Ravi, what did Lorelle had against it?

Ravi

I used to use this plugin, until Lorelle so vociferously advocated against it.

I've since customized my print.css file to produce something very similar to this plugin. However, for those who are unable to do the same, this plugin is a good drop-in solution.
Comments are closed.