DBT is research-focused. When you buy through links on our site, we may earn an affiliate commission. Learn more
In our Wishpond review, it's important to cover the advantages and drawbacks of Wishpond.
61% of marketers say that traffic and lead generation is one of their biggest challenges.
If you can relate to this, you might want to try Wishpond.
Wishpond is a marketing automation solution that allows you to attract visitors to your site and convert them into customers, easily and affordably.
Wishpond comes with a host of tools and applications that every digital marketer must-have.
But is it any different from other software in the market, and is it worth considering?
Our Wishpond review will tell you everything that you should know about it.
What is Wishpond?
Wishpond is a digital marketing platform that helps businesses and marketers to generate, manage, and nurture leads.
In essence, it is a sales funnel builder.
This platform comes with an easy-to-use landing page editor, pop-ups, social contests, forms, as well as tools that allow you to fine-tune your email marketing efforts.
Wishpond also allows you to segment your subscribers in your email lists according to location, interest, and web activity, thereby allowing for more specific targeting.
With Wishpond you can run effective marketing and lead capture & conversion campaigns without breaking the bank.
Wishpond Features
Wishpond comes with several tools that allow you to streamline your lead collection and conversion efforts.
They include the following:
Landing Page Builder
This platform features an easy-to-use landing page builder that allows you to create a page for gathering leads or even custom product pages.
It comes with over 200 templates to choose from. What's great is that you do not need to have any design skills.
All you have to do is to drag-and-drop the relevant template to the clipboard.
There is a blank template for those who wish to create landing pages from scratch. Upon picking a template, the user is free to customize it as they see fit.
Once customized, Wishpond provides you with several options for publishing the page.
If you do not have your own website, Wishpond can host it for you on their servers.
Pop-up Builder
This feature allows users to create custom pop-ups, welcome mats, and other similar features, and then add them to an existing blog, website, or e-commerce store.
And it comes with over 100 different mobile-responsive templates to choose from.
This software also comes with a drag-and-drop feature to allow for easy customization.
It's customization capabilities are so extensive that you can even choose when you want the pop-ups to appear.
Online Forms
Wishpond's intuitive builder lets you create simple and elegant forms using more than a dozen customizable templates.
Publishing the forms is easy, as all you need to do is copy-paste the Wishpond code to embed them on a blog, website, or Wishpond-hosted page.
Wishpond's A/B testing feature allows you to create and test variations of the forms using real-time analytics.
Lead Database
This database also allows you to view each lead's activity history, thereby allowing you to know the specific pages on your site that people visit and the places where sales conversions occur.
A lead typically consists of only an email address; more details, such as name and phone number can be collected using embedded web forms.
Promotions and Contests
This platform lets you create social media contests, such as sweepstakes.
Wishpond provides you with a variety of sweepstake templates that have features such as a countdown clock, a sign-up entry form, and a Call to Action (CTA) button.
You also have the ability to change the start and end date of the sweepstakes, as well as personalizing the email message that you send to participants.
Email Marketing
Wishpond comes with intuitive tools that help you to create compelling emails to send to your leads.
Wishpond provides customizable templates to enable you to create and publish an email in a matter of minutes.
You can run the A/B testing feature to know which types of emails are opened more often and those that convert better.
This feature helps you fine-tune your email marketing campaigns.
Wishpond Pricing
Depending on your needs and budget, Wishpond comes in three pricing plans. They include:
At $49 per month, this plan gives you access to marketing automation, email drip campaigns, Custom CSS, and up to 1,000 leads.
At $99 per month, this plan includes Custom JavaScript, A/B Testing, and access to Wishpond's API. You also get up to 2,500 leads.
At $199 per month, this plan offers everything that Wishpond has to offer. Additionally, you get priority during customer service. You even get free implementation coaching, which is usually valued at $1,500.
Depending on the number of leads that you want, you might have to pay more in subscription fees.
Nonetheless, all plans come with a 14-day free trial, even though you need to provide your credit card details before you get the trial.
Who Should Use Wishpond?
Wishpond is recommended for small businesses looking for an affordable but effective lead generation and conversion solution.
FAQ's
Below you will find answers to some of the most frequently asked questions concerning Wishpond.
Based on the numerous positive Wishpond reviews from other users and our own experiences, Wishpond delivers on its promises.
No, you don't, as Wishpond can host your page on their servers.
Final Verdict
Wishpond is a marketing automation platform that can boost your lead generation and conversion efforts using a variety of tools.
The platform is also easy-to-use and is quite affordable.
If you are having problems with lead generation and conversion, Wishpond might be your perfect solution and definitely worth a look!
Platform that makes it easy for marketers to create landing pages and contests, track leads, send emails and more.
---
Wishpond vs. Alternatives
---
There are no reviews yet. Be the first one to write one.
Wishpond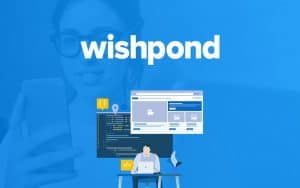 Wishpond is a software that utilizes several digital marketing tools to help businesses attract, manage, and nurture leads, thereby helping them to increase their conversion rates.
Product Brand: Wishpond
Product In-Stock: InStock