Who Else Is Going To Blog World Expo 2010?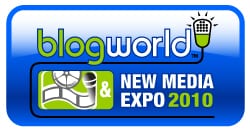 I tried to go to Blog World 2008 and 2009, but something always got in the way. In 2007 I was completely swamped with an online project, and in 2009 I was moving to a new house. This year I finally managed to plan in advance though, and I'll be attending the expo for sure.
In fact I already booked both the flight and hotel, and the packages are not refundable, so it is not a choice anymore!
If you haven't heard about it, Blog World is basically the largest conference in the world about blogging and new media. It takes place in Vegas, usually in October (this year the conference dates are 14, 15 and 16 of October). You can check the details and register through the Blog World Expo official site. The early bird discounts are valid until next week, so check it out if you are planning to attend, as you'll save some money on the tickets.
I want to meet as many readers as possible there, so if you are going, make sure to drop me an email (daniel@dailyblogtips.com) and we'll get a beer together.
I'll be spending one week in New York city before going to Vegas, too, so we could organize a dinner there or something. If you are up to it please drop me an email and we'll co-ordinate.
Finally, if you are not going I'll be blogging about the whole event, including its keynotes, lessons learned and more, so stay tuned in October.
Browse all articles on the Blogosphere category
15 Responses to "Who Else Is Going To Blog World Expo 2010?"
Dog Diabetes Info

I am planning to attend so I'll try to meet up with you Daniel.

(please ignore the previous comment as I mis-typed the name of my blog – sorry I am new at this)

Paula

vanae

hmm. who knows, maybe i'll swing by 🙂

Melvin

I wish I could Daniel.. Maybe 3-4 years when Im already old enough to travel.. 😉

Farnoosh ~ Prolific Living

I decided to-day that I am going, Daniel!!! So I will look for you! And I am one of your faithful (but silent) readers so I can't wait to meet you in person………! I am nervous but excited about the conference….Booking today!

Jamie Northrup

@Paul – Definitely know that feeling for this even and many others! lol

Paul

As I say every year, "Maybe next year".

🙂

Pat

I'll see you there 🙂

Mike Mueller

I'll be there (again)
I'm helping to put on the REBlogWorld portion of the event.
Love to connect with you face to face!

Jamie Northrup

Hey Daniel,

Would've love too, tried to plan going last year but plans fell through, this year I definitely won't make it, but hopefully next year I will. Can't wait to read your updates on it.

George Serradinho

It would of been nice to go, but got other plans for the same period. A bonus would be that it's going to be in Vegas, I would of gambled a bit 😉

Sheila Atwood

Thanks for the reminder. I love conventions in Vegas. It is close.

Nabeel | Create Your First Website

Whoa Blog World 2010 looks cool, but unfortunately I am too far away.

Hope you have a wonderful time there.

Kindest,
Nabeel

Branded social television

I want to go this year, but I am just way too busy with other things

Umesh

Are you planning to visit DC too? If yes then we can have dinner together. 🙂

Daniel Scocco

Unfortunately know, I am just staying at NY and Vegas.
Comments are closed.