Wanna Build an Online Store? Check Out IzzoNet
As you probably know the online store is one of the most profitable business models you can have online. And that is because you'll be selling something from day one, which means that if you put the effort to increase your traffic you'll immediately see a return (i.e., sales).
What most people don't know is that setting up an online store is quite easy actually. What you need is the right platform, and I recommend that you check out IzzoNet.
Think about it like an online store software with hosting included, so you won't need to worry about anything else. The main advantage of using such a platform is that the software was built with the creation of stores in mind, so doing stuff like adding products, settings images, choosing prices and integrating the shopping cart are all easy to do.
If you want to check all the featured offered by IzzoNet, check out this page. Some of them are:
Drag-n-drop interface when building your store
Unlimited website widgets
Free images for your website design
Full HTML and CSS access to customize things
Logo and watermark maker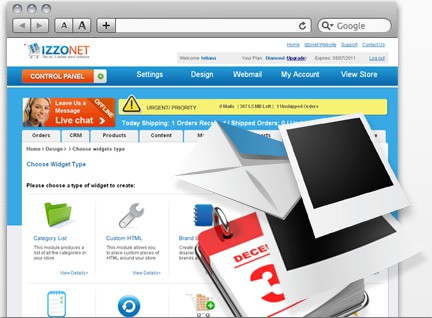 As you can designing the store won't be a problem as they pretty much offer all the tools you need.
Now here's one key difference that makes me recommend IzzoNet instead of the other online store platforms: they offer built-in support for drop shipping. Drop shipping is a model where you'll not to produce or store the products yourself. You will just sell them, and after every sale you forward the order to a wholesaler, who then ships the product on your behalf. You make money from the difference of the price you charge your clients and the price you pay the wholesaler.
Inside the control panel you'll find a tab that says "Dropshipper Management". From there you can communicate directly with your suppliers, manage invoices and orders, track orders until they reach your clients and so on, which will make running a drop shipping store a lot easier.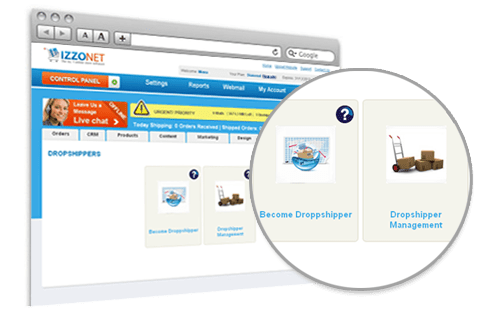 In theory you could create online store not using such a platform, but I think it would add a lot of headaches to the process. If you go with an online store platform the part of getting the store up and running will be taken care of, and you'll be able to focus on promoting the website and generating traffic and sales, which is your main goal after all.
The guys at IzzoNet also offer a 15-day free trial, where you can start building your store and test all the internal features before deciding if you want to use them, so check it out.
Browse all articles on the Monetize category
6 Responses to "Wanna Build an Online Store? Check Out IzzoNet"
Ray

I'm highly going to give Izzonet a try. Since there's a 15 day free trial i have nothing to do lose. Thanks for the post Daniel!

sanket patel

IzzoNet Is one type of eCommerce software feature,also one type of platform to build online stores.From My point of view For Trial base 15 day is enough to start building your stores and understand all the internal features.

Trent Dyrsmid

Thanks for sharing this online store platform. I'm sure lots of your readers will benefit from it.

The 15 day trial is not to prove that you can really sell because it all depends on what you're selling and how you are promoting it. It's a trial for you to know if the features are okay for you while you are installing it. So good luck to everyone!

Ivan

Sounds great are the features of this IzzoNet, but I think 15 days is not enough to see a result and can tell if this is effective or not.

Ehsan Ullah

Hay Daniel,

I have heard about IzzoNet before but never tried it. Thanks for letting us know about it's features here.

The best part is that they allows 15 days trial in which we can check that will it work for us or no.

Blogger Tips

I have some experience about izzonet. It is awesome
Comments are closed.