Using the "linkfromdomain" Operator on Bing To Find Spammy Links on Your Site
Bing recently introduced a new and very useful search operator, called "linkfromdomain". Basically it allows you to find all the web pages that a certain domain is linking to. For example, if you search on Bing for
linkfromdomain:microsoft.com
you will find all the pages that the microsoft.com domain is linking to. You can also add normal search parameters to your query, to make it more specific. For example, if you searched for
linkfromdomain:microsoft.com windows
you will find all that pages that are being linked from the microsoft.com domain and that contain the word windows inside them.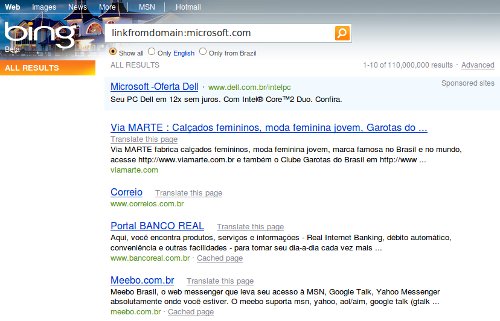 Cool, right? I am sure that webmasters will come up with all sorts of creative ways to use that operator. From example, many people are already using it for linkbuilding purposes, as the operator allows you to find what kind of content a particular domain likes and links to. SEOMoz has an interesting article on the topic.
Playing around with it I also came up with an interesting use: finding spammy links inside your own website. We all know that linking to "bad neighbors" can hurt your search engine rankings, so spotting and removing those links is essential. This new operator can help you with that task, and here is how.
First of all run the operator for your own domain, and add spammy keywords to the search query. For example, once searched for
linkfromdomain:dailyblogtips.com viagra
I got 213 results. Those are basically pages from around the web that contain the word "viagra" and that my blog is linking to.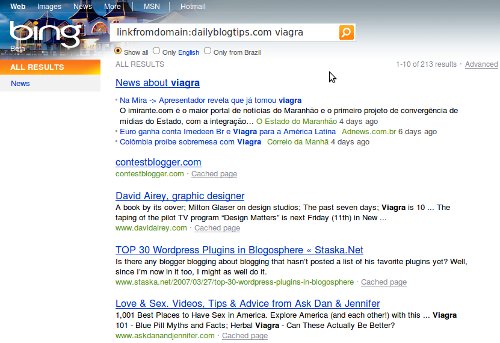 The next step to examine each of the pages on the results, trying to identify if they are spammy/malicious or not. On the very first page of results I came across a page that was serving malware. Once I clicked there I got the alert from Google saying it could damage my computer. Linking to such pages is a big no-no.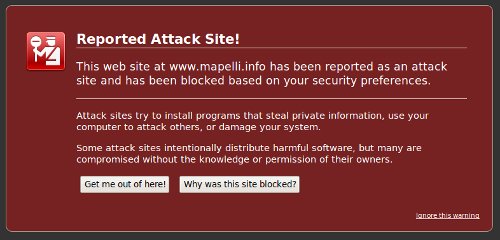 Now we need to find what page inside your website is linking to the malicious page. Luckily Google can help us here. Basically you will need to combine two operators. Let's suppose that the URL of the malicious page is http://www.domain.com/bad-stuff/. You will need to run a query that will find all the pages inside your site linking to that URL. Here is how you do it on Google:
link:http://www.domain.com/bad-stuff/ site:yoursite.com
The first operator ("link:http://www.domain.com/bad-stuff/") finds all the backlinks pointing to that page, and the second one ("site:yoursite.com") filters the results only to pages inside your own domain name.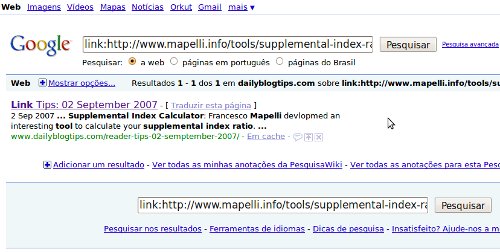 Once I used this query I found exactly the page inside my blog that was linking to the malicious site. After that it was just a matter of updating the post to remove that link. The process will take some time, but I believe it is well worth it, because linking to spammy and malicious websites is a big problem.
Browse all articles on the SEO category
15 Responses to "Using the "linkfromdomain" Operator on Bing To Find Spammy Links on Your Site"
Wendell Dryden

Doesn't work when Bing's ignoring your blog (or only returning 2007 posts). Works quite well on Google. Just saying….

Dave Lucas

Nice tip, but it doesn't work for everybody. Frinstance, you can't put a blogspot blog into search, because you've "gone beyond" the domain blogspot.com if you're putting in "myblog.blogspot.com" – say, you don't know a way to tap into this kind of search FOR a blogspotter, do you?

Phaoloo

It's a great tip and this is the first time I find Bing useful.

Dean Saliba

Very helpful.

Is there a way for me to find out which sites are linking to my domain?

Shekhar

Well, thanks man.. i got too many spammy links from there… how do come to know all this ?

David Walker

Hey Daniel, this is great news!

I'm not a Bing fan, but I'm open to anything that works for me. Spammy links are a big headache; you do the work and somebody else works off you.

I hope someday, someone will come up with something that does this automatically.

Thanks. I'll get working on this right away.

Sajib @ TechiePost

@Daniel, thank you for your reply. Now the matter is totally clear to me. 🙂

Sushil

Dear Daniel Scocco Sir, I am highly impressed with your blog and want to take your interview for publishing in my blog…kindly allow and spare some time…contact me on sushil@girdher.com

Deb Lamb

Great tip and tried it immediately but did not work for me. Maybe I'm doing something wrong.

I'm putting in linkfromdomain:dailyblogtips.com viagra
in the browser.

What could I be doing wrong? Seems like such an awesome tool. Thanks for sharing.

Deb 🙂

Dana @ Online Knowledge

Yeah, it is really cool and helpful tools of bing. Bing surely will big if they consistently upgrade theirs with useful tools.

DK

Excellent tip. Just tried this one out for my site. It works great. Thanks

Daniel Scocco

@Sajib, there are several ways for this to happen.

First of all it could be a link inside a comment, that search engines have indexed despite a nofollow tag.

Second, it could be a link that when you created was OK, but after some time it become malicious.

For example, maybe the owner of the domain you linked to let the domain expire, and a new person bought it and loaded some malicious content around.

Finally, the easiest explanation: the site you linked to got hacked after you placed the link, and now it has spam and/or malicious content.

Sajib

Great information. But I'm wondering how links to malicious sites could be inside my posts if I don't put them by myself? And I won't link to any malicious site ever.

Bloggeri @Blog Guide

Wow, I had never heard of this before. Gotta tell you that this is a great way to find the spammy and other unwanted linking sites.

Great post mate 🙂

Nick

Wow, that is really cool! Well my website must be pretty clean because I can't find any spammy links on my site.

I could be doing it wrong, but I have done what you said and just normally no results found.

It is a great to see how many spammy link there are, it's crazy.

Great post!
Comments are closed.