DBT is research-focused. When you buy through links on our site, we may earn an affiliate commission. Learn more
Now we'll consider the advantages and slight drawbacks of this system.
Unlike the Law of Attraction of the Secret, this manifestation technique relies on listening to sounds to reprogram your subconscious mind.
Thus, there's no active learning or need for daily affirmations. Instead, you will listen to the specially-designed audio tracks each day, recommended before bedtime.
However, you can jump in with just 60 seconds to start. The audio tracks are based on the concept that limiting your subconscious beliefs prevents you from manifesting better circumstances.
If you are struggling to get what you want in life, have you ever considered it's not your fault, but that your subconscious is working against you?
Throughout life, we endure hardships and failures that teach us not to expect more. Unfortunately, it can become a repeating cycle that restricts us from getting a fresh start.
What if there were a way to start over, with an empowered mind that rewards you by manifesting the things you most desire?
With Ultra Manifestation, you can kickstart the alignment of your subconscious. Best of all, it requires minimal effort on your part and is similar to meditation or hypnosis.
Just play the tracks every day and see how the waves and sounds begin to open up new possibilities.
What is Ultra Manifestation?
Ultra Manifestation is a series of audio tracks designed by David Sanderson, now a successful motivational speaker.
Sanderson was homeless and without direction but stumbled across a man named John Beckett, who introduced him to using sound to retune the mind.
The ancient spiritual knowledge that came from living with monks in Nepal changed Sanderson's life, who went on to design the audio tracks.
Although the concept of using sound to alter the mind has been around since ancient times, the secrets have been largely lost.
However, Sanderson believes that the tracks he has designed can be used as a manifestation switch for your mind.
By merely listening regularly, he suggests, you can rewire the brain's networks without conscious effort on your part.
What's Inside The Program?
The Ultra Manifestation program is a series of five audio tracks you can download and play whenever you like.
Also, there's an accompanying ebook to help guide and instruct you along the way.
Track 1: Aligning With the Universe
The first track focuses on forming a connection with your subconscious. As a first step, you can begin to open up, similar to being hypnotized, to start reprogramming your mind.
Don't worry; these soothing sounds are quite harmless and similar to meditation.
Track 2: Neural Genesis
Next, you will begin to remove neural blockages and negative emotions your conscious mind may not be aware of.
Only by removing these barriers can your mind allow you to manifest the things your desire. Using sound and the concept of neuroplasticity, you can finally clear out negative patterns buried deep down.
Track 3: Your Natural State
Now, further along in the process, this track begins to balance your brain's two hemispheres. Like the powers of music, the sounds allow the different regions of your mind to sync up.
After listening to the track daily for a full week, you may notice you feel more at peace as if your mind is healing itself.
Track 4: Unlimited Abundance
By track 4, you are ready to allow your subconscious to release the baggage of the past. Now, your subconscious is focused on limitless abundance instead of negativity.
Finally, you can begin to manifest love and wealth in your life.
Track 5: Neural Guardian
Now you've made real progress, and you don't want to revert back to old habits. Thus, track five is intended to guard you against negative thoughts and keep you on track.
Therefore, you'll need to play this track every day to get the most benefit.
Bonus: Manifest Your Destiny
As a free bonus, you also get a beautiful guide and five additional audio modules to complement Ultra Manifestation.
The modules are called Automatic Stress Relief, Effortless Love Attraction, Motivation in Minutes, Instant Habit of Transformation, and Mind Over Money.
How Does it Work?
It's simple. Just listen to tracks every day for seven days to reprogram your mind. Then, you may notice you are feeling a change in your daily life.
That's it! It's effortless to use but effective, which is the best part. However, you can learn more from the ebook and guide.
How Much Does it Cost?
The cost to unlock the Ultra Manifestation program is a one-time cost of $37. You can then access and download all the content, plus the free bonus, for a limited time. For all that you receive, the cost is affordable.
Also, there's a 60-day money-back guarantee. So, if you aren't satisfied, you can get a refund.
FAQ's
Below you will find answers to some of the most frequently asked questions concerning Ultra Manifestation.
The content contains audio used as brain wave entrainment techniques, thought to have a wide range of benefits on the mental state.
Although additional research is needed, studies show great promise. However, the concept is based on ancient knowledge, not a scam or hoax.
If you find the program doesn't work for you, the money-back guarantee. So why not give it a try?
The worth will depend on if you are willing to listen to the tracks regularly every day for at least a week.
By then, you can expect to see a change, though it varies from person to person. Most people find the program enlightening or even life-changing; thus, the money-back guarantee.
David Sanderson created Ultra Manifestation to share the power of using sound to manifest a better reality.
You can learn about his full journey from struggling, homeless youth to achieving success after discovering how sound can reprogram the subconscious here.
It's known that our thoughts and beliefs influence our experience. How you begin manifesting what you've dreamed takes consistent effort and a clear vision.
Ultra Manifestation can serve as a powerful tool to help you let go of negative thoughts and patterns, envision your ideal future, and then make it real.
Who is Ultra Manifestation For?
Anybody can use these audio tracks to help reach a meditative state, release negative thoughts, and begin manifesting change.
If you're interested or have tried meditation or hypnosis, then this will be a natural fit. For others, it could be something new that could have a profound effect.
Keep in mind; the audio tracks are not meant for use while driving or operating a vehicle. However, you can enjoy them at home anytime.
Final Thoughts
If you have been struggling and feeling like a ship without a captain, Ultra Manifestation could help you set a new course.
The concept is based on the power of sound and waves to reprogram your subconscious to stop holding you back.
Will it work? It will require more than the initial 60 seconds. Rather, you'll need to meditate regularly to the audio.
Then, it can serve as an effective push to help you begin manifesting your dreams in reality.
With a 60-day money-back guarantee, it's worth trying, especially if you already practice meditation or hypnosis.
The Ultra Manifestation program is a group of audio tracks that aims to retune your subconscious so you can begin to manifest greater prosperity.
---
Ultra Manifestation vs. Alternatives
---
Ultra Manifestation Reviews
There are no reviews yet. Be the first one to write one.
Ultra Manifestation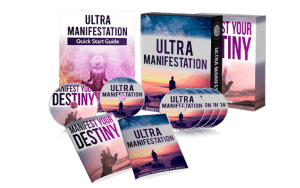 The Ultra Manifestation program is a group of audio tracks that aims to retune your subconscious so you can begin to manifest greater prosperity.
Product In-Stock: InStock