The Revolution Theme Goes Open Source
You probably have come across the Revolution theme once or twice right? Created by my friend Brian Gardner (who also designed the first custom theme for Daily Blog Tips long time ago), it was a huge success around the blogosphere.
The themes used to sell for $79, and they were selling like hot cakes. Just think that Brian was able to quit his full time job thanks to the online revenues he was making.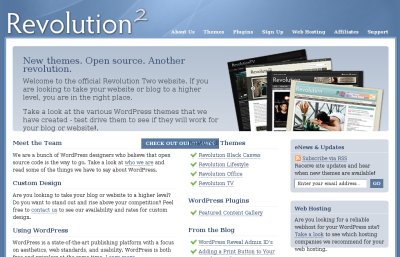 Brian is now shifting the direction of his project though. He wants to be more aligned with the open source mentality behind WordPress, and therefore he will be launching a whole new set of Revolution themes under an open source license. In other words, you can download and use them for free.

Currently they have 14 themes available, and I believe more are coming soon. You can visit the site on RevolutionTwo.com (a bit slow at the moment, probably due to the high load they are seeing).

If you need support with the themes, Brian will also be providing a subscription plan that will come with all sorts of perks and assistance.

I applaud Brian for taking this route. It is a good thing for the whole WordPress community given his design talent, and I am sure it will be another home run for him.
Browse all articles on the WordPress category
31 Responses to "The Revolution Theme Goes Open Source"
Corey

Yea, I am not seeing the download link either. Looks like they changed their mind.

Anyone know where to get these?

Mark

I apologize but I still am not seeing any download link on the page.

Here's a screenshot. I did a CTRL-F search in Firefox on both the page and the HTML source. The word "download" only appears in a div header in HTML!

Leslie

Bloody great – hard to believe that the guys are giving these away – but I have downloaded – and hopefully I can learn from their code.

Bart

@ Mike: Please do look a bit farther then the lenght of your nose. (Like a the bottom of the page, in fine print… there is the free download)

IT STILL WORKS PEOPLE!

Mike

Not free anymore – $99.95 required to "sign-up". Looks like all good things must come to an end.

Daily WordPress Tips

Premium becoming freemium.

I'm wondering how other WordPress premium theme sellers will react to this move by Brian.

Shopping 4 Coupons Blog

The membership fee is for support for the new Revolution WordPress Themes. You can find the link to the zip of the themes hidden on the bottom of the page.

Daniel Scocco

@Jan and Justin, search better 🙂 .

Justin

I was wondering the samething. Doesn't appear to allow you to download for free. When you try to sign up it says $99.95 or $149.95.

Jan Alvin

I thought the themes are free to download?? I checked them out, they're not.

Omar Khan

bit of typo…i guess……. u wrote 'home rum'……not 'home run'. doesn't matter…just to let ya knw….great day.

dailytechbits

The database of RevolutionTwo is probably crashed!

lazy drunk

I only checked out the blog themes. (Didnt see the others before I posted)

Daniel Scocco

@Lazy drunk, what theme are you talking about? The image here is a screenshot of his homepage.

TechZoomIn

@lazy drunk,

Not that fugly. Themes designed for blogs are good with less load time and looks to be simple.

lazy drunk

Im sorry, but I dont see why this theme is so great. I guess the code is good, but the design is fugly. Am I wrong?

TechZoomIn

Really great themes those are. I wrote the post immediate release of those themes. But you can't find download links that easily. Thats why i gave each theme demo and download at my post 🙂 naming "10 Grate Corporate Revolution2 Themes for Free".

Adam Pieniazek

Wow, that's some great news! Open source FTW baby!

Thanks Brian for dropping the free themes on use (the photo theme looks real slick) and thanks Daniel for letting us know!

Levi Blackman

Wow..this is going to be fantastic. I have used his themes on a few sites and really loved how well they were put together, not to mention the added functionality. Nice to see the WordPress mindset pouring out into the world.

Brian Gardner

Daniel – thanks for the post, definitely appreciate what you wrote and the comments people have left!

Kurt

Open Source Rocks 😀

Andy

I love when people decide to open their resources to the open source community. I will need to check out his site! Thanks again Brian!

Nick

Wow, This is just wonderful, I always wanted to use one of those themes. They are just too good 😛

best Themes

thanks for sharing..

Benjamin

Great decision by Brian, and a wonderful contribution to the WordPress community.

Kok Choon

I can't believe Revolution Theme for FREE! Thanks guys! 😀

Diane Penna

Really? You sell yourself short I think. 😉 With that said, that's even more exciting. I shared the link on Twitter, so hopefully he'll get some more traffic from there…

Daniel Scocco

@Diane, it is actually far better than if I would have written the code 🙂

Diane Penna

Awesome, thanks for sharing Daniel! I just wrote you this morning asking for more of your great templates, and well, if Brian's work is something you recommend, than it's as good as if you wrote the code. To me, at least. 🙂

SATISH

Great. I was waiting for this day to come.
This decision is right, as the wordpress is also a great free software and his free themes will add to its beauty!
Comments are closed.