The Fonts Paradise: dafont.com
So the other day I was talking with my designer about a logo, and he recommended me to go to dafont.com, choose one font, and report back to him. Believe it or not I had never came across this site before.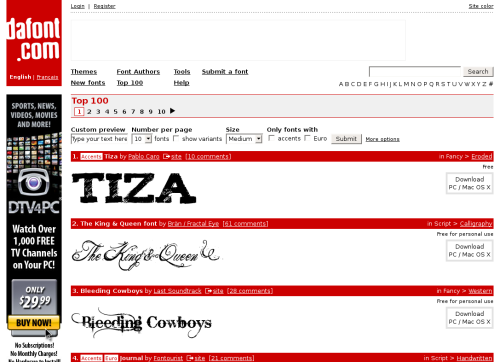 It is nothing less than the fonts paradise. They have over 7,000 fonts available for download, most in PC and MAC versions. You can search for fonts based on style (e.g., fancy, techno, gothic, basic) or even browse among the Top 100 fonts on their database.
Overall it is a very useful website for anyway that needs to write on computers (which translates to all of us, I guess).
Browse all articles on the Blog Design category
23 Responses to "The Fonts Paradise: dafont.com"
Paisakamana

Hi and thanks for sharing this with us all 🙂
Keep posting more great stuff

Tay

da font anit that good.. its got some good fonts but most of them are crap, like you cant find the type of font you need

john miler

thanks

Fernando Souza

Great tip, thanks!

evden eve

thanks.

Geo

I used this site few times – it's very useful.

Jason Marsh – Website Designer

Thanks for the resource!

fitzheim

I'm surprised to know that you haven't come to this site. I used to visit them whenever I'm in search of new fonts. Almost all fonts are free. My favorite? Problematic Secretary.

Indeed a true source, especially if you are thinking about sifr.

Recommended.

Hannah

Dafont is the one and only place I go to for fonts.

Make Money Online

hey cool font's wow I never heard of that site either thanks for the tip, I've been going crazy trying to make a logo for my site, I think I'll just hire someone but I'll pick the font from here, thanks!

Patricia Müller

Hi, Daniel.

dafont.com has been my favorite font resource for a few years now. The preview text feature is unbeatable. A designer's font heaven.

Daniel Scocco

@Tad, thanks for the input, I will check that site as well.

Aravind

DaFont is a great site and i've been using that for months..
Great collection.
But, as Tim Dierkes pointed out, keep an eye on the license. Most of them are free for personal use. But, when you're gonna' do something professional, use only those permitted or contact the font author..

Do we need to run into troubles, huh??!!!!

And Daniel, i wanted to congratulate you on your new book.

There's already GREETS FROM GERMANY by Chris..
And here comes CHEERS FROM INDIA by Aravind
🙂

Tad Chef

I don't like Dafont. Why? It's about quantity not quality. You do not need 7000 fonts when most of them are either wacky, only useful for certain occasions or other issues. Just look at the "Tiza" font above! Can you imagine using it for your site without burning in design hell?

Even the sans serif fonts over there are mostly useless.

This here is a good list instead:

James Mann

I have never seen this site either and I am always looking for the perfect font and usually end up settling for something close. Sometimes I can't even find anything close.

thanks for the link. I can see I will be on the site for a while.

Martin

I didn't know about dafont.com either until recently. I heard about it through Smashing Magazine, which is another wonderful blog:

Thinkjayant

Thanks for the source. A good font goes a long way for getting a perfect design.

Martin

It's really a great site – I also switched to sending clients there to search for a font they like, instead presenting one after the other…

Tim Dierkes

Dafont is very cool, but be careful of permissions before using fonts. Most are not free for commercial use, which I think is what most of us would be doing. Most font authors are pretty reasonable but you wouldn't want that coming back to haunt you if your site got huge and you never got permission.

a husband

Wow! Thanks so much for this site! I've been looking for something like this.

Chris

DaFont is one of the biggest and best site for free fonts and also a good source.

You do a good job with this Blog!

Greets from Germany

Chris Blackwell

Wow! I've been looking for a site just like this. Thanks!

Eli

Yep, definitely a good source.

I also use UrbanFonts and recently found a website called Font Space.
Comments are closed.