Take the DWT Spelling Test
Over at Daily Writing Tips we are trying to create a nice collection of writing tests, from vocabulary to spelling and grammar tests. The second one has just been published, the Spelling Test 1.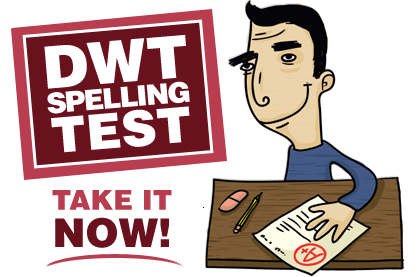 If you are trying to create a popular blog, at the very minimum you want to make sure that your articles do not contain spelling mistakes, right? Taking the test, therefore, should be both funny and useful.
Ah, and If you like it, please give it a thumbs up on StumbleUpon to spread the word!
Browse all articles on the General category
11 Responses to "Take the DWT Spelling Test"
medyum

thanks…..

very good

Medyum

Mike

I'm sure 75% was well above average for this LOL

Deborah

Too fun! I missed one.

team ray

60 percent lol

team ray

60 percent lol

Stamford Talk

My first reaction was to point out that those questions seem like 8th grade level… but then I thought, well, you shouldn't have to be a great speller to blog. The point of your spelling test was to point out that bloggers do need to have the basics.
I aced the test, but then again, I was the county spelling bee champ in 5th and 8th grade. Supercentrifuge, anyone?

Jeremy Steele

75%… Writing was never my strong point.

Daniel Scocco

Oops that is an answer from the previous test :). Thanks for spotting that out.

Bitten

Couple of mistakes but not bad. Btw, on the answer page there's a little mistake on the #5. There's no number and the answer is wrong:

"The men forgot ______ meal yesterday.
Answer: an impartial person who watches for administrative abuses inside organizations"

SE7EN

uhh, I don't know the vocab in #13
and misspell another question.

Michal Splho

Nice, I like it.
Comments are closed.