Take Screenshots with Firefox 2.0
I used to be a fan of a little Firefox extension called Snapper. It allowed you to easily take screenshots of selected areas within the browser window. The extension was not compatible with Firefox 2.0, however, so when I upgraded my browser it stopped working.
A couple of weeks ago I finally managed to find a replacement. It is an extension called Screengrab!. After you install it, you will see a small icon on the bottom right side of your browser. When you click on it, it gives you three options: to copy the complete window, to copy only the visible area, and to copy only a certain area selection. You can also directly save the screenshot with the PNG format.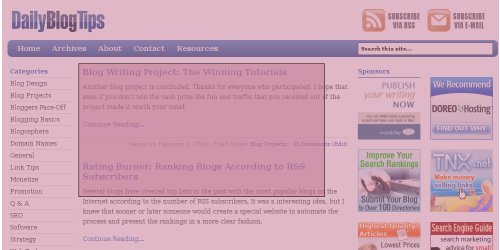 Another option that I came across is called FireShot. This extension comes with several advanced features, including: the ability to add text and captions to the screenshots, more formats supported (PNG, JPEG and BMP), vector graphic tools and more.
If you just need to take simple screenshots once in a while, Screengrab! should be enough. If you do web design or handle images often, perhaps FireShot would be more suitable.
Browse all articles on the Software category
21 Responses to "Take Screenshots with Firefox 2.0"
sweetperceptions

I like FireShot better. 🙂

Gilbert

The people behind SnagIt and Camtasia have a products which is free at the moment called Jing (www.jingproject.com).

I say free at the moment because they're unclear about whether or not they are going to charge for it once they realease it from Beta.

it's very good and has the advantages of being albe to do screen captures or video captures. You can annotate the

The other nice thing about it is that it's available from any programme. It just sits in the tray and can be assigned a keyboard shortcut such as Ctrl+PrintScreen.

Chetan

Great tool there. Will give a try with it..

Vijay

This is not effective in capturing flash elements and so on, I would recommend FastStone Capture..

It is not free, but I find it very effective and easy to use

m07

didnt know about this .thanx

Dito

thanks for the screengrab tip…great lil' plugin

Ashfame

@James
In windows you just need to press the "print screen" for capturing screenshot. No need of Ctrl + Print screen. 😀

Bije

I just tried FireShot but its built-in editor won't let me resize the captured image, and Screengrab! don't have an editor. I think I'll go on using FastStone Capture..

Daniel

Hmm it is a free trial indeed. I was confused with another product from Techsmith, the Camtasia studio.

stinkie

Nice post, I have always wanted this extension but never knew it was out…

Jan Polzer

As written before me – Screengrab! has a problem with certain web page elements and with Flash websites. Hope that will be solved in the next versions of this extension.
The same problem I have found in IE7Pro for Internet Explorer.

James Mann

I usually just capture the entire screen in Windows using Control+PrintScreen and then use my Photoshop or Xara eXtreme to grab the area I want.

I guess I will give this addon a go and see how it works for me.

Appreciate the post Daniel, thanks. I am always up for time saving features and tools.

Steve

Where did you find snagit for free? I have found that download many times, but it is all trialware!

Shana Albert – TheNanny612

Awesome!! Thank you so much. I was wondering how to do this and figured there were Firefox extensions for this. Thank you for pointing me in the right direction. 🙂

Shana

Daniel

SnagIt is another good option, but most of the features work as a standalone software, that is why I don't use it that often.

iantrepreneur

nice nice! I love screen grab it works great for me – it just doesnt work properly when you are on a frames page 🙁

Wayne Liew

Fireshot is unknown to me before this but I will give it a try (downloading it). At the moment, I am using ScreenGraber which I am quite satisfied with it as all the captions and edit are done on another image editing software.

Greg

I've been wondering how to do that! Thanks!

Gustav Holmström

Or for really simple screenshots, you can use the kwout-bookmarklet.

Ashfame

I use Irfanview for taking screenshots and all the image work (Resizing/Panorama Images/Changing formats). But it doesn't offer taking screenshot of full webpage. I hope they add it soon, may be in the next release. I am gonna try the firefox addon. 😀

Low

Hi Daniel. I use to love Screengrab but then found out that it can't grab certain web elements. So i tried this software SnagIt. I knew it through Digital Inspiration (Labnol). SnagIt is a free software and also has Firefox toolbar option. SnagIt is a way way better than ScreenGrab.
Comments are closed.