Socialize Me! WordPress Plugin
If you are active inside social bookmarking and networking sites, you will probably like this plugin. Basically Socialize Me! will identify where the visitor is coming from, and in the case that the source is a social site where you have a profile on, it will display a tailored message.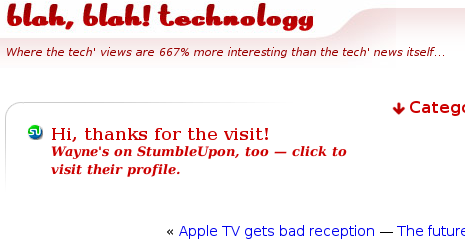 In other words, if someone comes to your site from Digg, will get a message that says "Hi, thanks for the visit! I am on Digg as well, click here to see my profile."
Right now it supports StumbleUpon, Digg, Delicious, Facebook, Twitter, Bebo and MySpace. The author is already working on additional functionalities, such as the ability to customize and position the message, compatibility with multi-author blogs and so on.
I am also sure that people will find other interesting uses for the plugin, so check it out.
Browse all articles on the WordPress category
15 Responses to "Socialize Me! WordPress Plugin"
student loans

great plugin, thanks for the information, i'll give it a try then

lindsay

This plugin is awesome, I will defialey look into it!

Yunus YeÅŸilmen

Yes this plugin very nice, But turkish people not using social bookmarking so I don't use.

Blends

This plugin great. Every blogger must use it.

udi

This is truly a useful plugin, any thing like this for Drupal?
– udi

Daniel

Missy, yes I think you need to use either one of the other.

Wayne Smallman

Hi guys! I'm really glad you like my Plugin.

Any questions you might have, be sure to comment on my Facebook Page (listed in the Socialize Me! article under "Support").

Speak soon…

Missy

Will this be in addition to the message, "If you're new here, please subscribe to my RSS feed". Because this might be too many messages. lol.

Sounds good, though.

Ruchir

Great plugin! Thanks for sharing…

Wayne Liew

I am using obsocialbookmarker plugin for my blog since it has nice buttons that can be placed at the bottom of my posts which supported 150+ social media sites. However, it lacks this feature. Should check this out then.

Showbiz Intriga? Get It From Boy!

great idea! how about Friendster? i would love to have it.. in our country, Philippines, where my blog's niche is, Friendster is "THE" happening social network site with like 20 Million users or something and around 5 million visiting it every single hour!

Pls. add Friendster pls… why forget about friendster anyway, Friendster started it all!

Grace

This sounds great! I might install it too. 🙂 Thanks for sharing!

Gattune!

It could be good, but I will not put it. I have enabled a lot of plugin on my wordpress.

engtech @ internet duct tape

that's awesome.

man, I have to leave wordpress.com in a bad way.

tojulius

Thanks for the tip I put it up and it's running great!
Comments are closed.