Many bloggers and website owners like to greet visitors coming from specific websites with a tailored message. There are many plugins that will make this for you on WordPress, but a cool one that I came across recently is called Referrer Detector.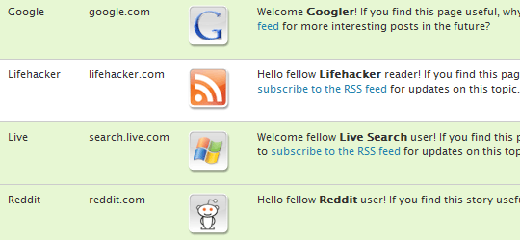 It basically allows you to create messages that will be displayed to visitors that come to your website from a specific place, say Digg.com or Google. Right after installing the following places will already have a custom message:
9 rules
Del.icio.us and Delicious.com
Digg
Gizmodo
Google Search
Lifehacker
Live Search
Reddit
TechCrunch
Technograti
TechRadar
Twitter
Yahoo Search
The plugin also comes with many customization options, including the ability to select if you want the message to be displayed before or after the posts (which is something I found problematic on related plugins).
Finally, there are many things that you could accomplish with this piece of code. For example, you could display an advertising box with AdSense just for the visitors coming via Google search, which would increase your CTR and remove the annoyance for loyal visitors at the same time.