Referrer Detector WordPress Plugin
Many bloggers and website owners like to greet visitors coming from specific websites with a tailored message. There are many plugins that will make this for you on WordPress, but a cool one that I came across recently is called Referrer Detector.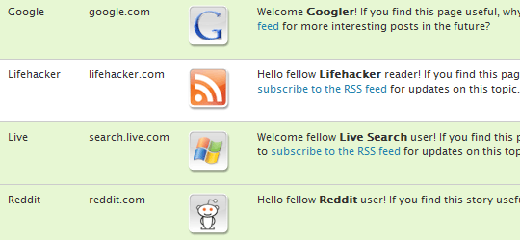 It basically allows you to create messages that will be displayed to visitors that come to your website from a specific place, say Digg.com or Google. Right after installing the following places will already have a custom message:
9 rules
Del.icio.us and Delicious.com
Digg
Gizmodo
Google Search
Lifehacker
Live Search
Reddit
StumbleUpon
TechCrunch
Technograti
TechRadar
Twitter
Yahoo Search
The plugin also comes with many customization options, including the ability to select if you want the message to be displayed before or after the posts (which is something I found problematic on related plugins).
Finally, there are many things that you could accomplish with this piece of code. For example, you could display an advertising box with AdSense just for the visitors coming via Google search, which would increase your CTR and remove the annoyance for loyal visitors at the same time.
Browse all articles on the WordPress category
38 Responses to "Referrer Detector WordPress Plugin"
Thaya Kareeson

WP Greet Box version 4.3 now has the feature @Shrihari commented about (detecting search terms and using those to perform site search). The search text is not customizable yet, but it will be in due time. Check it out!

Peter van Veen

Now I have to decide which plugin to choose: either Referrer Detector or WP Greet Box…

Shrihari

@Thaya,
Thats great 🙂 It saves me work..

Thaya Kareeson

@Daniel
I guess I snoozed on that one :). Anyhow this post is actually getting me some more WP Greet Box users so I can't really complain too much :).

Thaya Kareeson

@Shrihari
The feature you are talking about was actually already suggested to me by Andrew Rickmann (from WP Fun). I'm planning to release WP Greet Box with that feature in the upcoming versions.

Daniel Scocco

@Thaya, all you had to do was to send me an email about your plugin 🙂 . I had not heard about it before so.

afroman

Prettey smart tip. Will think about adding it.

Derek

This is an incredibly useful plugin. Not only can you show adsense ads to to Googlers, you can show CPM ads to loyal visitors. This opens a whole lot of opportunities and I can't wait to start testing it.

Miguel Wickert

not bad, downloaded! Thanks for sharing… I'm never surprised with the various types of plugins for WordPress I stumble upon these days. 🙂 Cheers

redwall_hp

I was going to mention that this was a fork of WP Greet Box, but @LGR beat me to it. I reviewed WP Greet Box awhile back on my blog.

It'll be interested to see how the two plugins improve.

Nick's Internet Marketing News

Thanks so much for the great plugin recommendation.

I run several blogs and it will be nice to be able to tailor messages depending on the referrer.

Great idea for displaying AdSense code too.

Daniel Anderson

Just installed this, and it is GOLD !!!! I can now personalize Google Searches from Australia. Go Aussies !!!!

Thaya Kareeson

Honestly, I am quite disappointed that my plugin hasn't done better in the WordPress community. I am also even more shocked[upset] that Referrer Detector got the word out much quicker than WP Greet Box. I guess it really does matter "who" you knows in the blogging community.
I don't want to sound biased, but as of right now (Referrer Detector version 2.1) I believe that WP Greet Box is hands-down better than Referrer Detector:

1. Referrer Detector has a security flaw in its administrative AJAX interface. I won't say more, so hopefully people with Referrer Detector installed won't get hacked.
2. WP Greet Box works with WPMU.
3. WP Greet Box has the ability to keep track of visitors, so the visitor referred from google will not keep getting the same greeting message if they have visited within the last X hours.
4. Exclusion rules have regular expressions support.
5. More solid default CSS.

The only pros referrer detector has on WP Greet Box are:

1. More default greeting messages
2. The ability to include WordPress attributes like url, title, author, category etc. into the greetings

Given the security flaw Referrer Detector, I wouldn't even try it out on a production site until the fix comes.

Tom – StandOutBlogger Underground

That is a very cool plugin. I think I will have to use it.

th13rteen

This looks like a great plugin. Its got most of the sites covered. I can't wait to get it running on my blog.

Thanks for sharing this. 🙂

Ruchir Chawdhry

"Finally, there are many things that you could accomplish with this piece of code. For example, you could display an advertising box with AdSense just for the visitors coming via Google search, which would increase your CTR and remove the annoyance for loyal visitors at the same time."

I don't think you can do that with Referrer Detector. It's great for displaying custom messages, but I don't think it can display php or anything in script tags…

For displaying ads only to a specific audience, I use Who Sees Ads.

Mike Panic

Update: I promote a lot of my articles on MySpace in bulletin posts and with the MySpace Crossposter plugin which automatically makes a blog post linking to your WP article post. It took merely a minute to add a custom entry to this plugin to reflect incoming MySpace links. Please note, if you do this, you need to use the URL msplinks.com, not myspace.com since MySpace re-routes all their external links through that first URL. Additionally, I wanted a 48×48 icon of the MySpace logo to put in there and found this page of CC icons, already sized and match perfectly! There are a few dozen icons here if you want / need to add a few more to your site:

Mike Panic

Installed, configured and working! I went in and edited all the fields that had RSS to include my feedburner URL instead, even though I have the plugin that would convert them anyway, it only took a minute.

For everyone else, don't forget you HAVE to edit the Twitter page to input your Twitter name, no way this plugin would know that.

Really kinda stoked on this one, since I get a lot of traffic from SU, hopefully it will help get the thumbs up even more. I will also be playing closer attention to my stats pages to see if I need to create anymore custom entries. Great plugin!

Matt Caldwell – 15 Minutes to Riches!

Wow, this is pretty cool. Should definitely help increase my CTR, thanks!

Farrhad

Just noticed that LGR said he same thing as I did in my comment above

Farrhad

It is the same as Greet Box by Thaya Kareseen of

Shrihari

Actually, i thought of creating a plugin along the lines of this one.
But, what i actually wanted was, for visitors from Google, it will display a message in the following format :
"Welcome Googler.. You can here searching for _______. This blog is about _____. Click here to search this blog for _____."
That would be more welcoming for a searcher.

If such a plugin is already available, please let me know. Or i'll be creating one 🙂

Rajaie AlKorani

Awesome plugin, bookmarked! Great way to increase the CTR as you suggested!

TechZoomIn

Daniel,

Great plugin Really.

Installed and added one entry for DBT Readers 🙂

HowToMakeMyBlog.com

Wow this sounds really promising… thanks for the heads-up! I have downloaded and will experiment with it a bit later!

daniy!

Just as usual. Great pluigns. Thank you, Daniel! I'm gonna install it in a few moments. 🙂

Jackie Jackson

This can be an absolutely great plugin for traffic generation, we can request digg readers for a 'digg' and stumble upon traffic for a thumbs up..etc, not only it will make more sense, it will also be more effective. This is blogging segmentation at its best. Cool find!

Rich Hill

Daniel,

I'm going to install it. Thanks for the heads-up.
I think it is just what is needed to get their attention.

SATISH — Technotip.org

Thats nice plugin.
I had also seen many plugins to welcome the visitors, but this one is cool, as we get the option to show ads to some selected traffic and keeping minimum ads for our loyal readers.

Hussein

I also have an installed plugin which welcome new visitors and detect where does the visitor came from.
Comments are closed.