PostRunner: The Best Guest Blogging Platform Out There
As you might have noticed I have frequent guest posts on DBT (usually a couple every week). I think those posts enrich the blog, as they bring the opinions and perspectives from other bloggers, and they also help to keep the content flowing on the site.
The problem is that the process is somewhat cumbersome. People email me pitching a guest post. Sometimes they include the article, sometimes they don't (which means I need to send yet another email). Then I reply saying whether I'll use the post or not. And then I need to paste the content to WordPress and iron out all the formatting.
That's why a couple of months ago I had an idea: to create a WordPress plugin that would allow interested people to automatically submit posts, and the posts would be saved and formatted inside WordPress, so I would just need to scan through them and hit "Publish" on the ones I liked.
Needless to say I never found the time to code the plugin, but a couple of weeks ago I discovered I didn't need to do it anymore, cause somebody else had already.
In reality it's much more than a plugin, it's a complete guest blogging platform, called PostRunner.
Here's how it works on the publisher side (i.e., if you have a blog and want to accept guest posts): after you sign-up and register your website (the platform is free to use if you have a single site/blog) you will start receiving guest post offers from authors. You can specify what kind of content you are looking for, what is the minimum score the author must have before being able to submit a post to you, the minimum word count of the article and so on.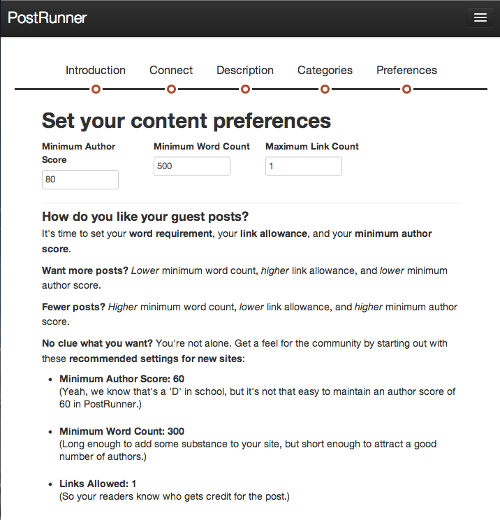 The platform uses a WordPress plugin that will import all submited posts directly into your site, and you'll be able to approve/reject them directly from your dashboard. The obvious advantages are that it will streamline the process of accepting guest posts on your site, and that it probably will also increase the amount of guest post offers you receive, especially if your site is small/medium sized.
And this is the just half of the story. You can also use the platform to promote your site by submiting guest posts to registered websites.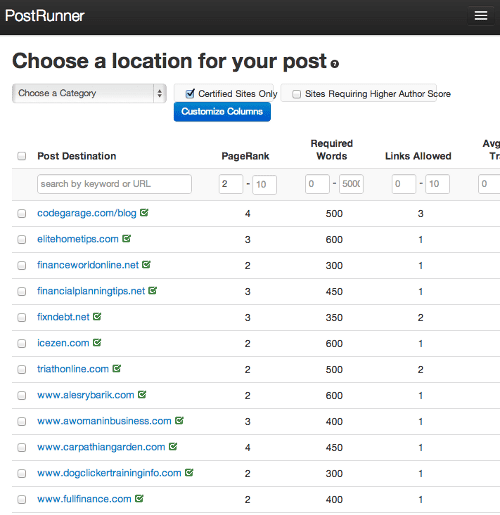 They have over 600 sites registered already, and while browsing those sites you'll be able to see their PageRank, the minimum word count they require and the number of links they allow on the byline. You can also filter the results to specific categories and keywords.
In other words, if you are looking to promote your site with guest blogging this platform will make the process much more efficient, as you'll be able to find suitable sites and blogs faster and the chances of getting a post approved are higher as well.
Overall I really like the idea. As I mentioned above, it's something I would have launched myself if I had time (now it's too late…). If you have a blog/website you should check PostRunner out, as using the platform is completely free up to one website, and it will allow you to both increase the amount of guest post offers you receive and to promote your site by guest blogging on other sites.
Below you'll find a video which explains how the site work:
Browse all articles on the Promotion category
17 Responses to "PostRunner: The Best Guest Blogging Platform Out There"
Jac

Will deifinitely try them out! I've been looking for a simple way to get more posts on my site. I love writing but with all I have to do, all too often, I don't have time to write the 1 to 2 articles I want to post every week. Thanks for this post!!!

blog bisnis online

I am going to like postrunner more than squidoo and hubpages for two reasons:
1. I think it will more easier to get my article published than 2 website above.
2. I can diversify domain and ip address for my backlink source.
Thank you for the information i will try ASAP.

George from seekdefo

Daniel its been so many weeks that i sent you a guest posting pitch without any reply from you. The post's titled why should you be a 8 to 11 blogger. If you didn't like it please tell me so so that i can publish it elsewhere. The mail id is the same with which i comment

Erfan @TheInfoMarket

Hi Daniel,

Thanks for sharing this great plugin.

I have one concern. The downside of this automation would be the exact same guest post published on multiple blogs, which means duplicated content. With the recent changes to how Google works, could this have a negative impact if not used in moderation? or does the plugin have features to restrict how many times a post can be published?

Though I'm not a SEO expert, so maybe this isn't much of an issue.

Toni

Wow.. now we can easily find blog to be guestblogging

Lahaul Seth

Can I use this plugin for my blogger blog ? I want to use the guest posts from others on my blog. Will it be possible ???

Value Blogging

Looks like it will be a challenge to be a guest blogging, and of course the benefits together,. besides traffic also financial

Rinkesh

This is one of the new thing that I have learned this morning. Thanks for sharing it, Daniel.

Jijo Sunny

Hello Daniel,

Thanks for sharing this cool plugin. I was searching for something similar as I have always had trouble in managing guest posts.
I'll blog about this after using. Thanks again.

Jijo Sunny

Daniel Scocco

@Steve, the service is free for one website. That's pretty affordable ain't it?

Daniel Scocco

@Ehsan, the plugin exists, it's the PostRunner one.

Daniel Scocco

@shahzad,

1. I am considering it, yeah.

2. I am a developer, and have my own business which develops sites and and mobile apps. These days I blog mostly as a hobby.

Steve

Their new pricing is way too much for the selection of sites that are available to post on. When the service was available a couple of years ago they had a better selection of PR5 sites.

Ehsan Ullah

I wish you could create a plugin like this Daniel and I'm sure It will help you improve your productivity too.

Shahzad Saeed

Thanks for a nice share Daniel. Looks like myblogguest killer.
2 questions…

1. Will you use it for DBT?
2. I know you as a blogger. Do you write plugin also in free time???

Andi the Minion

Sounds good, looking for sites to guest post on can be time consuming and this could be good, the more people know about it the more sites will sign up and that means more sites to have guest posts on.

Popping over now to take a look

Ibrahim Kamrul Shafin

Daniel,

I like the Guest Posts of DBT, true.

But, I mostly click those articles which are written by Daniel Socco. Hope it doesn't hurt any body. Just sharing my opinion.

PostRunner can obviously be a good option. Thanks for the update. Will try.

Shafin.
HelpSleep.org
Comments are closed.