Outrank Your Competitors Faster with These New SEO Tools
A couple of weeks ago I got an email from the CEO of a company called cognitiveSEO. I knew they offered a set of SEO tools, but I had never used or tested the tools personally. The CEO gave me a live demo of what the tools could do, and I was impressed, so much that I decided to test the tools myself.
The first thing you'll notice is that the user interface is really polished, and there are some useful features that you rarely find on similar sites, like the option to create bookmarklets on your browser and to use those to analyze the current website or page you are visiting.
After playing around a bit I tested the "Backlink Report" tool. It gives you a complete view of the backlink portfolio of a specific page or of a domain name. You'll get details like the total number of links, the authority of the page/domain according to various sources, a cloud with the anchor text terms, the authority of the incoming links and so on. The cool thing is that you also have access to all the individual links, as you can see on the image below: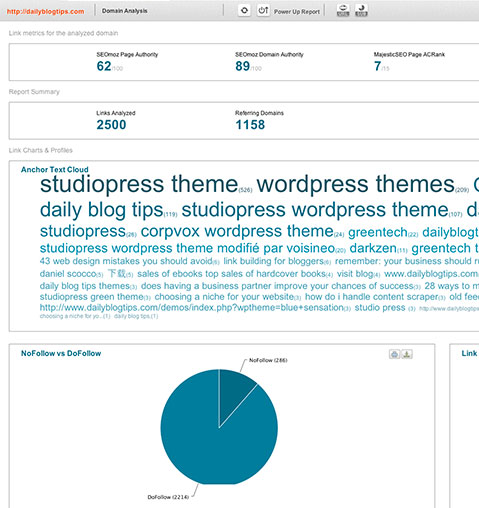 This seo tool will even track when the link was first found, whether it's nofollow or dofollow, and the IP address of the linking website.
Next I decided to create a campaign, which is how you manage your activities inside the suite. You basically create one campaign for each website you want to improve the rankings, and while you add a new campaign you'll be able to add the URL of your competitors, whether you want the tool to track new backlinks to your and so on. You'll notice that it takes a while to create the campaign, but that's because the tool will go and crawl on-demand all the links that it can find for your site and your competitors.
Once your campaign is ready to go, you have four sections to explore: Inboud Link Analysis, Link Management, Rank Tracking and To dos.
The Inboud Link Analysis section will give you all the backlink data, in a similar fashion to the Backlink Report, but with much more data. However in this section you have the option to compare your backlink portfolio with that of competitors, as you can see on the image below: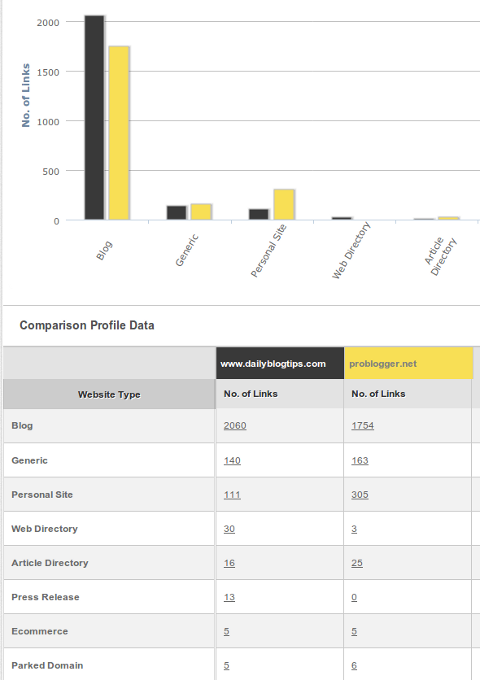 One cool thing you can do with the Link Analysis tool is to identify websites that have been punished with Google's Penguin update. Here is a video case study on how you can actually do this.
You also have the ability to filter the links. For instance, you can select only links that were tracked over the past 3 months, that have a ranking authority of at least 3 and that are coming from blogs. So basically you can perform detailed research to understand why your site or that of a competitor is gaining or losing rankings over a certain period of time.
The Link Management section is where you go to manage and grow your backlinks. The tool automatically tracks all new links, as well as the existing ones to make sure they are still online. There's even a preview tool that let's you see on a small thumbnail exactly where your link appears on the website that is linking to you. You can also compare your performance with competitors here.
The Rank Tracking section allows you to input keywords you want to track, and it will keep a time line of your rankings, as well as that of competitors. You'll notice that the graphics are really elaborate and customizable. All the tracking is done on a daily basis, in all the 3 big search engines (Google/Bing & Yahoo).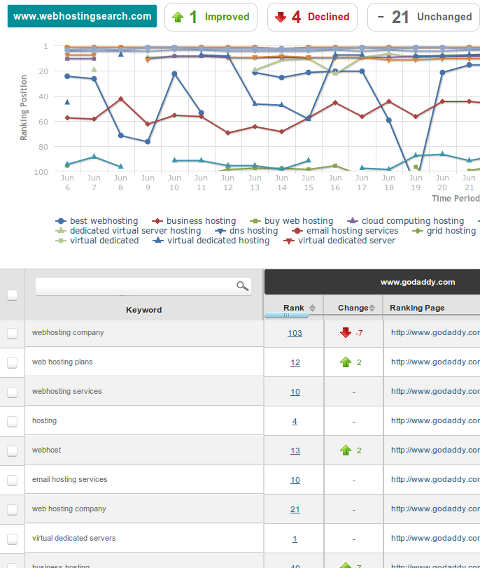 Finally the To-Do section is where you can schedule tasks, co-ordinate efforts with your partner or other members of the team and so on.
As a feedback to the creators of this toolset, I would love to see more modules added in the future. Social stuff and On Page reporting will be great add-ons to the toolset.
If you are planning to take your SEO to the next level I would take a look at cognitiveSEO. The pricing is pretty affordable (starts at $19 per month), and the set of tools you'll get are among the best in the market, so check it out.
Browse all articles on the SEO category
10 Responses to "Outrank Your Competitors Faster with These New SEO Tools"
Ian Eberle

This sounds an awful lot like Majestic SEO, which is free to use.

Blogging Tips

These look awesome. There is never anything wrong with having too many tools at your disposal, right?

Harshit Singhal

Looks like a real handy SEO tool to analyze the backlinks of our competitors. I also like the pricing part – just $19 per month. Will give it a try sometime!

Doaa

These tools just work with English language
Right?

Andi the Minion

Great tool and post thanks for sharing Daniel.

Slavko Desik

Thanks Daniel for sharing. Useful tools for a bargain price.

Nripendra

thank you this information is very good for me

Rashmi Sinha @ Infolinks

Great tools! SEO is getting more famous slowly and you need to make the difference in order to take full advantage of it. These tools will definitely help me a lot!

samy jain

wow… great SEO tool.. there are very few sites/tools which offers google penguin penalty check…

Kuntala Rahul

Perfect. Awesome. Cool! Thanks for sharing this information with us Daniel.
Comments are closed.