If you have been blogging or working with websites for some time, you probably heard the wonders of affiliate marketing right? Many people are making some killer money with it. But what about you, have you ever tried?
The concept is pretty simple. You register an affiliate account with a merchant (say a web hosting company or a marketplace like Commission Junction) and then they will provide you with a link. You must send send traffic to the sales page via those links, and whenever someone makes a purchase you get a percentage of the price.
Some people will use Pay-per-Click ads (i.e. Google AdWords) to send traffic to the merchant, others will tap into their email lists. If you have a blog or website, however, you could just as well use your published articles for that purpose right?
I must confess that the idea for a WordPress plugin that would automatically inserts affiliate links on your posts also came to me a while ago, but I never implemented it. Then last week my friend Pawan Agarwal (he coded a plugin for me in the past) emailed me to let me know that he was launching a plugin that did exactly that, called Affiliate Ninja.
When I tested the review copy he sent me I was really surprised. My original idea was simply to let the blogger select some keywords, and make the plugin turn them into affiliate links. Pawan did a lot more than that though. He created a plugin with all sorts of advanced features, including:
Affiliate links management: you can name the affiliate links, put them in groups, sort and so on.
Link Redirects: The plugin comes with a redirection system to protect your links.
Cloaking: Some marketers like to cloak their affiliate links to improve conversions, and the plugin fully supports this.
Link customization: You can also customize the text that will appear on the status bar of the browser when people hover on the link.
Keyword management: You can select what keywords you want to transform into affiliate links, and you can limit the number of keywords per post to avoid making them look spammy.
Here is a screenshot of the options page of the plugin: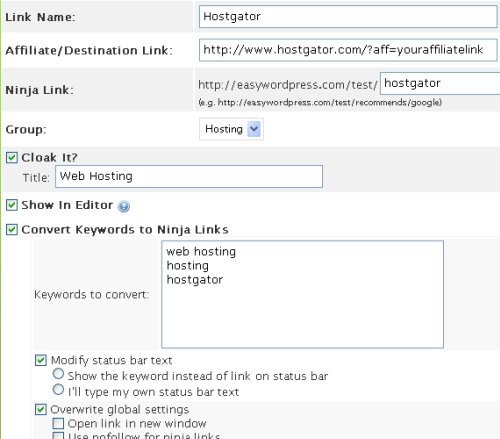 There is also an SEO use for the plugin. Suppose you have an article that is ranking well for the term "video games." You could make the plugin turn all the "video games" keywords on all your posts into a link to that post. Given the anchor text, this simple tweak could increase your search rankings for that post.
The plugin costs $97, but if you already have a blog or website with a good amount of traffic, you should be able to recover this money really fast. Pawan asked if I wanted to become a JV partner to launch his plugin, and I gladly accepted since I am using the plugin myself and I do endorse its quality.
Click here to visit the sales page, with more information and with the purchase link.