Ninja Affiliate WordPress Plugin
If you have been blogging or working with websites for some time, you probably heard the wonders of affiliate marketing right? Many people are making some killer money with it. But what about you, have you ever tried?
The concept is pretty simple. You register an affiliate account with a merchant (say a web hosting company or a marketplace like Commission Junction) and then they will provide you with a link. You must send send traffic to the sales page via those links, and whenever someone makes a purchase you get a percentage of the price.
Some people will use Pay-per-Click ads (i.e. Google AdWords) to send traffic to the merchant, others will tap into their email lists. If you have a blog or website, however, you could just as well use your published articles for that purpose right?
I must confess that the idea for a WordPress plugin that would automatically inserts affiliate links on your posts also came to me a while ago, but I never implemented it. Then last week my friend Pawan Agarwal (he coded a plugin for me in the past) emailed me to let me know that he was launching a plugin that did exactly that, called Affiliate Ninja.
When I tested the review copy he sent me I was really surprised. My original idea was simply to let the blogger select some keywords, and make the plugin turn them into affiliate links. Pawan did a lot more than that though. He created a plugin with all sorts of advanced features, including:
Affiliate links management: you can name the affiliate links, put them in groups, sort and so on.
Link Redirects: The plugin comes with a redirection system to protect your links.
Cloaking: Some marketers like to cloak their affiliate links to improve conversions, and the plugin fully supports this.
Link customization: You can also customize the text that will appear on the status bar of the browser when people hover on the link.
Keyword management: You can select what keywords you want to transform into affiliate links, and you can limit the number of keywords per post to avoid making them look spammy.
Here is a screenshot of the options page of the plugin: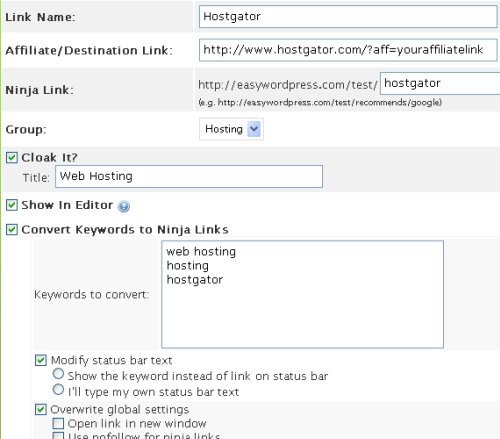 </center

There is also an SEO use for the plugin. Suppose you have an article that is ranking well for the term "video games." You could make the plugin turn all the "video games" keywords on all your posts into a link to that post. Given the anchor text, this simple tweak could increase your search rankings for that post.

The plugin costs $97, but if you already have a blog or website with a good amount of traffic, you should be able to recover this money really fast. Pawan asked if I wanted to become a JV partner to launch his plugin, and I gladly accepted since I am using the plugin myself and I do endorse its quality.

Click here to visit the sales page, with more information and with the purchase link.
Browse all articles on the WordPress category
33 Responses to "Ninja Affiliate WordPress Plugin"
Tricia

I've been thinking of buying this plugin, but I was wondering if it overwrites previous links. As in, if I set up an affiliate link with the keyword "blog" would it overwrite other links that I've set up in past posts with the new affiliate link? I've heard that WordPress affiliate pro does that and that's one reason I haven't tried that plugin.

Arun Basil Lal

Wow, that sounds like a cool plug-in. You could really make cool cash out of it.
Great review, kept me reading…

Pavan Kumar

Shall give it a try next time…

Pawan Agrawal
Pawan Agrawal

@TechZoonIn: If you think affiliate marketing don't work with blogging blogs then read John Cho's latest blog income report for September. He earned $12,807.69 just from affiliate marketing in a single month.

Also, of all his income sources, affiliate marketing is the highest income producer.

Pawan Agrawal

Thank you, Daniel for writing about our plugin.

@Satish: No, it won't slow down your blog. If you use other plugins which converts blog keywords into affiliate link then they'll of course slows down your blog as they don't have any caching mechanism and do unnecessary heavy calculation EVERY TIME your blog pages are loaded.

We have spent a huge chunk of our time just for the caching mechanism in our maxblogpress ninja affiliate plugin, so that once the keyword replacement is calculated it won't re-calculate again until your blog post changes or the caching period expires.

I haven't seen any other plugin ever considered this factor and they leave the clueless bloggers having problem with their blog getting slow down.

Kok Choon

This is a great plugin, everyone should get one if they are using blog to promote affiliate product. I am going to get one soon, this product just fit me right!

Michael Aulia

At the moment I'm using GoCodes to hide my affiliate links. Although most of the time if I make a post that contains an affiliate link, I let my readers know on the post

Secret Affiliate Code 2

Is this some kind of affiliate link cloaker? Or…?

Daniel Scocco

@Tech, it must because you don't even notice them.

Check the ads below the posts on Problogger, or most links on John Chow. They are all affiliate links.

TechZoomIn

I got ans from you "web hosting or ad network affiliates." The reason why i felt like that is i didn't see many blogs using this affilicates.

Daniel Scocco

So you mean that "marketing" does not work for blogging blogs?

TechZoomIn

Sorry if i confused you. i mean program means marketing only.

Daniel Scocco

I don't get what you are talking about. What "program" is it?

If you mean affiliate marketing, well the beauty of it is that it works with most niches. It is all a matter of finding relevant affiliate programs.

There are plenty that work well for blogging as well, like web hosting or ad network affiliates.

TechZoomIn

Yes i don't think the program works well with blogging blogs. May be it works well with technology sites or news sites.

What do you say?

Daniel Scocco

@TechZooming, it is a wordPress plugin, and yes I am using it on some of my blogs.

You don't think affiliate marketing works well with blogs?

John Collins

Hi Daniel –

I have and use Ninja Affiliate on my site and give it my highest recommendation. I got to use this pre launch. I paid full price for it then. Since then there have many new features added.

I would also like to say Pawan is a great guy. He and MBP customer service deal with customers and handle support in a way that you always feel you are important not just interrupting their day.

Ninja Affiliate is easy to use even for the beginner but has the features an experienced person wants. Another thing I like is you can use it on as many blogs as you want with no additional cost.

When I go set up a new link I often start laughing to myself. This just shouldn't so quick and easy. But it is. Do yourself a favor and get this plugin. Maybe you'll start laughing to yourself too!

John

TechZoomIn

Daniel,

I dont think this works well with blogging sites.

Have you ever tried this programs?

Daniel Scocco

@Suzanne, it depends on how focused your blog is.

For a money make online blog (which I think it is yours right?), I would say that with some 500 visitors a day you would already be able to make decent money with the affiliates links.

Money Making Ideas ~ Suzanne

It sounds really cool! I try to do all of that by hand now … going through my blog posts and trying to do internal linking and add affilaite links for products/services that I might not have been offering when I wrote the post originally.

I hate to be such a noobie … but how much traffic would warrant something like this? How many visitors and/or subscribers before you are considered having some decent traffic for your blog? Thanks! *SmiLes* Suzanne

Daniel Scocco

@Suzanne, that is correct.

@Potato Chef, yeah you need some traffic in place to benefit from it.

Potato Chef

Normally I shy away from anything that starts with the word "Ninja". After all how many people would actually try my "Ninja Garlic Roasted Potatoes"? Actually that sounds kind of cool!!

The plugin sounds like a winner. But only if you already have traffic. My blog is new and it really wouldn't do me any good right now. I am bookmarking this post so that I can come back to it when the pluging could possibly make me a marketing ninja.

SEO Genius

This plug in sounds much like that of the clickbank ad rotator and various other software packages.

Either way this one sounds like a very good deal when I get my site re-designed with a WP theme and increase my traffic I ll definitely come back and try this one out.

Thanks Pawan

Money Making Ideas ~ Suzanne

So … in the example screenshot above … every time you use "hosting" on your blog … it will turn that into anchor text and a link to either one of your posts … or to the sales page? Is that correct? Wow! This looks amazing! *SmiLes* Suzanne

Daniel Scocco

@Satish, I don't think you should have any performance problem. It all depends on how the plugin is coded (and optimized), and I know Pawal is a hell of a programmer so.

SATISH

Doesnt this slowdown loading of our blog?
Looks like an ultimate plugin for those willing to earn mainly from affiliate program.

Rajaie AlKorani

I have to admit, this a pretty slick and awesome plugin, but I just don't think that smallish blogs need it. (Like mine).

But this is one of those plugins that I will definitely keep in mind 🙂

Hussein

I'm just actually using php codes to mask affiliate links then seo smart links to convert keywords into links.

Daniel Scocco

@Hussein, yeah it is one of the best plugins I have seen in a while. Pawan sure knows his coding 🙂 .

Hussein

This is a great plugin. I have also read a review of this in slyvision's blog. How I really wish I have money to buy this 🙂
Comments are closed.