DBT is research-focused. When you buy through links on our site, we may earn an affiliate commission. Learn more
To help you make a quick and educated decision, here is a consolidated list of The Cleansing Oil's positive and negative qualities.
After all, even the best, most effective skin care products can have a few disadvantages and drawbacks
If you have sensitive skin, it can be hard to find the right facial cleanser.
Astringent cleansers can be drying. Soaps and oil-based products can leave residues. And micellar water works well enough, but even it can't remove your heaviest makeup.
Isn't there a single product that can remove the makeup, leave your skin clean and moisturized, and take its residues away with it?
This La Mer The Cleansing Oil review will give you the skin care lowdown.
What is La Mer The Cleansing Oil?
La Mer The Cleansing Oil is a luxury blend of water, three natural oils, plus a proprietary mixture of ingredients that you won't find in most other cleansing oils.
Studies have shown that cleansing oils are gentler on the skin than other types of cleansers.
They're also highly effective at clearing away difficult-to-remove products like waterproof sunscreen.
At the same time, we've all tried that one oil-based product that left us feeling not entirely clean.
La Mer The Cleansing Oil hits the sweet spot. The oils baby your skin, botanical ingredients cleanse without drying, and when you're done, it is all clean.
Scientist Dr. Max Huber founded la Mer. Huber suffered severe burns as a result of a lab accident.
His subsequent search for a preparation to heal the effects of his injuries led to the development of La Mer's "Miracle Broth," which is a critical ingredient in The Cleansing Oil.
Fermented extract of Giant Sea Kelp is at the heart of this proprietary formula, and it is the foundation of La Mer's line of skincare products.
Key Ingredients
What separates La Mer The Cleansing Oil from the pack is its luxury natural ingredients.
What are they? We're glad you asked.
Plant Oils
Many cosmetic products use mineral oil as a base. While mineral oil is generally considered safe, it is still a petroleum product. For this reason, some people prefer not to use it on their skin.
La Mer The Cleansing Oil has a base of water, sesame, eucalyptus, and grape seed oils. The combination is gentle, smells lovely, and feels wonderful on your skin.
Natural Ingredients
La Mer the Cleansing Oil has a laundry list of natural ingredients, including:
Alfalfa seed powder

Sunflower seed cake

Almond seed meal

Sesame seed powder

Algae extracts
Algae extracts fight against oxidative stress from pollution and ultraviolet radiation. This, in turn, helps to protect skin from the signs of aging.
Seed powders and seed meals contain natural oils that help to moisturize your skin.
Semi-precious metals
One of the first things you'll notice about La Mer The Cleansing Oil is its iridescent appearance. It looks as if it contains very fine glitter.
This comes from the powdered pearls and tourmaline in the formula, which provide a very gentle abrasive cleaning action.
Miracle Broth
La Mer's Miracle Broth is a proprietary blend of hand-harvested, fermented Giant Sea Kelp and other ingredients.
It is, according to the company, the secret behind the effectiveness of La Mer's products.
How Much Does it Cost?
You had to know there was a downside. La Mer The Cleansing Oil isn't cheap.
On the other hand, the adage 'you get what you pay for' holds as true for cosmetics as it does for anything else. You've been there with cheap cosmetics. I know you don't want to go there again.
At the time of this writing, La Mer The Cleansing OIl costs $95 on La Mer's website.
Also, if you do purchase through La Mer, you can earn points through their loyalty program that can save you big time on future purchases.
How to Use La Mer The Cleansing Oil?
A recent study has shown that a twice-daily cleansing and moisturizing routine can visibly reduce the signs of aging in sensitive skin.
In addition to removing makeup, you can use La Mer Cleansing Oil as part of your regular cleansing and moisturizing routine.
First, give the bottle a good shake to evenly distribute the ingredients.
If you're using La Mer Cleansing Oil to remove makeup, massage it into your dry skin. When you're finished, rinse your face with water.
On the other hand, if you're using La Mer Cleansing Oil as part of your skincare routine, then you wet your face first and then apply it to your skin.
When you're finished, rinse as usual.
FAQ's
You wanted to know. We'll tell you.
Customers report that it's highly effective for moisturizing and removing makeup.
Because this is an oil-based face wash, it's excellent for dry-to-normal skin types. The gentle plant oils and natural ingredients can benefit sensitive skin, as well.
Oily skin types should check out the La Mer Med Anti Spot product line, which is La Mer's go-to collection of products designed to treat oily skin.
La Mer does not market The Cleansing Oil as a potential acne treatment product. The La Mer Med Anti Spot range is their product line for acne skincare.
Use La Mer The Cleansing Oil as part of your twice-a-day cleansing and moisturizing routine. Because The Cleansing Oil rinses away after use, you'll apply it fresh every time.
Final Thoughts
La Mer The Cleansing Oil is a luxury oil-based cleanser. Its blend of natural ingredients, plant-based oils, and proprietary ingredients provide safe, gentle, effective cleansing and moisturizing.
Could La Mer The Cleansing Oil be your new go-to makeup remover and facial cleanser?
This cleansing suspension transforms into a detoxifying emulsion of precious marine oils and pearl powders.
---
La Mar The Cleansing Oil vs. Alternatives
First Aid Beauty Cleanser
---
La Mer The Cleansing Oil Reviews
There are no reviews yet. Be the first one to write one.
La Mer The Cleansing Oil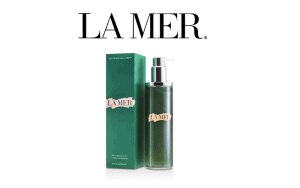 La Mer The Cleansing Oil is a moisturizing facial cleanser with a base of deconstructed water, plant oils, and kelp extract. It gently removes makeup and leaves your skin clean and soft.
Product Brand: La Mer
Product In-Stock: InStock