Keys to an Effective Idea Journal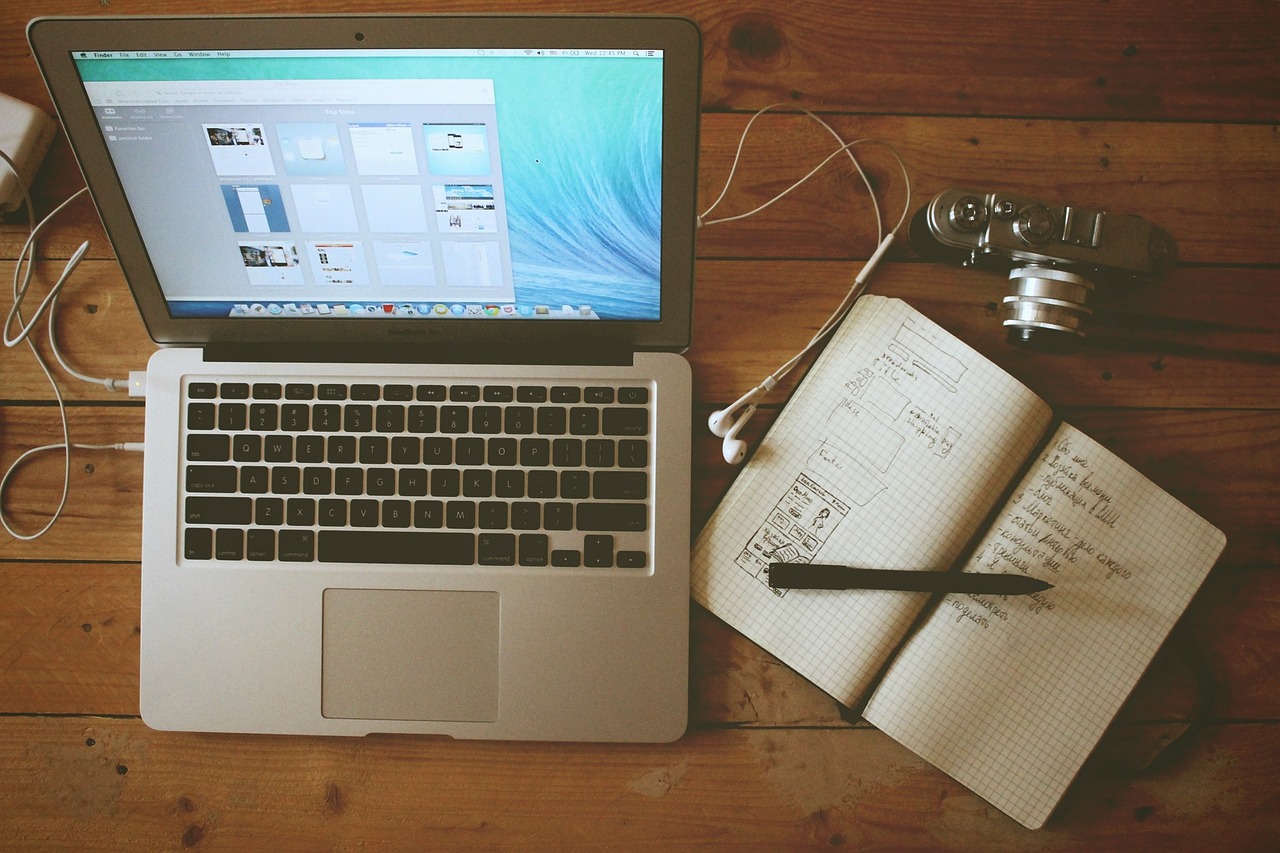 Probably my most valuable possession as a blogger is my idea notebook/journal. Because I maintain two blogs of my own and I write on a regular basis for a few other blogs, post ideas are priceless. Without a constant flow of ideas the results of my writing would suffer and my income would drop. I know just about every blogger out there faces the same issue of constantly pumping out ideas for new posts.
For me, the idea notebook is the cure to blogger's block, and I know many other bloggers use the same approach, or at least a similar one. If you don't already use a notebook or a journal to keep track of your ideas, I highly suggest that you start one as soon as you finish reading this post. If you do already keep a notebook, here are some keys that I have found for maximizing its effectiveness.
1 — Available When You Need It
The main reason for having an idea journal is to get your ideas on paper before you forget them. Most of us have plenty of ideas, they just don't come at the most convenient times. With an idea journal you can write down your ideas as they come, and then when you have time to write you can refer to the journal for possible post ideas. If you just leave your journal next to your computer it will not be very effective.
2 — Organized
In just a short amount of time your idea journal can become a cluttered mess if there isn't some organization. At that point it becomes a headache to find the right ideas when you go back through the journal. How you organize it is not so important, it just needs to be organized in a way that will work for you. Personally, I like to keep lists of ideas in different categories. I have a list for blogging-related topics, web design, marketing and social media, and even for linkbait posts. I have found that the categorized list also works well for coming up with more ideas through brainstorming.
3 — More Ideas Than Posts
Regardless of what topics you cover at your blog, you'll probably not want to post about every idea that comes to you. While my idea journal is flowing with potential posts, I know that many of them will never develop into posts that are worthy of being published. I write down ideas that are lonshots because they may lead to other ideas or they may develop into something more significant with time. Hopefully, your idea journal will lead to a huge number of ideas, then you can choose the best ones and turn them into posts that get published on your blog.
4 — Ongoing
The idea journal should always be a work in progress. Add new ideas whenever possible. If it sits for a long period of time without any new additions you'll see a lack of fresh ideas and your results will suffer.
5 — Free Flowing
With an idea journal you don't want to judge your ideas right away. If you have an idea for a post, even if it doesn't seem that great, write it down. Later you can go back and find the gems that lead to your best posts, but try to avoid judging ideas too early. Let them flow freely.
6 — Experimental
Personally, I like to experiment with outlines of potential posts in my idea journal before devoting my time to writing the post. The outline will help me to create a structure for the post that will make the writing process much easier, plus I can quickly see if the idea just isn't developing into a strong post. This way I don't waste time writing posts that have little chance of being published. By the time I get to writing the post I'm convinced that it's a fairly strong idea.
7 — Individualized
Your idea journal should be your idea journal. Whatever methods work best for you should be used. We all have different ways of learning and working most effectively, so don't try to force someone else's habits on yourself. If some of my points here simply won't work for you, adjust them or replace them with other methods that will work.
8 — Updated
Because of the large number of things you'll have written in your idea journal, try to keep it up-to-date. When you have used an idea and published a post, cross it off or get rid of it somehow. It can be frustrating to flip through your ideas and see only things you have already published in recent weeks. I like to cross off ideas as soon as they're done and through out my pages with outlines of published posts. This helps me to keep the journal to a manageable size.
9 — Prioritized
Some of your ideas will be better than others. Some will be more time-sensitive than others. For these reasons, it's helpful to have some system for prioritizing your ideas. I simply put a star next to the ones that I want to focus on in the very near future. That way the quickly stand out to me and I can get them developed as soon as I have some time.
What's Your Experience?
Do you keep an idea journal? What have you found to be the keys to success with managing your ideas?
Browse all articles on the Writing Content category
26 Responses to "Keys to an Effective Idea Journal"
Quickiepro

Sometimes its just hard to get the juices flowing. Seeing the ideas of other people can help to do that. Stumbleupon is a great place to see some of the newest content on the web. This video shows you how to use Stumbleupon for getting content ideas for your blog or articles.

Eric S.

I built a daily journal quite some time ago in Access. Originally I was going to use it as just a diary. Then later I added a few fields, Category Ex-ct. I now use it as my idea journal.

Tony

Just bumped into thsi blog, I am going to take it in and see if I can learn anything, thanks. I like your writing style, and normally I hate to read.

Kurt

I just saw this link on google's page for the myanmar cyclone. I think anyone must contribute even if its $1.

Hans

Daniel,
Great post! 🙂 I'm also using an idea journal. I agree will all the point you discuss above and especially on the free flowing. I really think it is important not to judge an idea. In fact, a "poor" idea may lead to an remarkable one!

In addition, I think that the idea journal may have several sections to categorize the ideas. In fact, an idea could be precisely related to a post in itself but it could also be related to a concept (a type of post like special lists for example) or about something else!

Thanks again for this post!

Zac Davis

Hmmm, I don't normally keep an idea journal, but maybe I should. Now the decision is, virtual or hard copy?

Luis Gross

Yes this is something everyblogger should have, instead of an actual notebook I use a virtual one – notepad. Here I keep all the ideas that I come up with, and must say I would be lost with out it.

karthik sridharan

I generally use to do this. in general i use to carry a notepad with me and when ever i find a new idea or new creation or new info , i will make a note of those in my note. Like wise i have collected a good collection of websites for ideas. I will then convert to the mail from my notebook. Which is easily accessible for me at any time.

salelogic

i tend to use the 'notes' feature on my blackberry and type them out when the thought hits. or add them to my calendar to followup on at a later date.

I had the $1 notebooks but I tend to forgot about them and leave them in my pockets when I do the wash !

New Bloggers Center

I also keep an idea journal but now i am going to improve it

sonia

I know this is not ideal… (since you have to be in front of a computer to jot it down)… but I love Google Notebook. I have my blog writing, and then my writing for which I do have a journal. But for my blog writing, I often go off on ideas that I get from browsing the internet. So Google Notebook allows me to capture everything that I find itneresitng immediately w/out having to think too much about whether I want to actually blog it or not.

camila

By the way, ive been meaning to ask you… Why do yo moderate the comments? it is useful? shall we all do it? If you have a post on the subject, let me know, I havent found it.
Thanks a lot!

camila

I write down my ideas in my daily agenda (which is HUGE), i dint know there was a "google notebook". Im going to look at it.
And your tips great as usual!

Barbara Ling

Morning,

I use a lab notebook from back when wheels were square (ie, when Bell Labs was a real live company). I've also recently started bookmarking sites for future post ideas for when my own creativity draws a blank.

That's been most useful indeed.

Data points,

Barbara

David at FullTiltBlogging.com

Hi Daniel,

I think this is a great idea that can help everyone. I'm curious, though, about what kind of journal you actually use. Do you use a little paper notepad? A PDA? An Iphone? I think I'm going to get a notepad myself.

This post has been featured in FullTiltBlogging.com's Daily Blog Summary today. Great post!

GolfSpy X

An idea journal is one of the first things I created. I simply use an Excel spreadsheet to keep it organized.

So many ideas come in throughout the day that I find it best to always have the spreadsheet open, that way when one hits me I immediately jot it down.

Paul

I don't keep a journal but I do have a way to keep my ideas for the day. Being a sports rumor blog, I go to all my daily sources (using firefox), and as I see stuff that peaks my interest, i open that link in a new tab, and I do it for every article that I think could be of interest to me and my readers.

After that, I go through the tabs and see what could actually be a good post. If something feels like it won't be able to I close that individual tab. After that I usually have anywhere from 5 to 15 tabs open. Then I choose my favorite, write about that, then leave for a while. I come back later and choose a few at random, pending the time I have that day to write.

Muscle Post

I started keeping an idea journal before I even began blogging. I used it to write down possible niche categories as well as basics I learned about blogging. Now I continue to use it for idea generation and post development.

These are some great tips to help make an idea journal even more effective!

aLien

I use hand phone to note down my ideas.

周文

yes,i often get the ideas from my friend's blog or the news,when i have the idears,i 'll restore them with a notebook on my pc.

Cecil

I've started using a small spiral notepad to record my ideas and when i get home I rip the page out and put it in my "inbox" for precessing. The problem is, sometimes I forget the the notepad at home.

Daniel Scocco

@MrCooker, I am also a fan of white boards :).

@Diane, yes if you are often walking around it might become a pain, but a small notebook or even a piece of paper will do the trick. Just remember to record it properly once at home.

Solo Business Marketing

This topic is wonderfully mapped to not only plan but also begin creating a journaling project that actually works.

Years ago, I applied corkboard to one wall in my office, which I've talked about on my blog and shared with readers in photographs. The wall acts as my journal.

I use push pins to attach 11 x 17-inch paper, three of them side by side, to the corkboard so I can prioritize blogging and business projects. As the plans progress or are completed, I replace the paper with a new sheet.

This works best for me because I need to see my "journal" as I enter the office.

Diane Penna

I do keep a journal, have for many years. Only recently did I start to incorporate it into an idea notebook. I use a binder and a three-ring notebook inside…and keep the most important ideas/tips on loose paper in the inside binder pocket. I also think the free-writing that is produced in daily journal writing helps with ideas and gets the creativity flowing. I like my work to have a lot of depth and feeling and not just basic facts and research.

The only bummer with this system is that I have to be sure to keep my writing binder near me at all times….out of sight, out of mind. Meaning, I tend not to use it when it gets buried under a pile of junk mail or the kid's homework.

Carl-Johan Hunefalk

Some good points. I use Google Notebook, with the notebook Firefox extension instead of an offline version. I tend to take too many notes at meetings and other places, to my notepad often gets filled up with various things.

With Google Notebook, I can structure my ideas and file them under various projects.

MrCooker

Thanks for the tip Daniel. I often have ideas for my post, but because I don't have a notebook or something like that I tend to forget most of them.

Just recently I started to use a notebook on my pc, but I think I have to change it a bit, because it's not portable.

I'll be getting a €1 notebook later on.
Comments are closed.