It`s Blog Action Day (And The Ryan Well Foudation)
As you might have seen around the web, it`s Blog Action Day. This year`s topic is about water issues, and you can still participate if you want. Here are some ways to do so:
Write a post about water related issues on your own blog.
Display badges about the event on your blog.
Promote the event or participant blogs on social media (e.g., Twitter, Facebook).
This blog is not related with the topic at all, so I was wondering how I would be able to participate. I decided to make a donation to a foundation that I heard about a while ago and that is doing a terrific job giving poor people around the world access to clean water.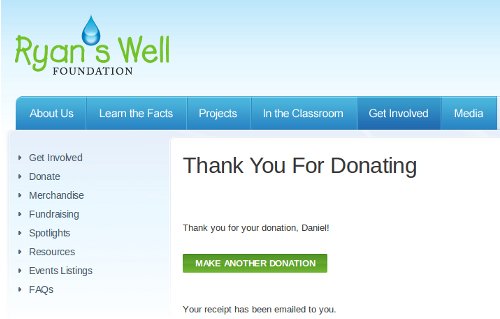 It`s called the Ryan`s Well Foundation, here is how Wikipedia describes it:
The Ryan's Well Foundation grew from the commitment of one boy, Ryan Hreljac, who learned of the great need for clean and safe water in developing countries in his 1st grade class. With the support of friends, family and the community, Ryan raised enough money to build a well in Africa. In 1999, at age seven, Ryan's first well was built at Angolo Primary School in northern Uganda. To this day, the well continues to serve the community.

Although Ryan started raising money for water projects in 1998, the Foundation was not formed until 2001. Since then, Ryan's Well has helped build over 600 water and sanitation projects in 16 countries bringing safe water and improved sanitation services to over 685,000 people.
Neat huh? You can also donate, blog about it, retweet and so on to help the initiative.
Browse all articles on the General category
6 Responses to "It`s Blog Action Day (And The Ryan Well Foudation)"
Dave@ best man speeches

In these turbulant times it is inspirational to hear of Ryan's story. It is shameful that we can put a man on the moon but cannot provide clean healthy water for those who need it most.

cmdweb

This is such a worthwhile initiative.
Such basic things as clean water should be a priority for all.

Rahul @ MazaKaro

That is such a genuine cause isn't it

Kae Kohl

Daniel, thank you for contributing to the awareness of such an important issue. Many of us take so much for granted when we turn on the tap. Like the fact we have a tap.

Sanya (jimmymycrushie)

Good to see that you donated. And Ryan has done so well. I had heard that a 7 year old built a well, I didn't know he is the founder of Ryan's Well Foundation. My blog isn't related to this topic either, but I wanted to get the message out so I wrote about Blog Action Day and water.

jason

It's truly moving that a 7 year old would have the foresight to develop such a project that will only get more important with the passing of time. Great post!
Comments are closed.