DBT is research-focused. When you buy through links on our site, we may earn an affiliate commission. Learn more
here are plenty of pros to iTalki that you can't get anywhere else. This is the best site to use if you want flexible, affordable access to a tutor.
And with so many different teachers to choose from, you can find one to fit your exact specifications.
italki is an excellent resource for learning to speak a new language. This site allows you to pick from a large selection of teachers, based on your individual preferences.
No matter your budget, language needs, or skill level, you can find a teacher who will work for you.
Work with one teacher or take classes from multiple ones to improve your fluency in your chosen language.
In this iTalki review, we're going to look at the various features, plans, and recommended users who would find the most value from using iTalki to decide if this is a language learning tool for you.
Let's get this iTalki review started.
What is italki?
italki is a website that puts you in direct connection with thousands of tutors around the world.
No matter what language you want to learn, there will be a tutor for you. There are over 100 different languages listed, including English, Spanish, Chinese, and French.
You can choose a teacher that meets your schedule and your budget. These tutors range from long term teaching professions to natives who are making money on the side.
What iTalki doesn't do is offer lessons to study separately without a tutor. If you want to learn without help from another person, iTalki wouldn't be right for you.
The site does not have any learning resources, aside from the tutors.
To learn how to speak a new language using iTalki, you can search the database to find the right teacher.
You can then book a private class or just chat to practice your skills through a video conference such as Facetime or Skype.
You have multiple search filters so you can find a teacher that is right for you, including:
How Does italki Pricing Works?
Pricing is different on iTalki than other language sites. There isn't the option to pay for a subscription monthly, and there are no set prices.
Instead, pricing is set by each teacher, with some tutors having a low, reasonable price while others might be on the higher end of the scale.
You have two different types of teachers to choose from: professional (meaning they have teaching certifications) or community tutors (native speakers that teach informally).
FAQ's
Below you will find answers to some of the most frequently asked questions concerning iTalki.
iTalki is one of the most used language sites currently available. There are hundreds of teachers available to help with your learning needs.
And thousands of people have written reviews and YouTube posts raving about the benefits. English, French, and Spanish seem to be the most popular class choices.
iTalki is a facilitator that allows you to connect with teachers who will help you learn your chosen language.
Some of these teachers are professionally licensed, while others are native speakers who can help you learn how to speak locally instead of formally.
iTalki offers classes for any skill level. However, some people may have trouble using iTalki to start learning a new language without using other resources.
This site allows you to work on your speaking skills with a teacher who can critique and improve.
iTalki offers classes for over 100 different languages. Depending on the language, you can find multiple options for which teacher you choose.
Some languages will only have a limited and small pool to choose from, but the more significant languages have more options.
In addition to different languages, they also offer multiple dialects for each language, such as Chinese with subcategories of Mandarin, Cantonese, or Shanghainese.
Or under Arabic, you can learn Egyptian, Gulf, or Levantine, among others.
An example of the size of classes looks like this. However, be aware this is only a small sample of the various languages and teachers this site offers.
Spanish - 869

English - 2372

French - 369

Portuguese - 165

Greek - 36

Mandarin - 357

Romanian - 23
Who Should Use italki?
iTalki is excellent for anyone who wants to use hands-on learning with a teacher to help practice and learn a new language.
While iTalki is great for working with a person one-on-one, it does not offer instructional material to use without a teacher.
No matter what new language you're trying to learn, you'll have access to a teacher that can help.
If you prefer practicing having a casual conversation with a person, you can opt for a community teacher, who will likely provide a less structured environment.
If you want to use flashcards, engage in quizzes, or learn definitions, you may prefer a different site that offers these extra resources.
But depending on your teacher, you may get access to outside sources that help with these needs.
However, this site does have a large community where you can talk with other users. This area is a great place to meet new friends, find a study buddy, and practice what you've learned.
You can even run into teachers who offer free advice and help if you have questions.
Final Thoughts
Overall, iTalki is a great language resource tool to use if you plan to travel or move to a new location and learn the local dialect.
There's plenty of customization, so you can find the perfect teacher to fit your needs.
With flexible schedules and individual pricing, you're sure to find a tutor that works for your budget and lifestyle. We hope you enjoyed our iTalki review.
Why are you still here? Learn a new language today!
iTalki is a language teaching site that offers the ability to connect with tutors to help you learn how to speak another language.
---
---
There are no reviews yet. Be the first one to write one.
italki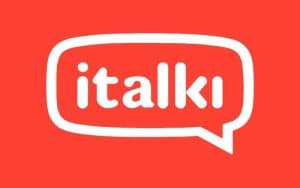 italki is a language teaching site that offers the ability to connect with tutors to help you learn how to speak another language through hands-on lessons developed by your chosen teacher.
Product In-Stock: InStock