HostGator Is Giving 80% Discount For Black Friday, on All Plans!
As you probably know today is Black Friday, which is the day you can get the best deals online. I have seen companies offering discounts and what not, but the email I got from HostGator caught my attention above all.
Starting at 12:00 am today (i.e., the promotion is already on) for a period of 24 hours you can get a 50% discount on your first invoice for all plans and all term lengths. It includes Shared Hosting, Reseller Hosting, VPS Hosting and even Dedicated servers, and you can pay up to 3 years ahead with the discount (this is only for the Shared and Reseller plans. VPS and Dedicates plans have discount on the first month only).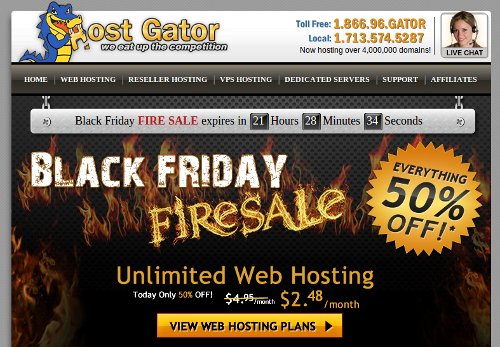 On top of that they are doing a special deal between 5am and 9am (CST, or GMT -6), where you'll be able to get all plans and all term lengths with 80% discount. This is a pretty crazy discount, and here is why. Suppose you are planning to get a shared hosting account on the "Baby" plan, which costs $16 per month. If you pay 3 years upfront that would normally cost 36 x $16 = $576. With the 80% discount it comes down to 0.2 x $576 = $115, which is basically $3 per month.
You can also get their "Hatchling" plan (the smallest one) and pay $35 for 3 years of hosting…
You get the idea. If you could use a new hosting plan, today is the day to get it. Here is the link to get all the discounts from HostGator.
Browse all articles on the General category
27 Responses to "HostGator Is Giving 80% Discount For Black Friday, on All Plans!"
Web Marketing Tips

they have started promotion for Monday as well.

If guys you have missed last one than go for it.

America People Search

I missed the 80% off arrgghhhh.. but i still got 50% off,its pretty good, just buy shared hosting business plan for two years 😀

Mani Viswanathan

Well, the 80% was just on for 5-10 mins. Though I took advantage of the 50% Discount. For those you missed even that discount, can look out for tomorrow as they are going to continue the 50% Discount & the coupon code is CYBERMONDAY2010

Christian Guico

Wow! Those some crazy discounts. Too bad I can't afford to purchase one. This one insane offer will generate more sales for them. I wonder what offers would come on Christmas season..

Web Marketing Tips

i doubt they will give these kind of killer offer on christmas.

So better get this one on Monday offer.

Web Marketing Tips

yesterday was the day of hostgator. There is no doubt about it.

He emptied paypal I think … Lollzzz

Adam Mello

Hi Daniel,

thanks for sharing I got my 50% off:) The 80% was gone within couple of minutes and hostgator server was so overwhelmed that I was simply not able to log in to their site.

Those 80% was here most likely just to create a grate buzz.

Web Marketing Tips

80% was only to make offer more attractive. This way the sales message spread more faster.

Robin Gupta

But however 50% was great offer and I must say that one of the best offer of this year.

Pete"BloggingGenius"Carr

Hi Daniel,
Hostgator offer some amazing deals. Wish they did "Black Friday" when I started.
Could of saved some money hey.
Great service and support from Hostgator, highly recommended.

Pete

Ishan

I am considering moving to HostGator and this might be a good time to do it.
However, I have a question Daniel, do they move all WP stuff for you? When you made the move, how much help did they do?(And was Frank supportive?)

Daniel Scocco

I think they can move the stuff for you, but it might have an extra fee.

Cardiff Ifa

A bit of a con really, as the 80% deal was only live for 3 whole minutes!

Makes you wonder how many they actually had?

Web Marketing Tips

i doubt if any one … Or may be very few ones.

I count it under marketing tricks and to spread this sales offer more fast.

Clint

Looks like I missed out on the 80%, woke up at 5:09am MST(6:09am CST) and it only offered the 50% discount, still a good deal, but not the 80% I was hoping for 🙁

Robin Gupta

Everyone was targetting 80% my friend … but only few people able to get that one.

They made their slogan more juicy by adding 80% to that.

KN Smith

Complete bait and switch on the 80% off, on top of their site crashing.

I just spoke with a rep at 4:40AM and he told me to order online at 5AM, and confirmed that it was from 5-9. I finally just got through to the order page at 5:30, and it's showing 50% off, not 80.

I called support again and got the same guy, and he told me oops, it was actually 5-9 but for "limited quantities", and he didn't even know about it. Seems like they didn't expect the big crush and changed the rules 3 minutes in, if in fact anyone got the 80% off.

He told me I can email feedback@hostgator.com, which apparently the CEO reads, to complain. That's about to happen right now, and hopefully many more people do the same.

Robin Gupta

It was mentioned all over the internet that 80% will last till stock.

I am sure you waited long to talk with their representative.

Boy that was a really busy day for them and for their servers and yes for their paypal account as well.

Jack Cola

Hostgators 80% giveaway was a total fail – purchasing the hosting account just timed-out. Within 10min it just crashed.

Daniel Scocco

It gives you an idea of how many people are trying to buy at the same time 🙂 .

Jack Cola

According to their website, they went from 2.2million to 4million hosted domains from their 80% offer. Check out http://twitter.com/#!/jack_cola/status/8122235571146752

Also, I wondered if you could make a profit by signing up through your own affiliate link (getting the $125) and purchasing 2 years of reseller hosting for $119.

So $6 and free reseller hosting – a pretty good deal I might say.

Web Marketing Tips

they knew it that this is going to happen that's why they added till the stock last.

iroshan@TipsLK.Com

And They have not yet given this 80%.

Web Marketing Tips

they provided it for the fraction of minutes only.

Just markwting strategy nothing else.

Robin Gupta

I am sure very few people able to get the package on 80% … because at that time there were huge load on their server and that was slow.

Dave from The Longest Way Home

Thanks for posting this great offer.

Just one thing though. I checked it out re VPS etc. It seems the discount is only for the first month. So buying for 3 years, just gives one month at the 50% rate.

I got as far as signing up, and it mentions 50% on first invoice only too.

Shared hosting covers 3 years alright. But Dedicated and VPS only seem to be the first month.

At least from what I can see. And, I would gladly like to be corrected as it would be a great deal otherwise!

Daniel Scocco

Yeah I fixed that info in the post.
Comments are closed.