Grab The 2nd Edition of the Problogger Book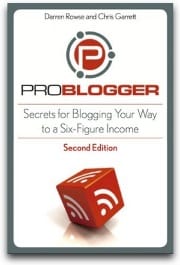 Most of you probably remember when Darren Rowse and Chris Garrett launched the Problogger book a couple of years ago.
Well, Darren and Chris figured that it was time to update the book, and over the past few months they have been working on the second edition. This week the books is finally available, and you can already order it from Amazon. You'll get a 34% discount if you order today, so check it out.
The link above is no an affiliate one, so I am not earning anything whether you buy it or not. I am recommending this book because I really believe it is the best one around for people who want some guidance to build their blogs.
I'll be ordering one copy as well, so you'll see my review about it within some weeks. Darren added a new chapter where he talks about the first four years of his digital photography blog, and I am looking forward to reading that, given the success he got with it.
Browse all articles on the Blogosphere category
8 Responses to "Grab The 2nd Edition of the Problogger Book"
Joe Hughes

Before I comment on the book, I would like to congratulate these two gentlemen on a noble effort. Their successful blogs are evidence of a solid work ethic and sound knowledge of their field.

Also, in view of the Publisher's tight restriction of use in referencing Section 107 of the Copyright Act of 1976—(4) in particular—I do not provide the examples I would like to provide as backup for my comments. That's a sad affair, because the words on the page speak for themselves. In view of the restriction, I will simply state my opinion without reference to even minor quotes of material from the book.

As another reviewer mentioned, this book offers little that cannot be found on just a handful of blogs on blogging—the top five, actually.

The book falls short of the mark on several fronts, and I cannot recommend it. The following review is an objective look at the work based on "the words on the page."

Overall, the book appears "rushed." It seems "thin," as if they "had somewhere to be" when they wrote it and had to "finish" it. In many cases, they show us the box but fail to take of the lid and show us what's inside—a lack of detail on important points. Past tense, faulty sentence structure, wordiness, grammatical errors, typos, and other related problems plague the work throughout.

I actually quit "reading" at page 79, after the problems became a major distraction, and began "scanning." At page 166, I simply put it down.

Also, they passed up a golden opportunity to offer a simple and easy "snapshot" chart the reader could use to determine what kind of blog to build—I'll keep this idea.

Aside from the work, I have comments about the writers. These guys are good at what they do, they work hard, and they make lots of money doing it. Considering the fact that hiring a qualified editor to clean up the book is well within their financial ability, there is absolutely no excuse for them to produce a piece of minimal work like this. They should have given it six more months and about twenty more edits before releasing it. One of them even offers blog writing and copywriting services on his site. Consider the quality of the material he put in this book…. And, I'm surprised that all this got past their agent if they have one, and the editors at Wiley, the publisher, if they don't. Well, considering the nature of the publishing industry, maybe I'm not.

I won't return the book, because, as a writer, I have an aversion to people reading a book and returning it. However, keep your money and do your homework online. These guys don't need your money anyway.

Antoony

Unfortunately, we can not reach the 2nd Edition of ProBlogger the Book! in Asia and our country.

Vivek @ InfoEduTech

I have already read that article on problogger but still a one thought (doubt) that this book is really fruitful to us?

Aaron

I'm very curious as to what it says. As it's against my principles to EVER buy an eBook, I'm glad that this is a paperback book. Thanks for the update, and I await your next post.

computer tips

Hi Daniel, thanks for the update. Actually I just read the 1st edition of Pro Blogger e-book. The book was really helpful and awesome. Will check out the 2nd edition later.

Dev | Technshare

Hey Daneil !!
That's great to hear 🙂 I have readed Problogger's 31dbbb and Secrets for Blogging your way and can say his books are really awesome !!
BTW: What of my guest post?
Thanks,
Dev

Daniel Scocco

Did you send it recently? If so you should receive an answer today or tomorrow.

Dev | Technshare

ok and thanks for a quick reply bud. 🙂
Comments are closed.