Google's Page Speed Service Wanna Make The Web Faster
How would you like to have Google grab all your site files, host them on a Google server, optimize the loading time with several tweaks, and then allow your visitors to visit your site directly on Google's servers all around the world?
I sure wouldn't mind (except maybe for the aspect of losing control).
The good news is that soon this will be possible, as Google just announced a new service called Page Speed Service. According to the announcement post:
Page Speed Service is an online service that automatically speeds up loading of your web pages. To use the service, you need to sign up and point your site's DNS entry to Google. Page Speed Service fetches content from your servers, rewrites your pages by applying web performance best practices, and serves them to end users via Google's servers across the globe. Your users will continue to access your site just as they did before, only with faster load times. Now you don't have to worry about concatenating CSS, compressing images, caching, gzipping resources or other web performance best practices.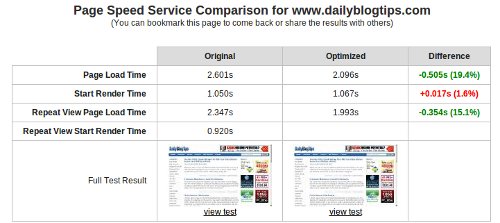 The service is being offered to some beta testers right now, and soon it will be available for all web publishers. Right now what you can do is to run a simulation here to see how much your website would gain from Google's service. In my case it wasn't a huge boost. The "Page Load Time", which is the main metric, improved by 19%.
If you like the results and to become a beta tester, though, you can apply using a link on the official announcement post (I linked to it above).
Browse all articles on the Blog Design category
11 Responses to "Google's Page Speed Service Wanna Make The Web Faster"
Guduru Pradeep Kumar

Thanks for sharing useful information about google page speed service. Its provides insight of blog to increase page speed. Thanks a lot.

googler

Definitely this will be a great service offered by Google. Is this service free? =D But losing control will really be an issue for web masters out there. That disadvantage alone will give us a dilemma.

Web Marketing Tips

Are they also showing the reasons of slow loading ?

If they are not than I think they should have …

Main reason I think will be Google server … if any query came from India than Indian Google server will provide the answer of that query …

Swamykant

Seems to be a great tool. Let us try 🙂

Floricel @ Online Business Design Blog

Had the same reaction with Kalyan and I also wanted to ask your opinion if you would personally recommend this. 🙂

I was a bit struck by the "aspect of losing control". So it may mean a lot in worst case scenarios.

Thank you, by the way for this info. 🙂

Raj

Cloud Flare is already offering one such free service for speed along with protection against spam attacks etc., and I am testing that now. Only you need to point your DNS servers to theirs, that's all. If such a service is offered by Google itself, it is well and good. The downtime will be zero in that case.

Anyway, let's wait until the offer is made to all.

kalyan

Thank you Daniel and thanks Herman..well, yes, I think we need to wait and see how it goes. It's too new to comment on. Thanks again.

Daniel Scocco

@Kalyan,

Well your DNS would be pointed to Google's servers instead of your own, so if those servers go down so would your site (but then again, Google might be more reliable than any other hosting provider out there).

Mostly text based sites wouldn't gain much from this in my opinion, especially if you are using a good CMS like WordPress with caching enabled.

As for price, we got wait and see.

Herman dailybits

@Kalyan:
All traffic will pass the google servers and they will get full control on the traffic.

Imagine what they could do with all that traffic-data….

kalyan

Daniel, nice info. sounds interesting. Google is again coming up with something new. but you mentioned that we may lose control of it. How about that? Can you please explain and if so, then is it better to for it. And, how do you think it will help speed of sites. Is it necessary for mostly-text-and-not-many-images kinda sites/blogs?

Plus I read it may not be free like some of Google's other products. Your statements on this.

Sofia

It seems to be a great tool, I just signed up 🙂
Comments are closed.