Google Showing All Backlinks Sporadically?
As many of you probably know, Google has never revealed too much information about the backlinks that it tracks for a given website. It does have a search operator for that, link:, but if you try to search for link:yoursite.com you will probably see less than 1% of your total backlinks.
Here is a screenshot when I run that operator for Daily Blog Tips: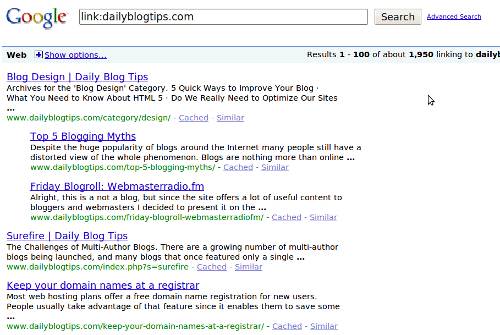 Truth be told, that operator is supposed to only list the backlinks to your front page (as opposed to the whole domain), but even considering that the results are a gross underrepresentation.
The most common explanation for this was the fact that Google wanted to protect its backlink data, in order to make it difficult for SEOs who could try to reverse engineer the backlinks part of Google's search algorithm. Maybe that is the reason, maybe not.
Regardless, I noticed two interesting things lately.
The first one is that you can get many more backlinks listed if you are the -site:yoursite.com parameter to your link: query. So for DailyBlogTips I would search "link:dailyblogtips.com -site:dailyblogtips.com". Here is a screenshot with the result: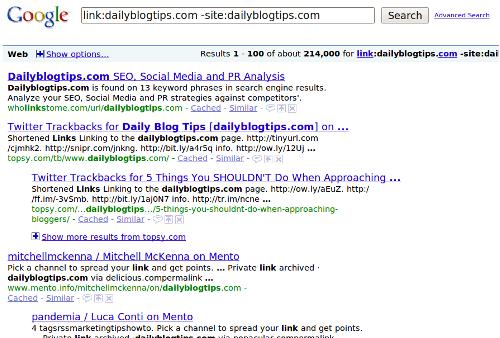 As you can see, with that second parameter the reported number of backlinks for the blog grows from 1,950 to 214,000. An improvement, but still not the total number. Yahoo! Site Explorer reports around 1,590,000 backlinks for this blog.
Curiously enough, a couple of weeks ago I was playing around with the search operators in Google and suddenly it reported back to me 1,540,000 backlinks, as you can see from the screenshot below: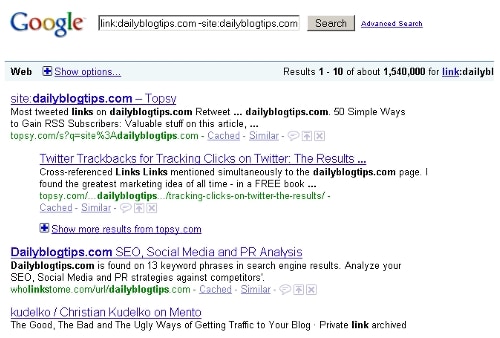 I tested it immediately with other websites, and they were all reporting a bunch of backlinks, sometimes even more than what Yahoo! Site Explorer itself.
I figured that Google was implementing some changes and finally revealing all the backlinks for any website, but after 5 minutes the search queries returned to their normal values.
Weird, huh?
My guess is that for those five minutes Google's datacenters were somehow not filtering the backlink queries. It might happen again in the future, so keep an eye on it.
Also, if you have any insights on this whole issue, please share them on a comment below.
Browse all articles on the SEO category
31 Responses to "Google Showing All Backlinks Sporadically?"
George Thistle

Google's backlinks feature just doesn't work. They've even admitted this themselves. They secretive tactics are one of the reasons they're such a massive company!

Brandon Sheley

The site: command shows the indexed pages of your site, it has nothing to do with the backlinks.
It's best to check with yahoo or google webmaster tools.

João_BacklinkSpeed

Hi, i'm from Brazil, this is a really great post! I checked out the other comments before I wrote my comment and I appreciate that you are guiding people to help them to be more successful about SEO. This business definitely takes perseverance and you have to continue to analyze what's working and what's not.
My site also has some great information about SEO at:

Great site!

RedKoala

I thought the same as above that you see all the links with Webmaster tools, but apparently it's not true. Some of the links may be missing

Millard

I suggest Google Webmaster Tools. It shows you all your links, I think.

Sean Supplee

Was wondering about that. While doing searching though googles keyword tool and then using that same data for yahoo as they do not have a keyword tool that I know of there where huge differences on my advertising campaigns. Good information to know that I can look into this deeper now.

Seth W

Definitely going to google right now to check this out. I have always wondered why the disparity between yahoo and google is so large, maybe what you have said today is a way to enlighten me a bit more on the subject.

Lee Ka Hoong

I've gone ahead and done a checking for my site backlinks, it was 288 when I used link: only, it increased to 1110 after using -site:, but my site supposed to have 30k backlinks based on what I checked in website grader. Is that meaning that the 1110 is not correct as well?

Regards,
Lee

Harrison

Interesting I tried it but at least 30% of the "links" were to sites or people with a similar name to mine.

Rick Regan

@Robomaster,

The minus sign ('-') is supposed to remove results, not add them.

Boerne Search

I guess I will have to look into Yahoo then. Cause it is very tough trying to understand google.

Kane

Robomaster

"But it's funny that "link:dailyblogtips.com -site:dailyblogtips.com" returns WAY MORE than simply "link:dailyblogtips.com". You'd think the former would be a subset of the latter."

@Rick and @Daniel,

If you think about it, 'link:' only shows sites that linked to DBT, but when you use both 'link:' AND 'site:,' it shows sites linking to DBT and DBT pages themselves. I think it makes complete sense that using them together shows more results…Anything confusing about that?

Jamal

why google restrict to show these backlinks,is it dangerous.

Ashok

Another useful method to search for links to one's site is to use Google Webmaster Tools. It requires signing up for a free account for one's website. Select "Dashboard" from within Webmaster Tools, and then select "Links to your site". It will show external links to all pages on your site (for whichever pages they exist). An extra advantage of using Google Webmaster Tools is that at one place you can see the external links for individual pages of your site instead of searching it in Google Search individually which is a tedious task. Moreover, the external links shown in the Webmaster tools are much more accurate, though I have noticed that generally it is updated after a few days (a week or so). In any case, it show you approximately accurate position barring a gap of 2-3 days, i.e., some latest links may not be shown.

Furthermore, it can also separately show the Internal links to your pages and many other useful statistics about your site.

TechThinker

Hi Daniel,

I don't think this query is returning the right results. For my domain it picks any page that has the word "TechThinker".

V.C

If you want to check that, you can go to xinureturns.com
They report all of your backlink in each search engine.

GetBrowser

What is the meaning of the query "link:dailyblogtips.com -site:dailyblogtips.com"?

Dave Doolin

I use Yahoo myself, but it's still pretty interesting that Google reported varying results on your query.

mark harrison

Yahoo is the only one you should even think about when it comes to backlinks as Google has never been a true indicator of your full backlink status.

Oscar – freestyle mind

Interesting. I can see 63,500 links to my blog with the -site param. It does sound a bit inaccurate to me because my month has been alive for only two months now, so I'm checking a few of those links now.

Steve

Thanks for the tip on getting more backlinks from Google. I always wondered why you only see a small number of the actual backlinks.

LetUpdate

I agree with you that google do not show all of the backlink. I suggest to use yahoo to check all backlink.

Daniel Scocco

@Rick, indeed, that is why I believe the whole thing is weird.

Google should fix those queries and get more transparent about what it considers on each case.

Rick Regan

But it's funny that "link:dailyblogtips.com -site:dailyblogtips.com" returns WAY MORE than simply "link:dailyblogtips.com". You'd think the former would be a subset of the latter.

Daniel Scocco

@Rick, that query is supposed to find all the backlinks to your homepage, excluding the ones coming from inside your own domain.

Rick Regan

Are you sure you have the right syntax? Normally, a '-' means to exclude something from the results (I can't find any google documentation on the link query).

Daniel Scocco

@Rick and Jaan, yeah that seems to be the case, but it still represents a bug on that search operator right? Cause anchor text should not be indexed when the link itself is not point to the site.

Jaan Kanellis

Correct Rick the query picks up on text links as well as real href's to dailyblogtips.com

Daniel Scocco

@Blake, Yahoo! is considered to be the standard as far as reporting backlinks goes.

Blake @ Props Blog

That's really strange. I've noticed that links that are more than about a day old don't seem to show up for my site. I'm not really sure if that is by design or not. I would love to find out though since I'm curious where my links are coming from.
Other than Google, is there another place you can find your back links? How reliable is Yahoo?
Comments are closed.