FreshBooks Review
Once in a while I will start doing some product reviews. Not because I will get paid by them (in fact I don't allow sponsored posts here as a rule), but because I think the readers might get some value out of it, especially if I review a product that I use or mention a lot on the blog.
The first one will be about FreshBooks. They have been a sponsor of Daily Blog Tips for the past 6 months, and I was glad when they first arrived because I was already one of their happy users. Sometimes I also get emails from readers asking me what they should do when a company that is advertising on theirs blogs asks an invoice, so I figured not everyone might be aware of what FreshBooks offers.
The Service
FreshBooks is basically an online invoicing tool for freelancers and small business owners. After registering an account, you will be able add "Clients" to your account. Those are the people will be sending an invoice to, either for a work that you performed, or for your advertising fees and so on.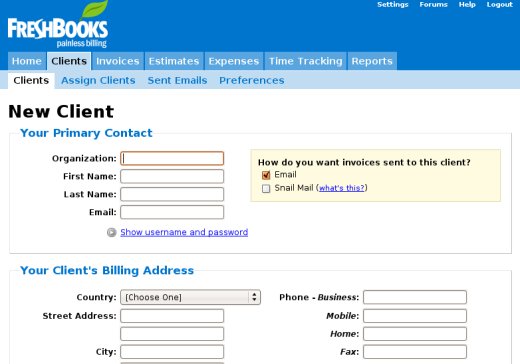 Once your client is added, you just need to select it and click on "Invoice." You will then see the invoice interface, and there you will be able to add the product or service, its description, the price per unit, the numbers of units and so on. After that you just need to click on "Send" and your invoice will be automatically sent via email to your client.

Now some people might be asking themselves: "Why should I use this instead of just writing a quick invoice on my word processor and emailing it to the client myself?"

There are many reasons to. First of all the invoice will look more professional. I tried to make one on word but it was looking really bad. The FreshBooks ones instead looks like this: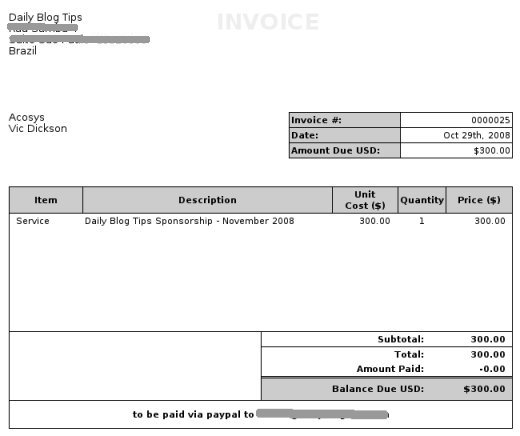 Secondly, they also offer advanced features that might come useful either for you or for your clients. For example, they have a live time tracking tool that you can use if you bill your clients by the hour (like web designers do). Your clients will receive a login and password to access their invoices online if they want. You can automate the process of sending invoices and manage them under a single interface too.
The Price
How much does it cost? That is the good thing about FreshBooks: their basic offer is free. The limitation is that you can only manage 3 clients at the same time, but other than that it already comes with all the features that you would get with the paid plans.
If you give them a try and find that you like it but need to manage more clients, the second tier plan will allow you to manage up to 25 clients at the same time, and it costs $14 monthly.
So if you often need to send invoices to companies and clients, give them a try. I have been using the service for over one year, and it just gets the job done.
Browse all articles on the Web Tools category
20 Responses to "FreshBooks Review"
Mike Mahony

Hi There

This software sounds good; does it work in the UK; i.e UK VAT and GBP etc. Also can the date format be set to DD/MM/YY, as it's frustrating for us brits reverting to your formats.

Thanks – looks promising

medyum

I have been using Freshbooks for about 6-months and love it. Not only does it help me keep my quotes and invoicing organized,

Paul Clarkson

Well I have been using freshbooks for almost an year now. My experience with it has extremely pleasant. But lately I am looking for a software that is even simpler to use.
Recently while surfing I accidentally landed on invoicera.com. I found it to be in the pre launch stage, but nevertheless registered for the beta version. Don't really know the functionality but I guess it's worth checking…
Thumbs up to freshbooks though.

KeySplash Creative

I've heard great things about Freshbooks, but I haven't given it a try yet. I really have to just dive in and try! Thanks for the helpful review.

Sumesh

I remember that you recommended Freshbooks and gave me a few tips when I was approached by a private advertiser….

Dana

I've been using FreshBooks for over almost two years and LOVE it! I can use it from any computer, my clients can log in at anytime and check their invoices/estimates/project.

They have a great referral program also!

tweakwindows

Even I was thinking that FreshBook is book online book store.Thanks for the info Daniel.

Daniel Scocco

@Acreete and Melissa, I talked with their VP Marketing person and he said you can backup all sorts of data, including clients, invoices and past transactions.

Ryan McLean

This is an awesome idea. I am doing a lot of freelance writing lately and this is a great tool for me. I might sign up once I am getting more regular work

Rayanne Langdon

Thanks for the props, Daniel! We're glad to have you on board and to be working with you : )

Hey Accrete and Melissa,

You can definitely backup your FreshBooks account data (including client data) by exporting as a .csv file. The "Reports" tab in your account allows you to take care of a lot of this work. And you can export your client information in your account's "Settings". A lot of people also use this feature to import client information from their accounting software.

As for invoice and estimate customization, FreshBooks users can upload their company's logo so that invoices, estimates, etc. are properly branded. You can also adjust your account's colours to match that of your company's specifications.

If you have any questions at all, please don't hesitate to drop me a line at rayanne (at) freshbooks (dot) com! : )

Custom Logo Design

I used Fresh Books for about 3 months. It help me, my pricing and billing organized, indicating the payroll for the interaction with my customers, the degenerate, my brand of the company. My customers like and I love it!
This service provide a way for you to backup your information to your own computer.
Thanks for the valuable information.

Melissa Donovan, Copywriter

After viewing these screen shots, I wish I'd given FreshBooks a try before investing in QuickBooks 2009 for Mac, an application I find to be less than user friendly.

Like Accrete, I'd want to be sure there's a way to backup the data and perhaps open it using a .csv file or even .xml – Sometime to ensure that my account could be restored if something went wrong.

I'd also like to know how much you can customize the invoices and estimates. It's nice to be able to send a document to your clients that's branded to match your business.

Corinne

I've been using Freshbooks for over a year and I'm very happy with it. BTW, you can call customer service and ask for a custom plan.

David (Marketing Integrity)

I have been using Freshbooks for about 6-months and love it. Not only does it help me keep my quotes and invoicing organized, but it presents a very professional and progressive quoting and invoicing interaction with my customers which escalates my company's brand. My clients love it and I love it!

SEO Genius

Sounds interesting might have to give it a look over.

Daniel Scocco

@TechZooming, I think it is somewhat related. "Books" sometimes also mean "accounting books." For example the most popular accounting software around is called "QuickBooks."

TechZoomIn

Daniel,

I saw the ad 125*125 on your site,but never clicked on that. The only reason behind that is the domain name "FreshBooks" giving an opinion that the site related to some books selling site.

The domain name is no way related to what they are offering 🙂

Agree?

Daniel Scocco

@Accrete, you have all sorts of reports available, like invoice reports, expenses reports, projects reports and so on.

I am not sure if you can backup the client info though, but I will ask them.

Accrete

Daniel,

Does this service provide a way for you to backup your information to your own computer?

SATISH — Technotip.org

Nice info Daniel..
I have been seeing this advertiser on your blog from many days, but now I understand their importance. I will just give it a try.
Thanks for the valuable information.
Comments are closed.