Ever Saw The Gary Halbert Letter?
Around six months ago I was listening to an interview with Mike Filsaime, one of the so called "Internet marketing gurus." At one point he started talking about copywriting, and how he learned much of what he knows from a guy called Gary Halbert.
Mike also mentioned that Gary Halbert had had a paid newsletter for many years, called The Gary Halbert Letter, and that now he believed everything was free and available online. That got me curious, and I went to search for the thing.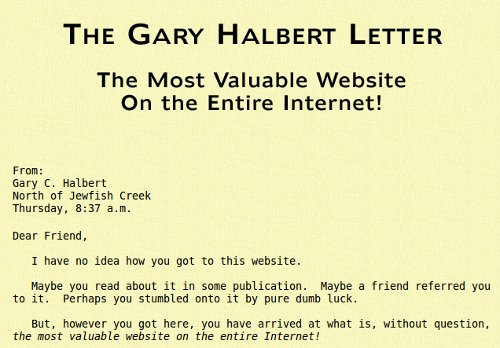 It turned out to be true. You can find all the editions of his paid newsletter here: TheGaryHalbertLetter.com. I haven't counted, but there seems to be more than 100 of them.
What is the newsletter all about? Copywriting and marketing. There are some sales picthes here and there (mostly for products that don't exist anymore), but overall it's is a valuable resource if you want to learn about direct marketing, copywriting and marketing in general.
You can learn both from the concepts Gary talks about, and from his own copy and approach to the newsletter. Check it out.
Browse all articles on the General category
9 Responses to "Ever Saw The Gary Halbert Letter?"
Alan @ Work From Home

Very cool. No, I have not heard of or ever seen the Gary Halbert Letter before. Looks like a great resource for those wanting to learn about copywriting and marketing. Thanks for making us aware of it, Daniel.

Joshu Thomas

Thats some useful new info. Thanks again.

cheers
Josh

Nancy

Ever saw?

Senuka

I've read many news letters of different well experienced gurus. According to my point of view, it's wrong if you think that it's possible to find heaven only with reading them. Why? They keep most important points as hidden. Anyway, a creative and also intelligent guy or girl can track the hidden points and find fortunes through them.

Simon Dodd

Never heard of Gary, so thanks for filling us in on that site!

I can see a lot of time being spent there, now it's just a case of re-organizing my schedule to be able to fit it in!!

Thanks

Simon

Mike @ Success Resource

I have not heard about Gary, so it is good to learn new things and I will sure to check out these news-letters as we can all use help in copy that sells, specially me! Thanks.

Jason

Never heard of the letter, but must be greatly influential. Thanks for tip!

Maaike Quinn

That sounds intriguing! I love mysteries. So I am on my to check it out right now 🙂

Ishan

I had never heard about it. I am checking it right now and it seems to be a great resource for writers.
Thanks for sharing!
Comments are closed.