Download The Membership Site Masterplan Free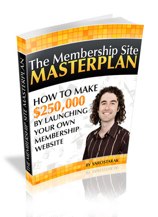 Yaro Starak, one of the Internet marketers that I most respect, has just launched a new report, called Membership Site Masterplan (click to visit the download page). The good thing about his reports is that they are a) free and b) packed with useful information (as opposed to being a sales pitch packed into an ebook…).
Anyway what is Membership Site Masterplan about? As you might have guessed from the name, it is a step by step guide for launching a profitable membership site. Yaro made over $250,000 with his Blog Mastermind course, and on this report he is revealing pretty much all the strategies and tools that he used to achieve that.
The report has 72 pages of content, and here are some of the topics that you will find inside it:
How to find topics for a membership site
How to develop preeminence, which means people choose to join your membership site over all the other options
What sources of traffic Yaro uses to bring members to his site and build his list
What technology Yaro uses to deliver content (this is so simple, anyone can do it)
How to make money from a membership site before you create the content for it
How to fill your membership site with hundreds of new members in a matter of days by conducting a powerful, yet simple, launch campaign
Of course Yaro hasn't put all this work into the report for nothing. He's launching a training program next week and this report is designed to introduce you to his teachings. I was one of the charter members of his program, and I can say the stuff I learned there was essential to the successful launch of my own membership site. But I will talk about this in more detail next week.
The interesting thing is that the report itself contains pretty much all you need to know. Here is what Yaro said about it:
I didn't hold anything back in this report. I've given you all the pieces to complete the puzzle, and I hope you get out there and make a ton of money from your own membership sites.
I would highly recommend that you take 15 minutes away and go download and read the report now. I am sure you will find the information terribly useful, whether or not you plan to join Yaro's program. Click here to download it free.
Browse all articles on the Monetize category
15 Responses to "Download The Membership Site Masterplan Free"
Jenny

I love Yaro's work.. He is very detailed on all his work.

ravi

Yaro is one of the most respected experts in the business. If nothing else people should at least download the report. Well worth the time.

pshankar

I signed up with his email mailing list and got a link to download the ebook. But I listened to his mp3 book and it is very informative and detailed.

Will

Just dropping back in to tell everyone that I did indeed download the Masterplan PDF, and it's chock full of legitimate, informative content on starting and marketing a membership website.

Hopefully Yaro won't mind me quoting a line which really stood out to me, regarding the use of "triggers" on a website (testimonials, etc… items which are effective, but can be abused):

>>> "You have to genuinely believe that your product will enhance your members' lives, and the triggers are simply tools that help you convince people that you are worth working with. They are not to be used to sell people crappy products." <<<

For other folks who may be as skeptical as me, that should tell them all they need to know about Yaro's (and Daniel's) integrity.

Yaro's writing tone reminds me a bit of Seth Godin, i.e. marketing should not be used to scam people into buying junk, it should lead them to a product with which you OVER-deliver on your promises.

That's what Yaro has done with the Masterplan book. Thanks to him for providing the great info, and thanks to Daniel for pointing us to it.

R Kumar

Yaro Starak has been one of the bloggers whom I have always admired and have been inspired by his posts. Whenever I felt like down and out and not writing a post, I would read one of his posts and that would rejuvenate me. That is how I achieved success.
I had signed up for this report even before it was released, so I happened to get a copy the day he released it. I have read the entire report twice now and everytime I read it I find so much of information that I can use, that I am just not able to keep it away from me.
The best part like you said in your blog is that it is not a report stuffed with useless things in between a sales pitch. It is a useful and handy report.

SATISH — Technotip.org

Downloading the report, on your recommendation Daniel..

Daniel Scocco

@Will, thanks for the vote of confidence.

Now just let's us know if my recommendation was spot on or not 🙂 .

Yaro

Daniel thanks for recommending my new report and Will, thanks for giving it a shot.

I realize not everyone likes the copywriting format that is so prevalent today, which is why I appreciate the endorsement from Daniel because he helps build trust for me.

I believe you will like the Masterplan, it's full of great ideas.

Jack Zufelt

Yaro is one of the most respected experts in the business. If nothing else people should at least download the report. Well worth the time.

Will

Daniel,

Anytime I *ever* happen upon a site that looks like the one on the other end of that link ("internet infomercial style" with the bright red get- rich- quick teaser and a signup page), I run the other way as fast as I can.

My first impression from Yaro's current site and the identical-looking one at BlogMastermind is that its a "Shamwow"… definitely a way for someone to make a lot of money, but in the way that people who write books about getting rich in real estate get rich from selling books, not from real estate.

That being said, I've followed your work (DBT, DWT, etc) since way back when, you've always been completely above-board and genuine, your content is always top quality, and I trust you.

So I'm gonna give Yaro my info and see what's behind that link because you recommended it, and not for any other reason. Don't let me down, bro.

Boerne Search

Yes, this does look interesting. I must download. I do agree that membership is a great way to go. But get them to sign up and stay. I guess that's where quality comes in.

Kane

MLB Trade Rumors

This is perfect for one mind looking for. I was hoping that would turn my new trade rumors Blog into a membership site after it gets up and going. I guess I might have a different opinion after I read this.

Daniel Scocco

@Masterminds, this report is free for download. You just need to join the email newsletter. By downloading it you aren't signing up for any course.

Masterminds

I just signed up for the course, thanks.

Roseli A. Bakar

Yaro Starak is one of my favourite blogger too.

I'm very impressed by the quality of his products and I know this masterplan is another "must join" program from Yaro if you wanna make much more money than blogging tradiotionally.
Comments are closed.