DailyBits.com: My New Blog is Live
For the past three weeks I have been working on a new blog, and it is finally up and running. DailyBits.com will be focused on Internet and technology, from Web 2.0 to programming and open source.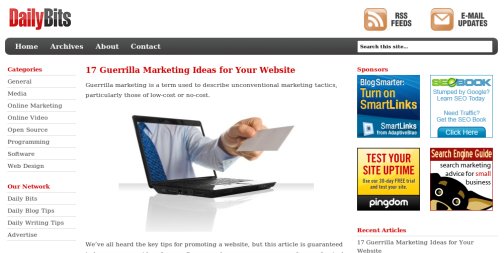 The motivation to create this site emerged naturally. Usually I write down all the ideas that I have for future articles, and lately I started to notice that many of these ideas were pending to the tech side, and they were not necessarily related to blogging.
As you probably know I am also very passionated about all things related to the Internet, so it will be another fun project for me (and hopefully for the readers as well!).
Anyway, here are some articles already published there:
17 Guerrilla Marketing Ideas for Your Website
Getting Started With PHP – Part 1: Hello World!
Pidgin: Multi-Protocol IM Client
Will Mainstream Media Become Profitable Online?
I hope to see you guys around, and if you think that Daily Bits could have a place in your RSS reader make sure to grab the RSS feed.
Browse all articles on the General category
18 Responses to "DailyBits.com: My New Blog is Live"
medyum

How dare you create another blog. Now I have to subscribe. Damn You! Congratulations!

Reverse Funnel System Blog

I very like your blog, looks really good.

Fred @ Newest on the Net

Daniel,

Congratulations on your new blog. My blog is a combination of blogging tips and social media/Internet news and commentary.

Brown Baron

Looks like I've got another blog that I'll be visiting regularly. Looking good.

Madhur Kapoor

Congrats on the new site Daniel. It will be good to read your articles related to the tech side and programming.

Vikram

The Tips there are excellent Daniel. i am very keen on learning php but never got a chance. I am going to follow the php tutorial on Dailybits.com and try to make the most of it!

Subscribed and stumbled! 🙂

inspirationbit

hmmm… Daily Bits you say… I wonder if you were inspired by Inspiration Bit to come up with that name? 🙂

Congrats and Good luck with the new endeavor, Daniel.

Daniel Scocco

Daily Blog Tips is still the number one priority for me.

PurpleMinded

Congrats on your new endeavor! Just don't forget about DailyBlogTips, it's a great site!

Daniel Scocco

Thanks for the nice words guys!

The How-To Geek

This site is one of the very few sites that I read religiously simply out of enjoyment.

I've subscribed to your new site… we'll see how that one fares in my feed reader =)

Some1

And I have hard time to find time to read even this 1 daily.

Keep up the good work.

Advice Network

Your new blog looks good. I'm subscribing now.

Alex

Tejvan Pettinger

Looks interesting. I've always wanted to understand a bit more about php so will be following those articles.

Cecil

How dare you create another blog. Now I have to subscribe. Damn You! Congratulations!

Ramkarthik

Good to hear, Daniel. Just saw the blog and was really impressed by the theme and the content. The latest post on Guerrilla marketing is very good. Hope yo see more such articles in it and also hope the blog will be a success like DBT and DWT. 🙂

Daniel Scocco

Thanks Shankar.

I will also have a team of writers helping me there, so even if my stuff is boring you can always hope that the writers will do a good job :).

Shankar Ganesh

Congratulations on your new blog.
I'm sure you'll be writing some great stuff there. 🙂
Added it just now to my RSS reader.
Comments are closed.