Create polls with PollDaddy
I am glad to announce that PollDaddy is a new sponsor of Daily Blog Tips. I have been playing with their service for some time, and I must say that the flexibility of their polls is a big advantage for someone wanting to integrate polls on a blog, website or social network page.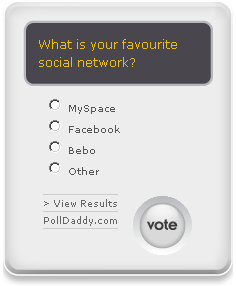 WordPress poll plugins are a good alternative, but not everyone uses WordPress, and some of those plugins might mess your database. PollDaddy offers simple Java Script, Flash and Widget polls that can be easily integrated into your blog. The best thing is that the setup process is really smooth, and you can even customize the style of the polls to match your website's layout.
PollDaddy is a free service, they do not insert advertising or redirect users from your site. Polls represent a great way to engage your readers and make them interact with your blog, so make sure that you head to their site and check it out.
Browse all articles on the General category
8 Responses to "Create polls with PollDaddy"
Bang Kritikus

What's benefit for our

David Nicolosi

Hey all,

Poll Daddy is well known and has been a great polling solution for many years, partly due to their outstanding service and partly due to their lack of competition. Well, Poll Daddy is soon to meet some serious competition with Poll Authority, the new online polling service that is poised to give Poll Daddy a run for its money. It's currently in Public Beta and has some awesome features, such as the ability to customize the poll style and embed youtube videos directly in the poll. The interface is user-friendly and you'll be up and creating polls in less than a minute. Give it a try and see for yourself at http://www.PollAuthority.com.

Daniel

haha sorry for that Mark!

Mark Alves

Am I the only one who tried to vote before figuring out that the poll was simply an illustration? 🙂

Daniel

Yeah, that is the main reason why I started using it as well.

Bes Z

Nice. So a poll script that does not depend on WP. That's a fresh change! 🙂
Comments are closed.