Compare different typography
Having clear fonts with the right spacing between lines and words is essential for making your blog user friendly. There is a great online tool for dealing with typography issues called Typetester. On the website you will be able to play with fonts, sizes, alignments and so on. There are three different columns where you can compare the results and choose the best design.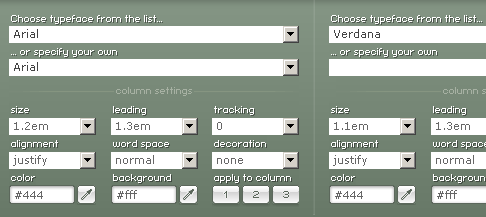 Browse all articles on the Web Tools category
9 Responses to "Compare different typography"
Bang Kritikus

Thanks for your good tips

Richard

Thanks for all your tips on your blog. Very useful.

Dawud Miracle

I've been using this with clients for a little while. It really helps clarify how text will look on the site.

Of course, good CSS practices can do the same thing.

engtech

That's an amazing tool.

Typography is 90% of web design.

Anthony Baggett

That's an awesome tool. Fonts have always been one of the harder things, without "borrowing" code from another source.

Anthony

ahhh…thanks Daniel. Guess I didn't play around with it enough.

Allen.H

Thanks, there have been a lot f times when I wondered which font a certain blog is using but couldn't really find out.

Allen.H

Daniel

It is included, but its called "Leading".

Anthony

Very nice. The only thing they appear to be missing is line-spacing.
Comments are closed.