Check Out This Collaborative Blog Platform
Recently I came across a website called Presstream, and I thought the concept was quite interesting. It's basically a collaborative blog platform.
It's a platform because they provide you the software and the hosting. You need to signup, and your chosen username will also be your domain. For instance, if you pick 'music123' as a username, your blog will be hosted at music123.presstream.com.
The platform is designed to be easy to use, so even beginners are welcome. You can choose among three types of posts: normal posts, audio and video posts. Comments are available, as are social sharing buttons and widgets. Here's a screenshot of one of their sites: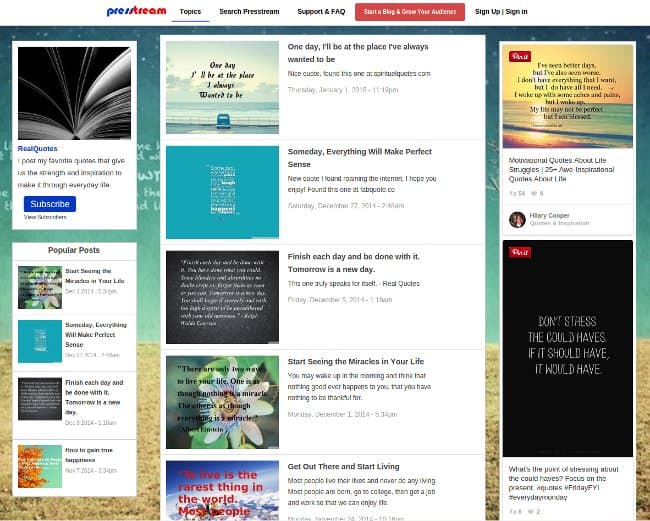 The basic version is completely free, but if you upgrade your posts will be showcased on the homepage of the site, as well as inside topic pages. And this is why I called it a collaborative blog platform. In a sense you'll be helping fellow bloggers on the platform if your posts attract a lot of visitors, and vice versa.
I think this concept is quite interesting. Many bloggers give up because of a lack of traffic and a lack of interaction with other people. Collaborative platforms might help with both of these problems.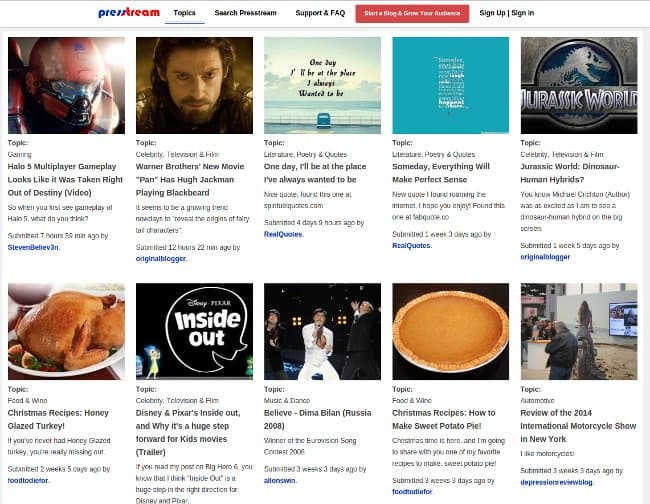 At this point the focus of the site is to help users grow their social media presence and share their content with a wider audience, so check it out if this is one of your current goals.
Browse all articles on the Social Media category
10 Responses to "Check Out This Collaborative Blog Platform"
ferb

I'd love presstream to use as a new platform of blogging, it can actually bring traffic to blog.

vincent

I checked it out and from what i observe many bloggers are already using that platform. As the person who made the comment earlier shared his concern, i strongly agree with him, unless there is a way to take care of newbies, those bigger blogs with paid promotion on top my never give way for lesser blogs.
Daniel sir, you may help by throwing more light of how a blog gets in to stay on top? Is that platform not prone to competition of which blogs to stays on top?.

InternetLocalListings

Interesting concept. You note that "if you upgrade your posts will be showcased on the homepage of the site, as well as inside topic pages". Do you think this will create a kind of bottleneck for newcomers? That is, those who get in early with paid promotion might stay at the top and make it more difficult for newbies to get in?

Zaire Callis

It won't since all posts are promoted based on the date and time they were published. The most recent posts go first on the website.

Darin Spears

Interesting concept. Best part I liked about this website is that it gives you a single platform to create normal, audio and video posts. This makes it super convenient, apart from collaborative part, which is definitely great!

Mohi Uddin

I was searching a Collaborative Blog Platform. But this is too nice to talk. Thanks for sharing this article sir.

Mihai Pintilie

On the long term it may be a useful platform for SEOs. It's DA is currently 1 but with the increase of the number of users and its popularity it may become interesting.

Eddie

How would this sort of platform go with a marketing or Affilliate structured site would there be a a payment of some sort be asked for to use these themes?

Dipendra Pokharel

Quite Interesting to share. Thanks Daniel for the website, I will certainly try this.

This means if we are able to write some good content, It will certainly get some visitors.

Slavko Desik

Hey man, this is very interesting.

How about this- say DailyBlogTips (or any other site, mine for example) provides the hosting and the software for such a platform, and registers all blogs as subdomains. Of course, giving the same options, whereas posts can appear on the homepage of DBT. Just imagine the SEO benefits. and all the traffic. Amazing
Comments are closed.