Check Out the New Referral Program from Infolinks
Infolinks, as you probably know, is one of the leading advertising companies online. They offer several advertising options, but their core product are the InText ads that are embeded directly on your content.
If you never tried this advertising format, it's worth a shot. First of all it's complementary to other formats, such as AdSense or banner ads. Second, depending on your niche and site style, you might actually get a good CPM rate for those InText ads.
A couple of weeks ago I discovered that Infolinks is rolling out a new referral program as well. The new system is pretty straight forward: for every publisher you refer to them, you earn 10% of the revenues of that publisher for his first 12 months. Not bad huh?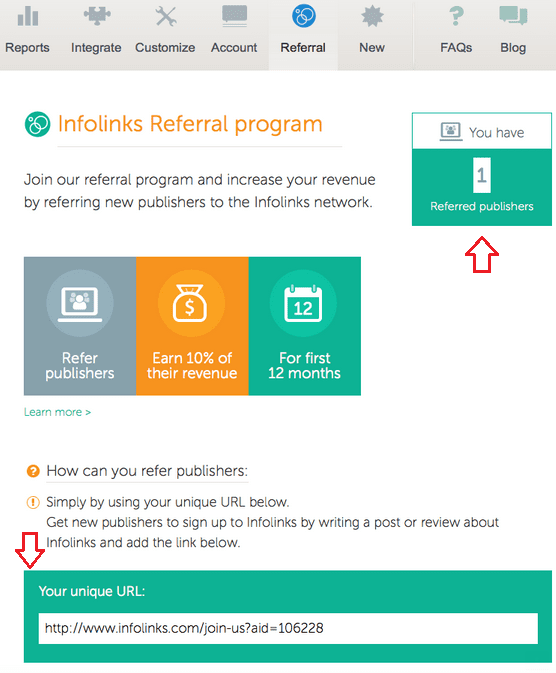 It works as any other affiliate program: you need to signup to get a unique referral link, and then whenever someone signs up using that link you get a credited with the referral. They also give you access to a web interface where you can track all your stats, clicks and revenue generated.
The new referral program is quite new, and I believe there might be good opportunities for people promoting it early on to make good money.
Browse all articles on the General category or check the recommended articles for you below:
14 Responses to "Check Out the New Referral Program from Infolinks"
Red Rock

I didn't knw about the referral program of infolinks, thanks for sharing this. Very much helpful information for me..!!

BJ Henderson

Looks like a good program I can incorporate on my blog. I definitely need to monetize it a little better so doing a review on this might help. Going to do my research and see if it's something great to present to my readers. Thanks

Sanket Gupta

This will help me earn more with infolinks as i heard it pays less but now they are doing something great.
Thanks for this post.

jerry

Hi Marks,
I have read your article regarding infolinks found very relevant. Thanks for sharing

Mohit

Hey,
Thanks for updating me !I stopped using infolink a long time ago..but after reading your article i am looking forward to use it again 🙂

jerry

Hi Mark,
I have read your article and found very relevant for infolinks referals. Thanks for sharing

Window grilles

Hi Mark,

Great article! Best of luck with future projects!

Vikas Agrawal

Hi ,
Thanks for sharing Good work on how to do successful blogging. once again Thanks for this article.

Regards
Vikas Agrawal

Leo

This Infolinks seem interesting. Is it like a referral software/ site? Is it effective for both SEO and content marketing.

Misha

Yeah That's the nice post on new referral program of info link.
beginners blogger get more profit with this info link referral program

Muhammad Mairaj

Hi Mark,
Thanks for sharing such an excellent post. I enjoyed reading each and every line. Very informative article regarding Infolinks Referral Program.

Thanks for wonderful sharing.

Regards,

Muhammad Mairaj

ComputerTricksPoint

No doubt it's good feature introduced by infolinks. But Google adsense is always a better option.

Humayun kabir

Hi,
I'm a regular publisher of infolinks but i din't know the referral system but now i'm clear and i want apply from my publisher account.Thanks for share this post here.

Vlad Vagner at Silent SEO Ninja

Thanks for the tip. I will have to check them out soon. I have been looking for an alternative advertising platform that can match, or come close to, Adsense however I have not found one yet. This might prove otherwise. Only time will tell I guess.

Have you personally been using this service for your platforms?
Comments are closed.