Check Out The Guest Posting Workbook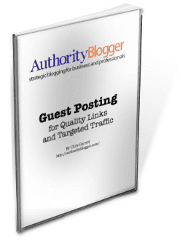 My friend Chris Garrett recently release a Guest Posting workbook, where he basically describes everything you need to know to promote your blog with guest posts. Here is some of the topics you'll find inside:
The key benefits of guest blogging
A step by step guide on how to guest blog
Guest blogging mistakes you should avoid
How to generate ideas for guest posts
The workbook was initially available only to clients of Chris' coaching program, but now he is selling it individually as well. How much does it cost? $10. It is a pretty good deal if you want learn the ropes of guest blogging, so check it out.
Browse all articles on the General category
15 Responses to "Check Out The Guest Posting Workbook"
Eddie

Is this a guide for MAKING guest posts elsewhere or for inviting guest posters to make posts on YOUR blog?

S Ahsan

I have read the book.. Its laid out very well. This reminded me that I have to submit a guest post here at DBT pretty soon :), thanks for the share Daniel

Andrew

Nice, just bought my copy. Looking forward to reading it this weekend. I'm very keen to make guest posting a large part of my blog this year.

Melvin

Bought it! Obviously I have my own ways on doing guest post but its worthwhile getting others opinion on it, especially chris Garett. 🙂

Free money income

I think it's a great workbook for those who are planning to do guest posts.I will surely have a copy of this.

bee

thnks to share…

John Paul Aguiar

Good time for this,, since I plan to focus heavy on GP this year.

Chris Peterson

Yap! that's fine. I think this book will help to more and more how to use guest post and the way of generating traffic.

Bob Bessette

If you want to generate some great traffic, think about writing a guest post for this blog! Daniel has a huge audience but he is also very particular about what he publishes. Make sure it is a post that adds value to his readers and has some unique, quality content. To get published by Daniel is a big success for any blogger…

The workbook by Chris Garrett sounds interesting. Thanks for the tip.

Best,
Bob

Chester

10 bucks is pretty cheap. Definitely woth a grab. Will check out on this.

DreamHouse

I'll definitely guest post someday. Thanks for inspiring me continually to become probloggers like you guys. Your site is an inspiration to me Daniel. Thank a lot.

Daniel Scocco

@Jackie,

In my opinion this is book is valuable for bloggers who never used guest posts and want to learn how to do it effectively.

If you already have read extensively about the topic and are getting good results with it, then I would not recommend the workbook to you.

Jackie Jackson

*ground

Jackie Jackson

Hi Daniel,
I have a question. Between you and Darren Rowse (problogger) – you guys have covered Guest post extensively – from Guest posting mistakes to practical recommendations – You've covered lots of grounds in a series of posts …..

My question is that —– Does the eBook go beyond that? Does it truly contain any valuable UNIQUE content rather than the usual tips u guys have already covered …… I am sure you would have understoon what i mean ……. thx

Debojyoti

Thanks for telling about this. Will surely check it out.
Comments are closed.